View All Vacuum Tables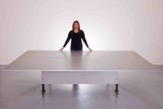 Systematic Automation sets the industry standard for vacuum table manufacturers, developing precision, high performance, vacuum tables with proven proprietary technology. Our vacuum tables provide high performance with +/- .001" flatness for superior precision, stability and durability. Systematic Automation is the leading global manufacturer of superior vacuum tables for over three decades.
We manufacture thousands of vacuum tables annually for dozens of specialized unique applications including printing, ultrasonic cutting, surface grinding, material handling systems and CNC machining vacuum tables, to name just a few. Systematic Automation is continually developing new and improved technology into our exceptional vacuum table manufacturing, utilizing the latest in technological advancements from our state-of-the-art large capacity facility.
Systematic Automation is the vacuum table manufacturer with the experience and the resources to provide the most cost effective automated vacuum system for your application. We have dozens of vacuum table sizes for a wide array of industrial applications.
High-volume manufacturing from our modern facility allows us to give you the best value with a superior vacuum table at the absolute lowest available price, guaranteed.
Vacuum Table Manufacturers from the Experts at Systematic Automation
Systematic Automation manufacturers dozens of vacuum table solutions for a wide range of industrial uses and processes. We have a full line of standard vacuum tables, or we will customize a vacuum table specifically for your application.
Heated Vacuum Table
Systematic Automation was the first of vacuum table manufacturers to offer a heated vacuum table, with attainable temperatures of over 500°. This is cutting edge technology for crucial applications such as curing composite parts or making thin films of lacquer.
Plotter and Cutter Vacuum Table
Widely used with fabrics, this plotter and cutter table will hold your material in place for perfect precision cutting. Carbide blades may be used for cutting through tougher material such as canvas used in making sails for boats.
CNC Vacuum Table
Systematic Automation provides CNC enhanced vacuum tables with two types of pumps available depending on the operation. Our tables use maximum force to hold virtually any substrate securely in place during precise computer numerically controlled operations.
Vacuum Tables for Flatbread Printers
Use of a vacuum table with a flatbed printer greatly improves the print quality on any substrate. Our vacuum tables are used to complement digital printing processes around the world.
Surface Grinding Vacuum Tables
Vacuum tables manufactured by Systematic Automation are used globally in many manufacturing processes. Our surface tables offer powerful 50 pounds of lateral force while still maintaining superior flatness.
Material Handling System
Our specially designed and engineered Model Air Glide is a revolutionary material handling system utilizing gravity with our specialty vacuum system providing precision movement of even complex material.
This is just a sampling of our many vacuum tables manufactured for your precision application. Contact our highly skilled staff today to learn more about the perfect vacuum table for your process.
Systematic Automation provides highly skilled design engineers, professional customer service and continual support for all manufactured vacuum tables. We can customize an automated vacuum system to enhance your automation, providing a quick return on your investment with improved cycle times and maximum quality.
Systematic Automation, Inc. provides proven solutions with patented and proprietary technology. All machines are rigorously tested for high quality performance prior to delivery. Contact Systematic Automation today for proven solutions from one of the world's leading vacuum table manufacturers.