Screen Printing Machines for Napkins
Custom printed napkins are practical and decorative little souvenirs. Custom napkins are perfect for wineries, breweries, weddings, or special events that will generate sales for you and your customers.
Custom printed napkins are also an ideal way to increase visibility for your logo or branding. Give your customers the custom printed napkins that will keep their branding forefront in their customers' minds. Your customer's events will stand out with a witty cocktail napkin or an elegant paper guest towel. Every brand touch will keep them coming back.
Our printing machines are custom built in the USA and backed by our highly experienced technicians ready to help you with installation, service, or troubleshooting.
Why Systematic Automation for Your Napkins?
Systematic Automation offers napkin screen printing machines for new printing businesses as well as established shops looking to upgrade their machines. We offer an array of custom screen printing machines built right here in the USA.
The Model 810 can print up to speeds of approximately 3,600 parts per hour. The operator may simply load and unload the machine and set the machine to the auto cycle. We can assist you in finding a food-safe ink and the right printer for your desired level of automation. Napkin hold-down may be an issue for you, depending on the ink your application requires. Options such as vacuum hold down are available.
We will assist you with your process before the final product leaves the factory. The modular design of the Model 810 allows you to incorporate other party items/products in your catalog. You may even have the option to have your machine print both flat and cylindrical products. You can print all of your event items – drinkware, napkins, souvenirs, and more – using the same printer.
SCREEN PRINTING YOUR NAPKINS HAS NEVER BEEN SIMPLER
User-friendly control panel.
Capability to print flat & cylindrical products.
Top-quality linear ball bearings rated at over 300 million cycles.
Pneumatic systems cannot overload or burn out.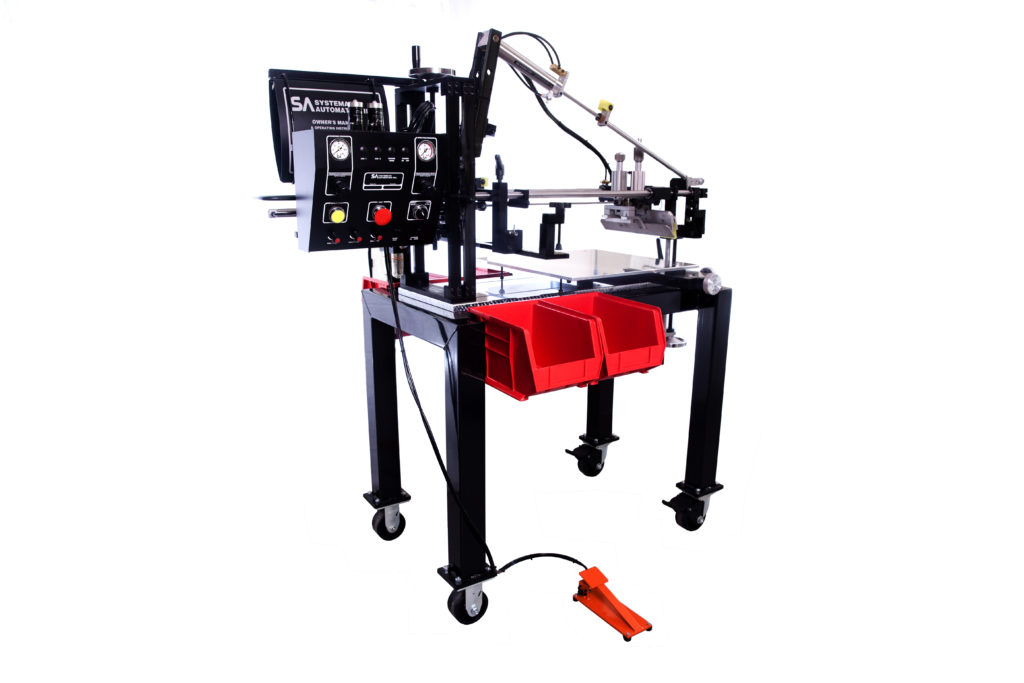 Make the Right Choice for Your Screen Printing Business
Systematic Automation is your choice for professional custom screen-printing machines made here in the U.S.A. We offer an array of custom screen-printing machine models to handle all your printing needs. We also offer UV curing machines, vacuum tables, and heat treatment machines to ensure your printing shop can fill every order. We have experienced technicians that offer support to help set up your machine and any technical questions you have once you start printing. Call or contact us today to speak with one of our expert technicians and choose the right machines for your business.
Some of Our Satisfied Customers