Fierosil - SILICA Pretreatment System
Improving ink adhesion has never been simpler or more affordable
Clear silica coating to optimize adhesion is now available to you without the hassle. Nobody knows this industry like Systematic Automation and we are available to get you up and running seamlessly.
Your operators will be pleased with the radically simplified operation, thanks to automated touch screen controls.
Entirely designed, manufactured and serviced here at our factory in Connecticut USA. We are available to you to help make your installation trouble free.
Modular, versatile, easily integrated to standard Systematic Automatic flame treaters and material handling equipment. This is a machine you will be proud to bring to your shop floor.
Fierosil Pretreatment Integration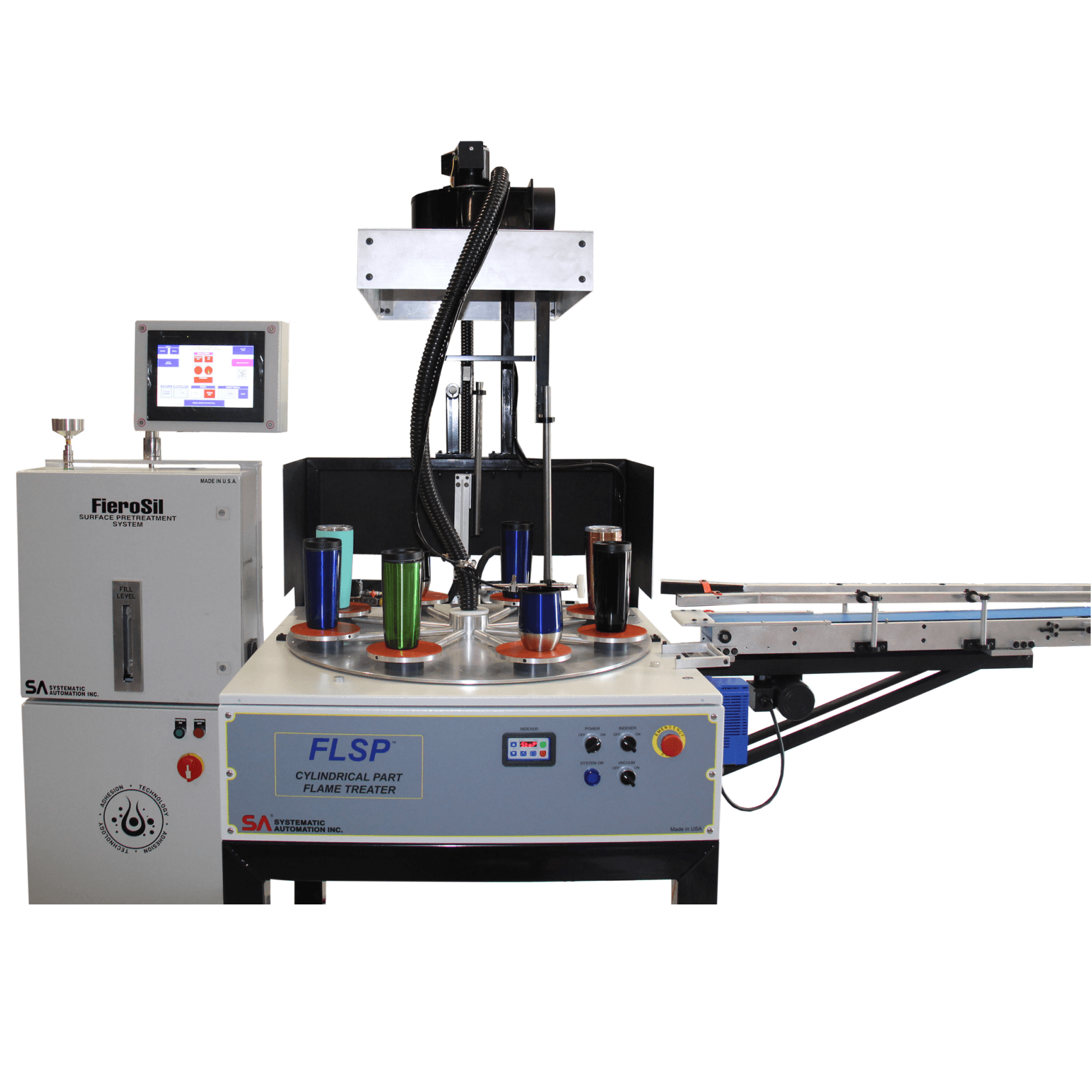 Automated Production Made Easy
Systematic Automation has been manufacturing and engineering automatic machinery with product handling for over 40 years. SA offers pre-engineered solutions for automatic pretreatment that range from sliding table, turret motion, inline and rotary index systems for additional process integration. UV inks are ideal for automated production as curing is instant.
The modular design of the Fierosil makes it an ideal solution for your existing systems using flame treatment or on the SA line of Flame Treatment Systems. Speak today with a specialist on how we can bring the FieroSil to your shop floor. 
Glass
Adhesion for UV screen printing, pad printing, and coatings. From a shot glass to a pint glass, we have you covered.
Promotional
Glass, metals, ceramics, and plastics when using UV inks. Inkjet printed products.
FieroSil relies on vapor deposition using purified Hexamethyldisiloxane as a consumable, which has been used on industrial applications since the 1950's and is now widely used in the semiconductor industry. Systematic Automation has harnessed this technology and made it user friendly and affordable for the decorating industry.
Ultra purified consumable precursor HMDSO is first vaporized and then precisely metered into a mixture of propane and air prior to combustion in the burner flame. There, the HMDSO converts into pure fumed silica. The super heated newly formed microscopic particles of silica (glass) is deposited onto the substrate by the force of the flame which is carrying it. As the silica particles fuse with the mating substrate they permanently raise the surface tension and increase the dyne level of the material. In effect it makes the surface more like fine sandpaper, but at such a microscopic level, even clear glass remains clear looking. However, if you drag your fingernail over the treated glass or other substrate, you can feel the higher coefficient of friction.
pre-Engineered and Custom Solutions Available
Systematic Automation performs all manufacturing processes at its headquarters in Farmington, CT. SA engineers have control over any custom features you would like on your flame treatment system. Proven solutions are available for material handling. Solutions can also be applied and tailored for a complete turnkey system for automatically pretreating your products. With over forty years of engineering & manufacturing, the chances are very good we can help you.
Have a Question?