Screen Printing on Plastic Bottles
Custom printed plastic bottles are economical to make, safe to use, and recyclable. Print your company logo and branding these portable water containers. Reusable water bottles are often associated with being eco-friendly, as they encourage your customers to bring their water, preventing the consumption of water in single-use packaging, which in turn decreases the amount of plastic waste. Branding custom printed water bottles evokes an eco-friendly image, crucial for your customers to project a sense of environmental consciousness to their prospective customers.
Custom water bottles don't just increase brand exposure; they encourage customers to live a healthier lifestyle. One of the first steps of living healthier is to drink more water, made easier when you have a water bottle you can bring wherever you go. Associating promotional products, both with health and wellness, as well as with green initiatives, will add relevance and value to your customer's brand.
Custom plastic bottles are one of the most effective promotional items you can offer your customers. They're useful, timeless, and easily recognizable. People will see your customer's logo and remember them every time they take a sip of water from their customized bottle. Each of our printing machines is custom built in the USA and backed by our highly experienced technicians.
Why Upgrade Your Screen Printing Machine For Your Plastic Bottles?
Systematic Automation offers plastic bottles screen printing machines for new printing businesses to established shops looking to upgrade their machines. We offer an array of custom screen-printing machines built right here in the USA.
In addition to the most desirable features in semi-automatic cylindrical screen printers, the F1-DC facilitates simple multicolor printing with mechanical pointer registration. A rack and pinion drive system rotates your plastic bottle or cylindrical item at a uniform speed, along with the screen movement during the printing operation. These enhanced features allow accurate printing with high precision multi-color registration using either mechanical or optical registration.
Adhesion will be an essential factor you want to address with us. We can assist you in performing adhesion tests to ensure that the bottle can withstand multiple uses in the dishwasher. Pretreatment options, such as standalone units or integration into automatic bottle screen printing systems, are available. You may also opt to use solvent-based inks with a better track record for adhesion.
SCREEN PRINTING YOUR PLASTIC BOTTLES HAS NEVER BEEN SO SIMPLE
Ideal for plastic bottles, cups, pint glasses, wine glasses, growlers, tubes, and more.
Precision system allows for multicolor printing.
Quick and easy product changeover in seconds.
Approximate throughput of 3,600 parts per hour (depending on the article).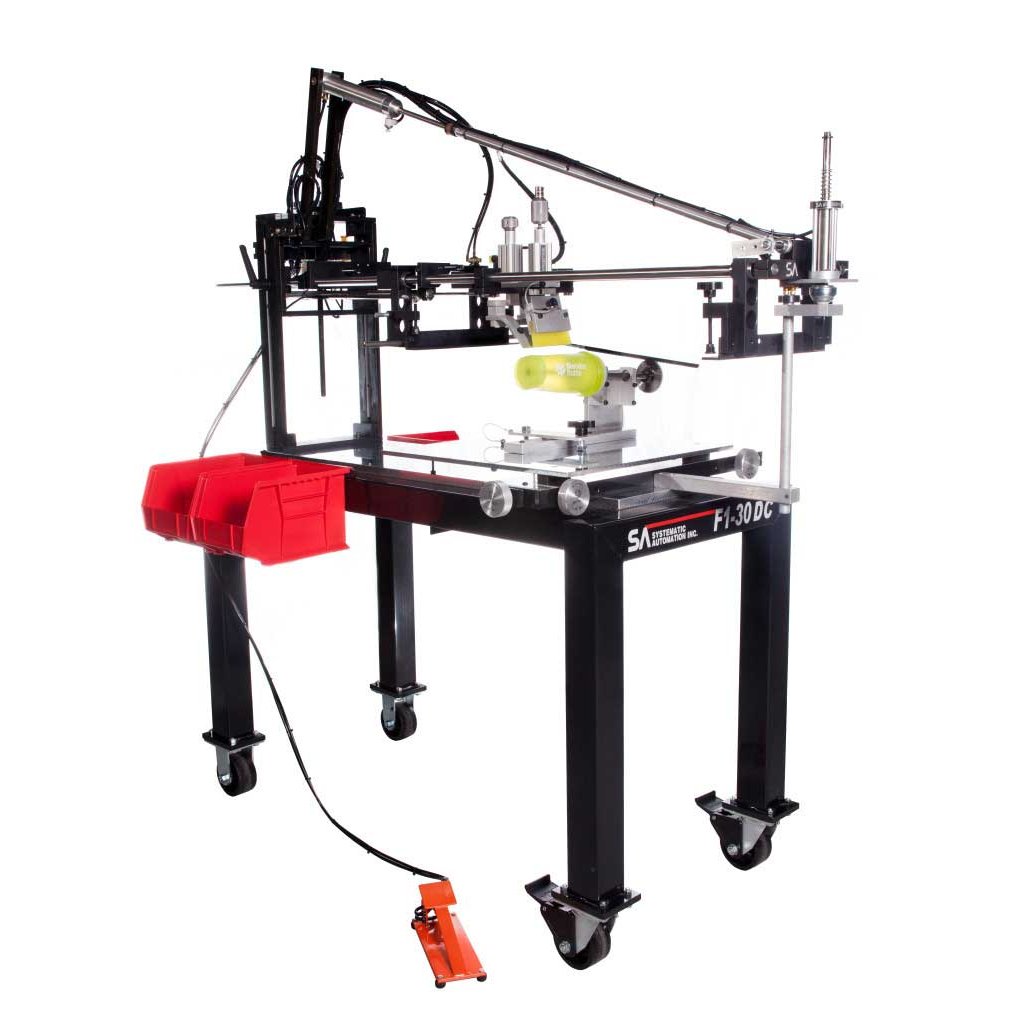 Screen Printing Machines for Plastic Bottles
F1-DC Screen Printing Machine

F1-DC Screen Printing Machine

Clamshell Printers For Cylindrical Products

Ideal for cups, bottles, glassware and more.
Built for demanding production and designed for simplicity.
Quick and easy product changeover in seconds.
Approximate throughput of 800 parts per hour (depending on article).

Learn More
Make the Right Choice for Your Screen Printing Business
Systematic Automation is your choice for professional custom screen-printing machines made here in the U.S.A. We offer an array of custom screen-printing machine models to handle all your printing needs. We also offer UV curing machines, vacuum tables, and heat treatment machines to ensure your printing shop can fill every order. We have experienced technicians that offer support to help set up your machine and any technical questions you have once you start printing. Call or contact us today to speak with one of our expert technicians and choose the right machines for your business.
Some of Our Satisfied Customers