Coasters are typically screen printed to ensure an opaque color, which can withstand frequent water from condensation. Screen printing provides the operator the option of printing with either UV or solvent based inks. Coasters are typically printed with solvent based inks or pretreated (if UV inks are used).
Coasters are one of the most popular promotional printed items that is flat in shape. The limited sizes that coasters come in allow you to print any size/shape without requiring a different printer. Systematic Automation has solutions for coaster printing that range from semi to fully automatic.
Why Systematic Automation for Your Coasters?
The PRINT Belt provides the user with virtually limitless options for automating your process. The standard configuration for coasters on the PRINT Belt is an automatic loader, print station, and heating tunnel, followed by an unloader for packaging. Additional options can be added such as pretreatment, vision and UV LED integration. The modular design of the PRINT Belt allows for different sized and shaped coasters to be used on the same machine. Components for part handling are custom tailored for your specific product.
The Model NCC provides an automatic solution for your coasters as well. See the video on the left of the machine in operation. The Model NCC prints multi-color designs. Between each print station there's an LED to increase your coaster printing throughput. The Model NCC offers the same options for automation as the PRINT Belt. Contact us today to discuss bringing your coaster printing in house.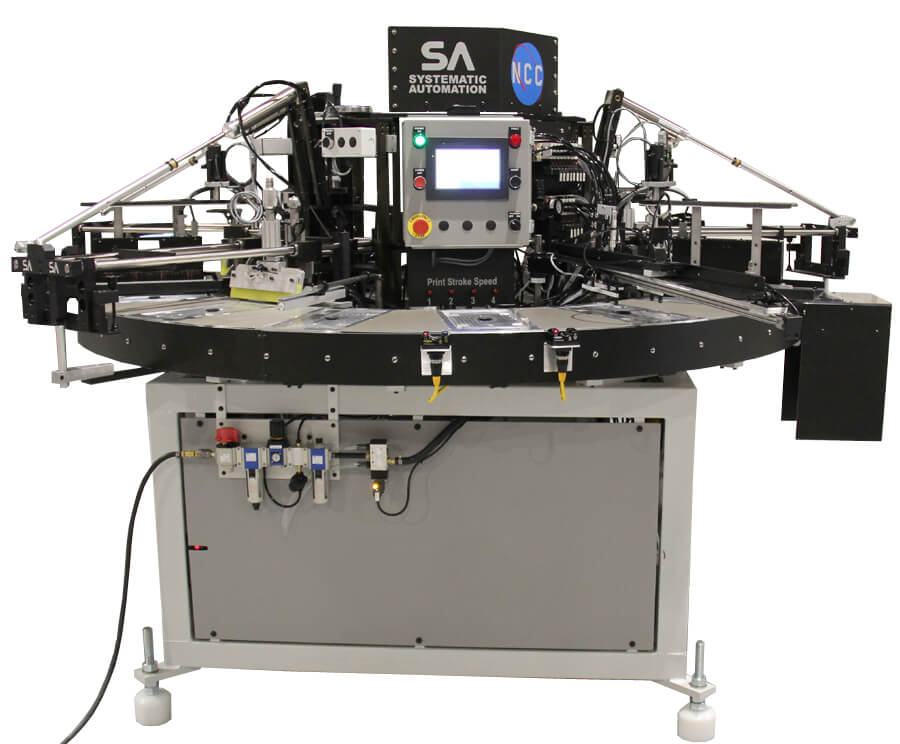 SCREEN PRINTING YOUR Coasters HAS NEVER BEEN SO SIMPLE
Highest quality servo motor drive and reducer are used.
Modular design permits easy modification and integration.
Electronic positioning of extreme accuracy +/-.001″(.025 mm) at all stations.
Hollow Ring™ dial to servo drive coupling is overload crash protected.
Make the Right Choice for Your Screen Printing Business
Systematic Automation is your choice for professional custom screen-printing machines made here in the U.S.A. We offer an array of custom screen-printing machine models to handle all your printing needs. We also offer UV curing machines, vacuum tables, and heat treatment machines to ensure your printing shop can fill every order. We have experienced technicians that offer support to help set up your machine and any technical questions you have once you start printing. Call or contact us today to speak with one of our expert technicians and choose the right machines for your business.