Universal Wareholder Tooling for Screen Printing Cylindrical Products
Systematic Automation has a developed a one size fits all tooling designed for the Model F1-DC and Model 810 cylindrical printers. The universal wareholder's largest benefit is its versatility in being suitable for a variety of different shaped drinkware. Typically you would need a specific fixture designed for each part. The cylindrical product sits on adjustable rollers that can accommodate almost any cylindrical shape.
Tooling For your Product Catalog
When screen printing cylindrical products, you want your product to be parallel to the screen. Tapered products, such as pint glasses would typically not be ideal for rollers, however our tooling has independent rollers for each end of the product, allowing you to easily adjust your product to be parallel to the screen. Even products that have odd-shapes such as a wine glass can have rollers as a reliable fixture.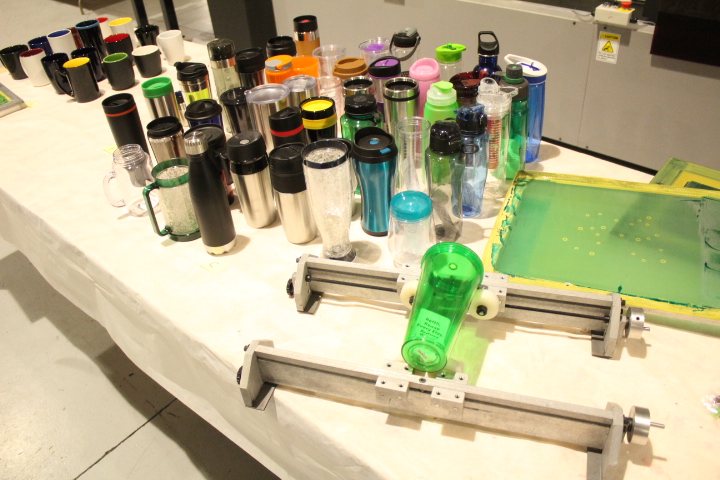 Benefits of the Universal Wareholder for Cylindrical Screen Printing
You can print almost any cylindrical product with the tooling. Markings can be made to the tooling in order to easily configure each type of product for the appropriate modification on the wareholder rollers. Different rollers can also be made interchangeable for products with odd rims to ensure the product spins with the screen for an optimal print. Setting up the wareholder for different pieces of drinkware only takes seconds – see video to the right.
The drinkware industry is constantly evolving, creating new designs and obsoleting others. SA routinely engineers and manufactures for the latest products that are sold by industrial promotional printing companies. The universal wareholder is your best investment for keeping up with any new drinkware product that becomes popular without the need to make an entirely separate fixture for a new product that may take 1-2 weeks to produce.
Discover More Specialized Screen Printing Accessories and Add-Ons
Systematic Automation manufactures a variety of specialized tooling fixtures and accessories to adapt and expand the capabilities of your printer. We have designed tooling for many situations, so what might be a custom job somewhere else, at Systematic Automation is a standard option. View our complete line of screen printing accessories.