Screen Printing on Golf Club Shafts
Whether you're printing numerous golf club shafts for a sporting goods manufacturer or providing custom-printed pieces for golf teams or collectors, your customers demand a quality product. Systematic Automation, Inc. has the right machines to help you print custom golf club shafts with efficiency, precision, and your customer's needs in mind.
Custom-printed golf club shafts are popular with golf leagues, pro shops, sporting goods stores, and more. Attention to branding detail is important. Our equipment will help you beautifully print golf club shafts that highlight team names, logos, and other information. You can rely on us to help you offer a durable, precisely printed finished product.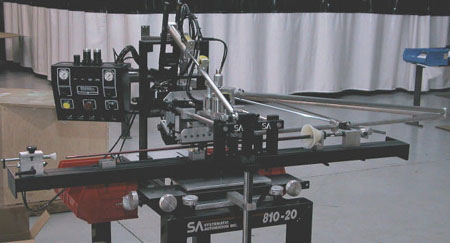 Why Upgrade Your Screen Printing Machine For Your Golf Club Shafts?
By choosing Systematic Automation for the screen-printing machines you need for creating custom golf club shafts, you're working with a company with more than 30 years of experience in the printing equipment industry. We proudly manufacture our screen-printing machines in the U.S.A., and we provide our customers with thorough training and excellent customer service and support.
The Model F1-DC screen printer is designed for your long cylindrical sporting goods like golf club shafts and ski poles. The F1-DC prints precisely with synchronized turning and printing, giving you a perfect screen print every time. Fixtures for the golf club shafts can easily use the end put as a simple, affordable, and mechanical means of registration. Curing your bats is also possible through our Model UVSP that is designed to perform full 360-degree cures on cylindrical products, such as bats. The Model F1-DC also comes with a dual print head option for prints as wide as 24" that equals pressure on the squeegee for you to obtain a crisp image. Call today to speak with an application engineer.
Printing your golf club shafts has never been so simple
Ideal for cups, pint glasses, wine glasses, growlers, tubes and more.
Precision system allows for multicolor printing.
Quick and easy product changeover in seconds.
Approximate throughput of 3,600 parts per hour (depending on article).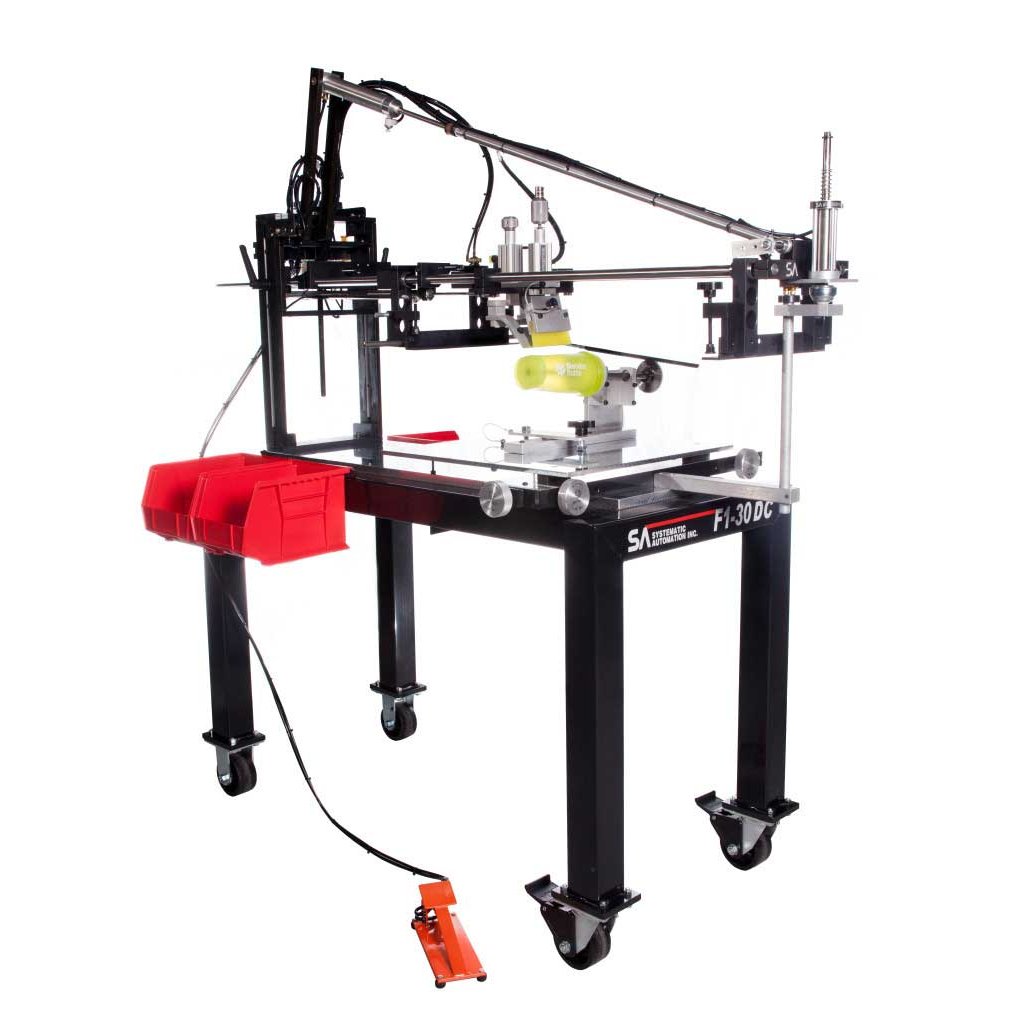 Screen Printing Machines for golf club shafts
F1-DC Screen Printing Machine

F1-DC Screen Printing Machine

Clamshell Printers For Cylindrical Products

Ideal for cups, bottles, glassware and more.
Built for demanding production and designed for simplicity.
Quick and easy product changeover in seconds.
Approximate throughput of 800 parts per hour (depending on article).
100% air operation - cannot overload or burn out, or become obsolete.
Shafts with linear ball bearings ­rated at over 300 million cycles.

Learn More
Make the Right Choice for Your Screen Printing Business
Systematic Automation is your choice for professional custom screen-printing machines made here in the U.S.A. We offer an array of custom screen-printing machine models to handle all your printing needs. We also offer UV curing machines, vacuum tables, and heat treatment machines to ensure your printing shop can fill every order. We have experienced technicians that offer support to help set up your machine and any technical questions you have once you start printing. Call or contact us today to speak with one of our expert technicians and choose the right machines for your business.
Some of Our Satisfied Customers