Screen Printing Machines for Injection Molding
Injection molding requires screen printing for color matching, logos, details, and more to be added to the product. Screen printing is the ideal solution for injection molding when there are multiple colors to be printed. This is due to the opaque image that only screen printing delivers as well as the precision in multicolor printing that Systematic Automation equipment can offer. Printing multiple colors on a product would typically be troublesome, but we offer options that will make registration between colors a simple step. Precision engineered fixtures are made for careful product placement. Options such as screen stops can be incorporated during screen changeover. Each color requires a new screen. Changing screens may disturb the multiple color printing process. SA can mitigate that through screen stop along with precision tooling.
Why Systematic Automation for Your injection molded parts?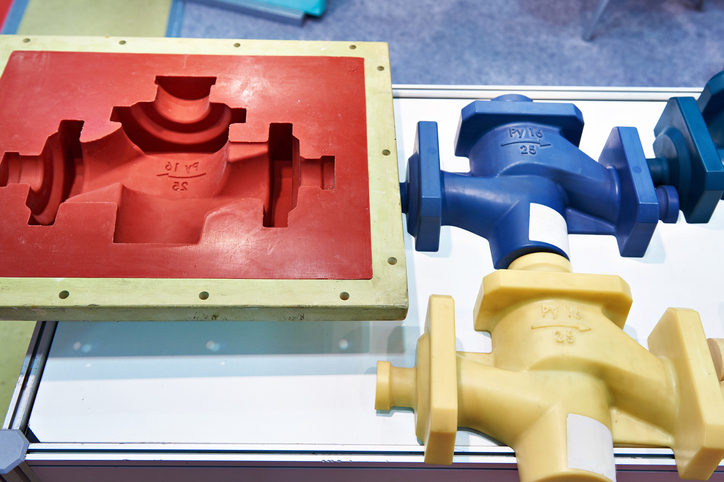 The Model F1 semi-automatic screen printer is our most popular printer for injection molded parts due to its versatility and reliability. As mentioned above, fixtures are CNC machined for your product. We are open to hearing how you are currently printing your product so that we may integrate options into the printer that will increase your throughput. The modular design of the Model F1 allows you to print multiple sized and shaped products (even cylindrical) using the same machine. The operation of the machine has been designed for simplicity.
Your injection molds may require pretreatment before printing for ink adhesion. We will work with you on that in finding the dyne level (surface tension) that will best suit the end use of your injection molds. For instance, If they are going through the dishwasher, we will recommend you either use plasma treatment or solvent-based inks based on your desired throughput. Additives may also be added to the inks to improve the adhesion of the inks. Your injection molded parts may require ionization to counteract the electrostatic charge that your molds will have, which would interfere with screen printing. Our goal is to not only provide you with a machine but give you the tools needed to exceed your current process.
screen Printing your Injection Molds has never been simpler
Designed for simplicity and precision production.

Aluminum tooling plate base ground flat within +/- .001" (.025 mm).

Capability to print flat & cylindrical products.

A pneumatic system cannot overload, burn out, or become obsolete.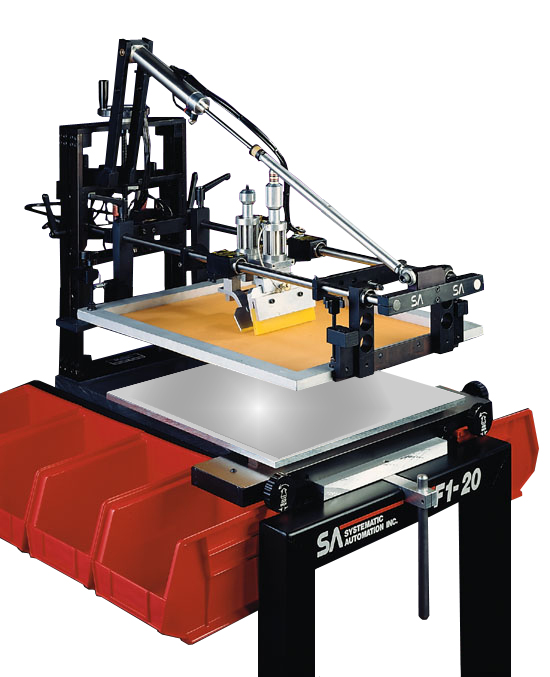 Screen Printing Machines for Adhesives
F1 Screen Printing Machine

F1 Screen Printing Machine

Clamshell Printers For Flat Products

Designed for simplicity and precision screen printing.
Aluminum tooling plate base ground flat within +/- .001" (.025 mm).
Capability to print flat & cylindrical products.
Pneumatic system cannot overload, burn out, or become obsolete.

Learn More
Make the Right Choice for Your Screen Printing Business
Systematic Automation is your choice for professional custom screen-printing machines made here in the U.S.A. We offer an array of custom screen-printing machine models to handle all your printing needs. We also offer UV curing machines, vacuum tables, and heat treatment machines to ensure your printing shop can fill every order. We have experienced technicians that offer support to help set up your machine and any technical questions you have once you start printing. Call or contact us today to speak with one of our expert technicians and choose the right machines for your business.
Some of Our Satisfied Customers