Screen Printing Loading & Unloading EQUIPMENT
Throughout the years, Systematic Automation has offered a wide variety of standard and customized loaders & unloaders, all aimed at improving printing organization and efficiency. SA loaders & unloaders incorporate features most requested by our customers of over 40 years:
unloaders are designed to stack printed products from the bottom up, allowing for uninterrupted loading. Additional designs incorporate top up stacking. Custom to your specification.
With a focus on versatility, SA has integrated design features that allow operators to easily change over to accommodate different product sizes and shapes.
SA unloaders come equipped with a resettable counter and an alarm system that alerts the operator when the magazine is full.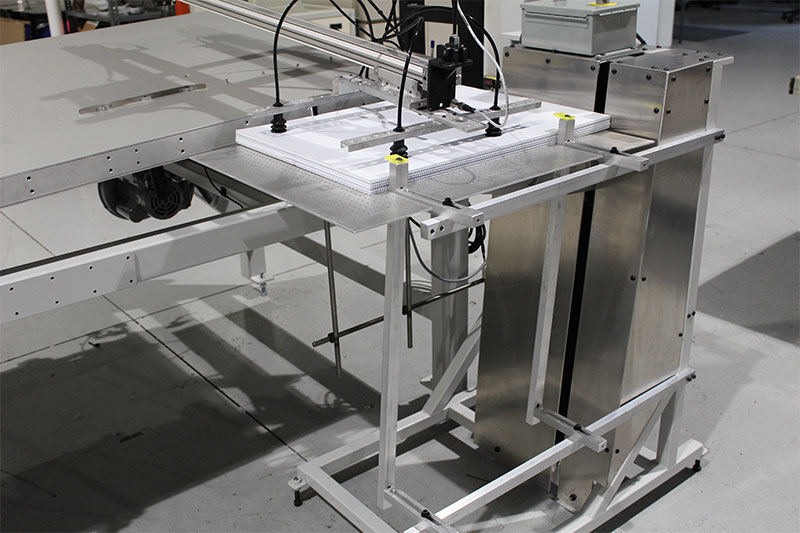 SA engineers have designed the loaders and unloaders to meet a variety of needs, from stacking heavy parts such as steel plates to microscope slides. And during high volume printing operations, a reliable and efficient screen printing stacker will improve productivity and profitability by allowing operators to perform other important tasks.
At Systematic Automation, we are dedicated to providing our customers with the highest quality screen printing equipment and accessories at a competitive price. Our loading & unloading systems are an essential part of an automated screen printing process and an investment that will enhance your operations.
Discover More Specialized Screen Printing Accessories and Add-Ons
Systematic Automation manufactures a variety of specialized tooling fixtures and accessories to adapt and expand the capabilities of your printer. We have designed tooling for many situations, so what might be a custom job somewhere else, at Systematic Automation is a standard option. View our complete line of screen printing accessories.