Screen Printing on Growlers
The microbrewery market has exploded over the last ten years. Growlers have gained popularity, providing an attractive and easy way to sell and transport your beer, while giving your customers a keepsake. Offering your customers custom growlers, whether you're a brewery or a print shop servicing a brewery, should be a standard offering.
Growlers have been used by local breweries since the latter half of the 1800s, where beer runners delivered brew to homes from local pubs and brewers. Growlers are often made from glass, ceramic, or stainless steel. Amber-colored glass growlers are standard due to the potential for clear glass, allowing light to make the brew go bad.
Printing or selling custom-branded growlers will give your patrons something to keep and talk about. Many breweries sell growlers and fill them with their delicious brews for a fee. Get ahead of your competition by custom screen printing your growlers, while saving time and money.
WHY UPGRADE YOUR SCREEN PRINTING MACHINE FOR YOUR GROWLERS?
Systematic Automation offers growler screen printing machines for new printing businesses to established shops looking to upgrade their machines and product offerings. We offer an array of custom screen printing machines built right here in the U.S.A.
The Model F1-DC Semi-Automatic is designed to swiftly print your products while you run your business. With an incredible 1,600 parts per hour turnover and fast loading and unloading, you will take your printing operation to the next level. These machines are designed to last. The Model F1-DC is built for simplicity, yet precise for all your print jobs.
Our Model F1-DC is built with our pneumatic system, allowing a longer lifespan due to no component burnout or parts becoming obsolete. Multi-color printing is also a simple integration. The handle for your growler may be used as a point of mechanical registration. The precision of the F1-DC gives you the opportunity to offer your customers intricate designs to match their brand.
PRINTING YOUR GROWLERS HAS NEVER BEEN SIMPLER
The precision system allows for multicolor printing
Quick and easy product changeover in seconds
Approximately 3,600 parts per hour depending on the product
Pneumatic System cannot overload, burnout, or become obsolete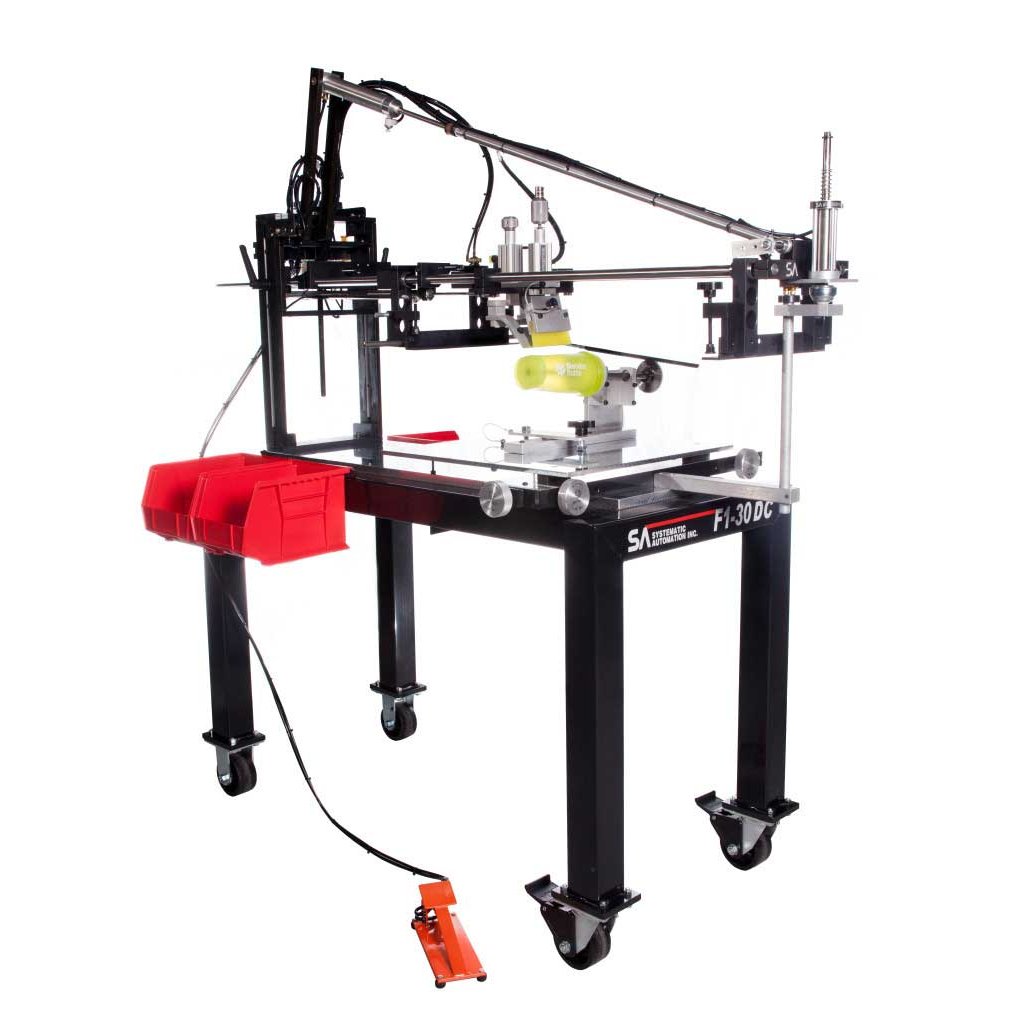 Screen Printing Machines for Growlers
F1 Screen Printing Machine

F1 Screen Printing Machine

Clamshell Printers For Flat Products

Designed for simplicity and precision screen printing.
Aluminum tooling plate base ground flat within +/- .001" (.025 mm).
Capability to print flat & cylindrical products.
Pneumatic system cannot overload, burn out, or become obsolete.

Learn More
Make the Right Choice for Your Screen Printing Business
Systematic Automation is your choice for professional custom screen-printing machines made here in the U.S.A. We offer an array of custom screen-printing machine models to handle all your printing needs. We also offer UV curing machines, vacuum tables, and heat treatment machines to ensure your printing shop can fill every order. We have experienced technicians that offer support to help set up your machine and any technical questions you have once you start printing. Call or contact us today to speak with one of our expert technicians and choose the right machines for your business.
Some of Our Satisfied Customers