SA UltraLight UV curing systems are available for flat, 3 dimensional and cylindrical products are available. UV LED integration is available. Conveyors may be optimized for your application with dozens of opitions available.
Our standard UV curing units include UV conveyorized systems for UV curing flat products and UV spin cures for curing cylindrical products (U.S. Patent number #6,397,491 B1). Our pre-engineered UV curing machines are used for UV curable inks, adhesives, and coatings.
The Model UVC uses the Ultra Light power supply which supplies tri-power settings of 200/300/400 WPI. Included with the Model UVC is a touch screen user interface for setting the wattage, checking your lamp life and more. The shroud and UV curtains safely cover the operator from UV light. Simple adjustments can be made for products ranging in height. All machines are manufactured & engineered at SA headquarters and can be tailored for specific processes. Heavy duty systems available for large format products.
Lamp Sizes Available:
3"(70mm), 6"(150mm), 12"(300mm), 18"(450mm), 25"(630mm), 30"(760mm), 40"(1010mm)
LED Integration Available
The Model UVSP will cure any cylindrical product without the requirement of manually changing over tooling. The Model UVSP uses the Ultra Light System which features the tri-power settings of 200/300/400 WPI as well as a user friendly touch screen control panel.Options can be included for an automatic take-off. The Model UVSP features an all mechanical Geneva drive mechanism, which is extremely easy to service (only requirement is machine oil). The Model UVSP will last you a life time. All machines are manufactured and engineered at SA headquarters and can be tailored for specific processes. Heavy duty systems available for large format products.
Lamp Sizes Available:
6"(150mm), 12"(300mm), 18"(450mm), 25"(630mm)
Rather curing your product again, both sides are cured simultaneously. The UV light is covered by the shutter system when your product is not in the UV chamber. The Light Tank Conveyor is designed for heavy & large products. Irradiators (lamps) are placed vertically on each side of the product. Both have the capacity for a maximum output of 400 WPI. Sensors are installed for safety precautions and to automate your curing process.
Tri-Power 200/300/400 Watts Per Inch Power Supply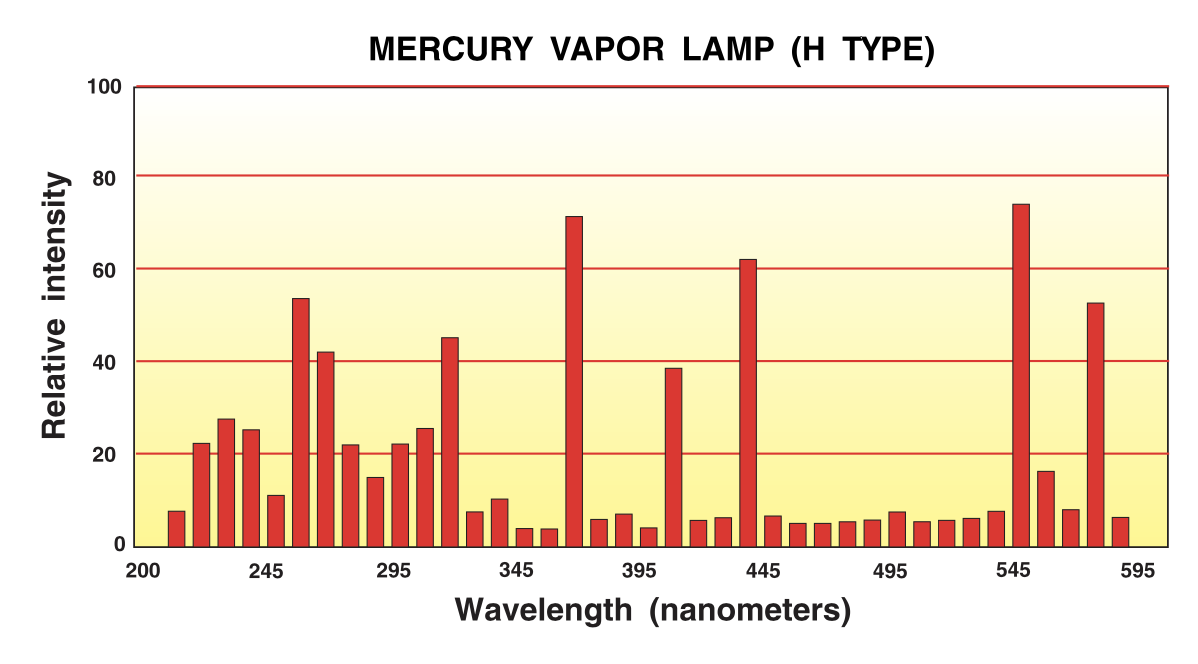 The mercury lamp has a strong output in the short wave UV range between 220 and 320 nm (nanometers) and a spike of energy in the longwave range at 365 nm. The H lamp is a good choice for clear coatings and thin ink layers and produces hard surface cures and high gloss finishes.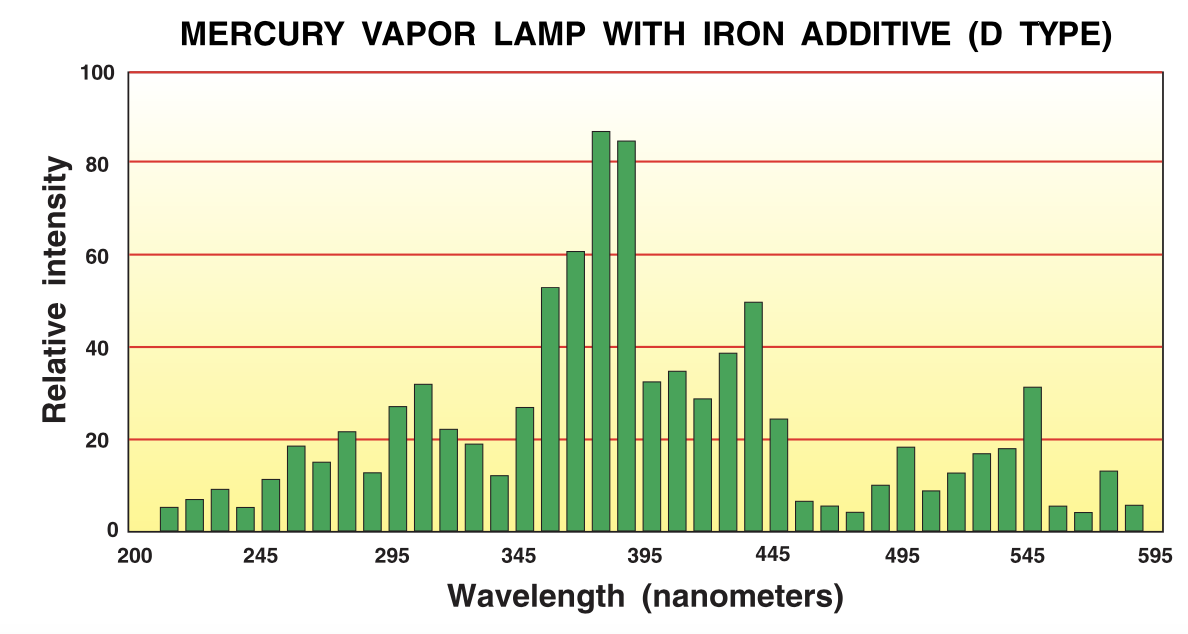 The addition of iron to the lamp yields a strong output in the long wave range between 350 and 400 nm while the mercury component maintains good output in the short wavelength range. The D lamp is a good choice for curing heavily pigmented inks, adhesives, and thick letdowns of clear materials.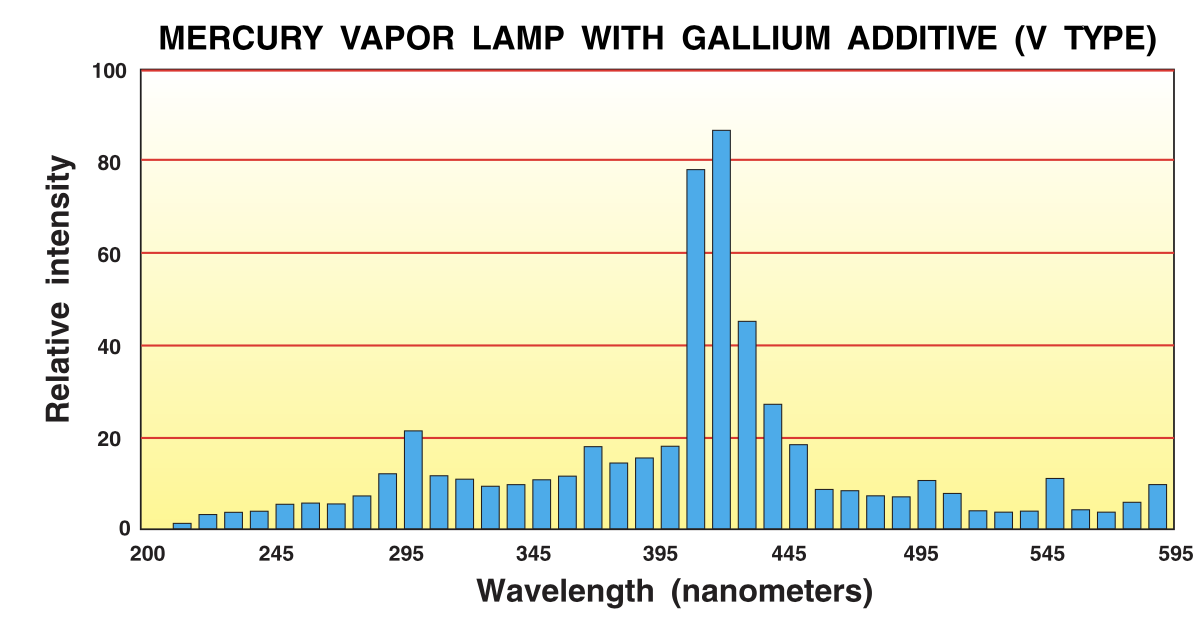 The addition of gallium to the lamp yields a strong output in the long wave range between 400 and 450 nm. This makes the V lamp a good choice for curing white pigmented inks and base coats containing titanium dioxide which blocks most shortwave UV.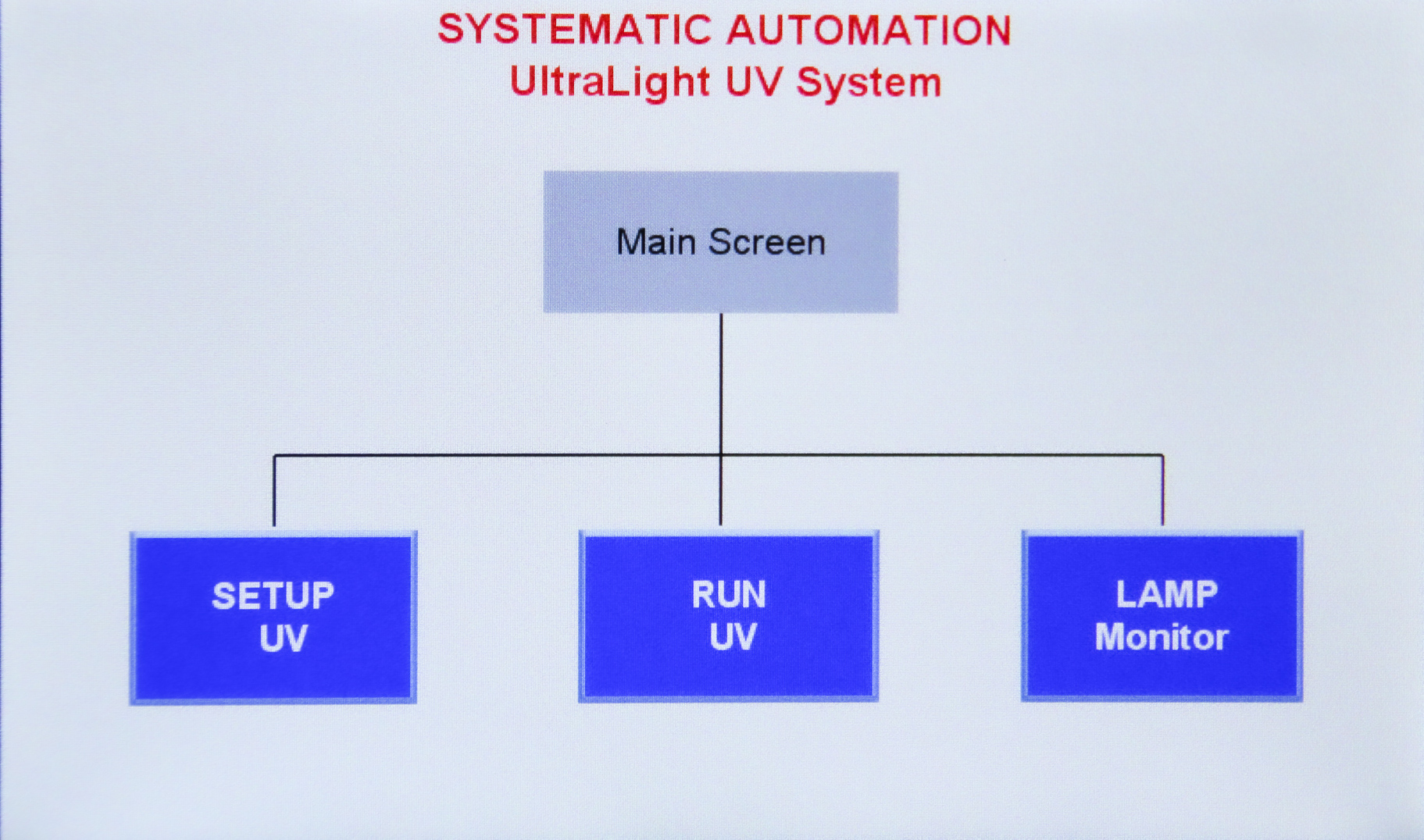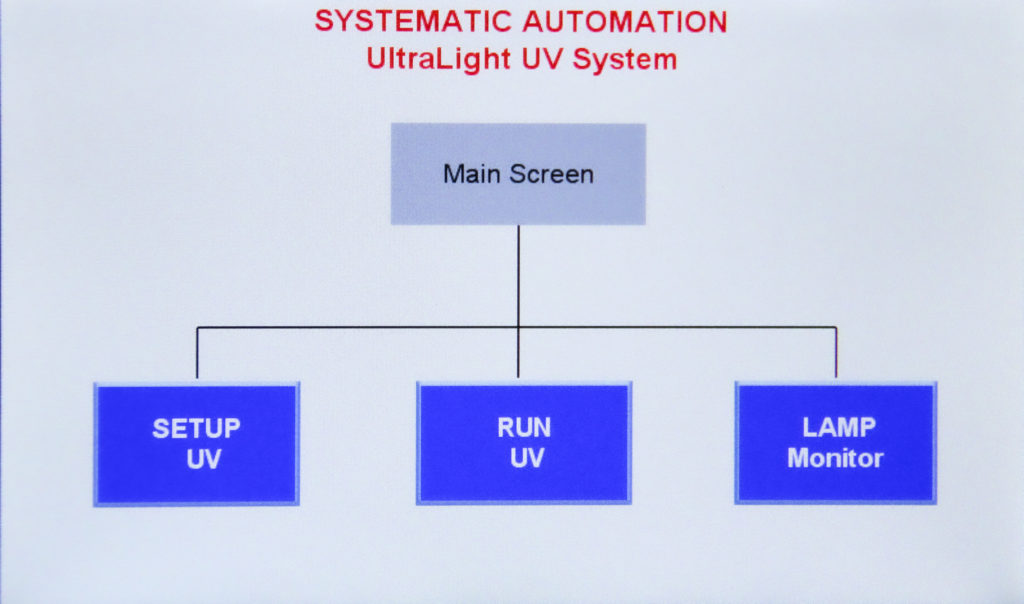 MAIN OPERATIONAL SCREEN
All the functions of the Ultra Light system are accessed from the touch screen control panel.
The system consists of three modes of operation: Setup, Run and Monitor.
The operator can switch between all modes even when the UV is in operation.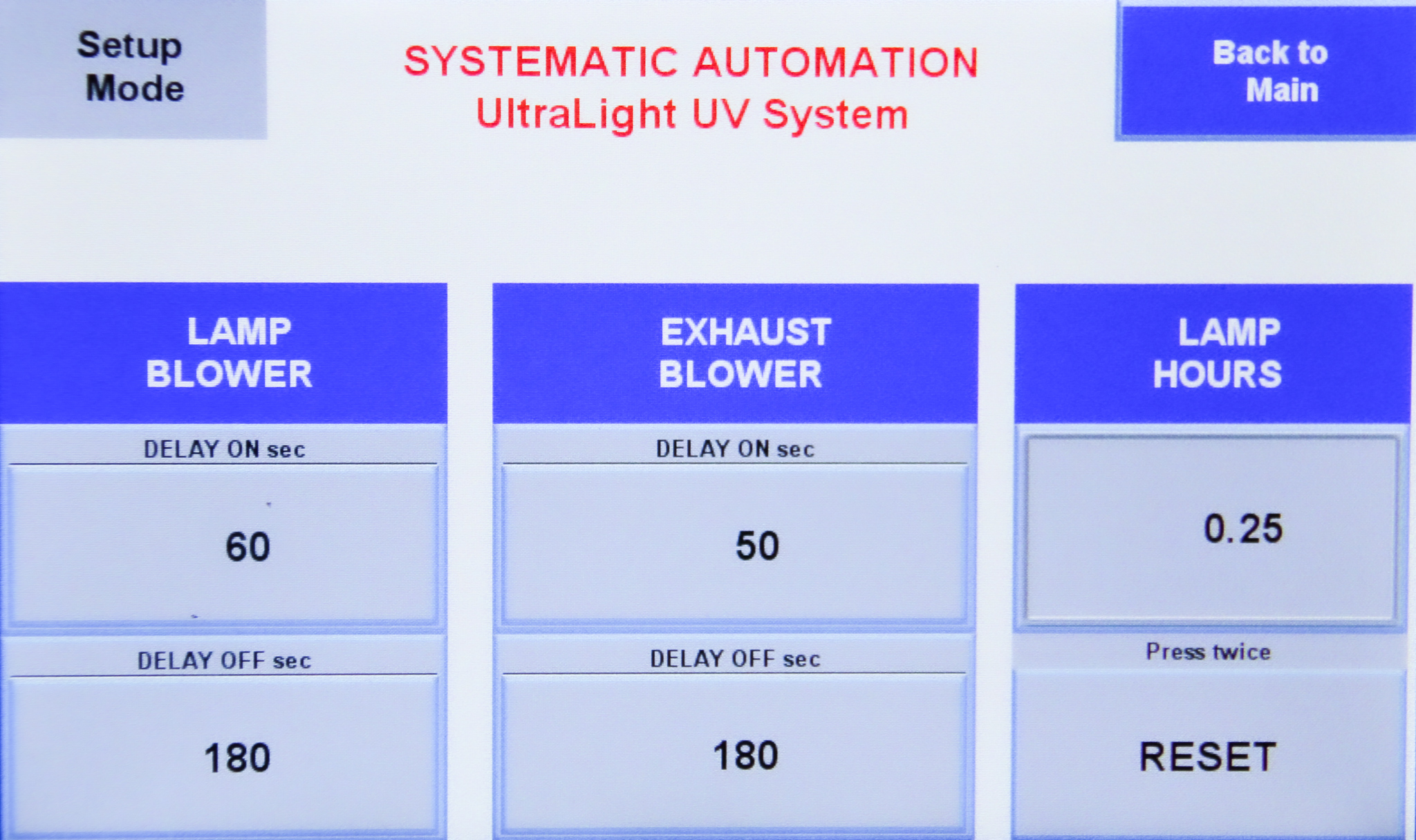 SETUP MODE SCREEN
Setup mode is a password protected screen that allows the operator to set the delay on/off time of the blower. Multiple blowers may be configured in a system.
The total operational hours of the lamp is displayed in a message box. The operator resets this hour meter reading when a new lamp is installed in the system.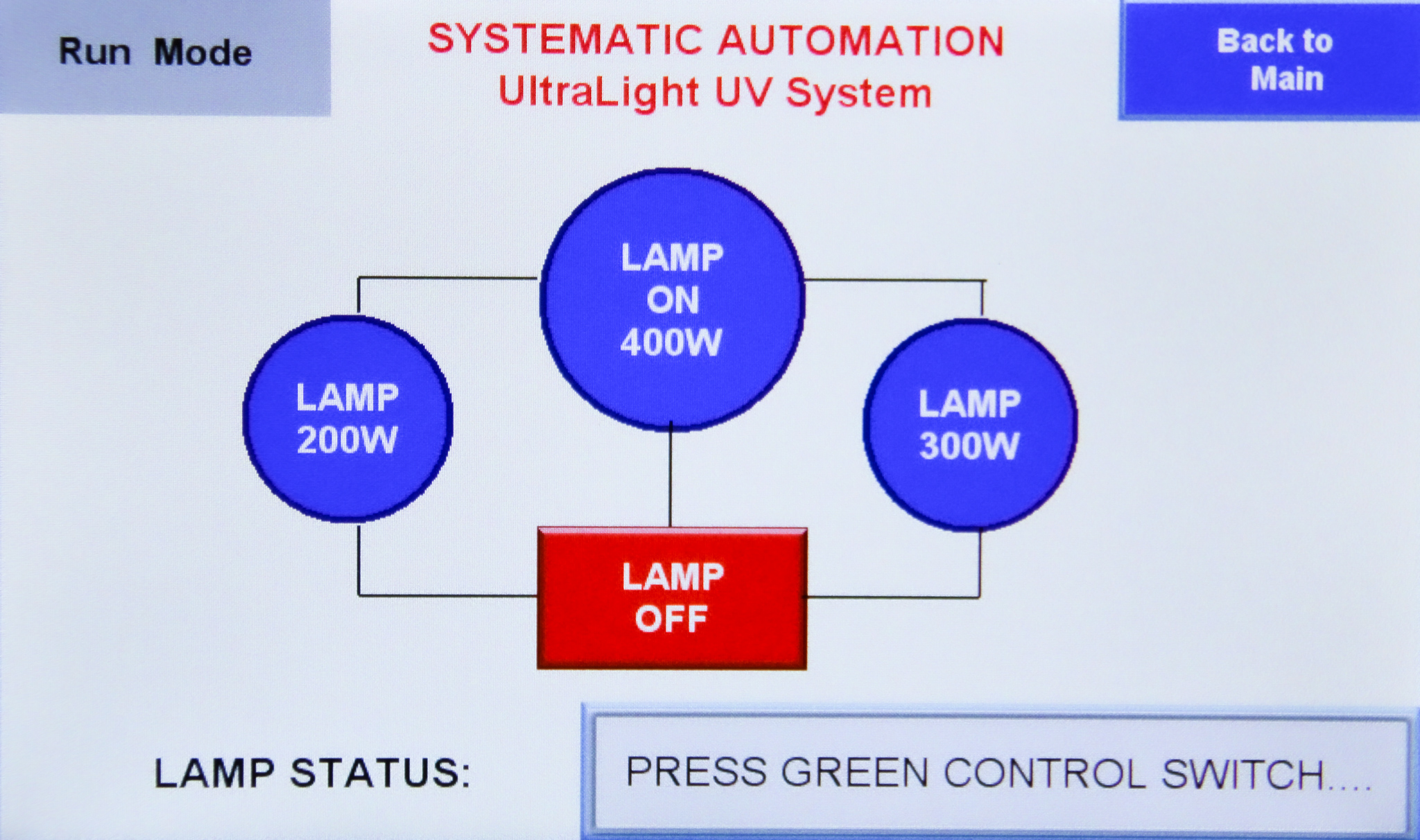 RUN MODE SCREEN
Different lamp power settings (200/300/400 WPI) are chosen by a simple touch of the screen.
Status of the UV lamp as well as step by step instructions for the UV system are displayed in the message box at the lower right section of the screen. This straight forward and intuitive approach allows a novice operator to operate the Ultra Light system easily.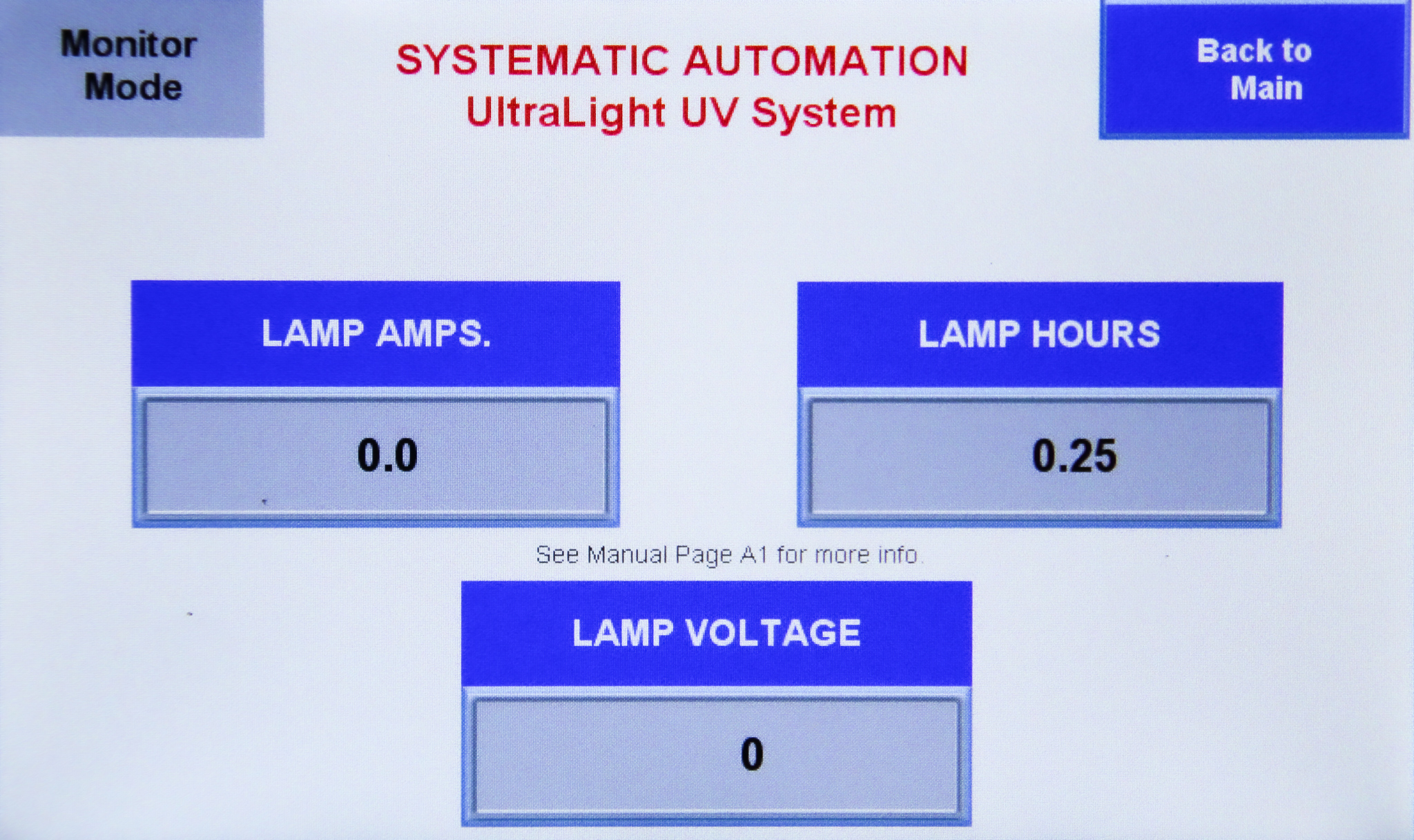 MONITOR MODE SCREEN
Condition of the UV lamp, lamp current and total lamp operation hours are displayed on the monitor mode screen.
The World's Most Reliable UV Curing System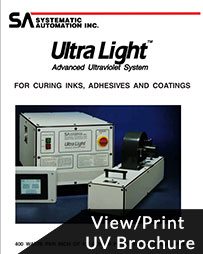 When you buy Systematic Automation UV curing systems you're getting something more than the world's most reliable UV system. You're getting an entire organization of people. Our technical support, problem-solving abilities and research and development resources are priceless.
No one knows this business like Systematic Automation. And we're available to you with every UV curing machine we make. We'll help develop a UV curing machine that can help you cut costs and increase production. We'll solve processing problems or provide technical service wherever you need it. Whenever you need it.
And because we plan to meet your UV equipment needs for a long, long time, we've doubled our UV research spending. Doubled our UV engineering and UV manufacturing facilities. And, as a result, doubled our ability to respond with even higher performance UV equipment and technical support you'll need in the future.
The process of UV curing with our Ultra Light UV Equipment will result in a superior product appearance, reduced energy expenses, increased throughput, decorating, bonding/coating. All this without the VOCs and other environment hazards that certain solvent inks bring. We provide UV lamps, UV curing systems and will assist you in finding the correct UV ink for your process. Our UV curing systems are used for coatings and adhesives for wood, glass, metal, plastic and paper. The Ultra Light UV system offers Tri-power settings for configuration of 200/300/400 WPI.
We will provide you with a UV curing solution for your application. Manufacturing is done at the United States factory for optimal quality control. Call us anytime for immediate customer support. We have the leading experts ready to take your UV curing questions. Chances are very good we have the pre-engineered system for you.
Obviously, we've invested a lot in our UV products. But we look at this way: it's much more than an investment in our future, it's an investment in yours. And you can't afford anything else.
About Systematic Automation for UV Curing Systems
Systematic Automation is a pioneer in manufacturing UV curing systems, providing state-of-the-art UV curing machines and components for decades. Curing of inks, adhesives, and coatings with intense Ultraviolet light is a very effective and efficient way to speed up a final process in many parts manufacturing applications. When these coatings are exposed to UV radiation, a photochemical reaction occurs, instantly drying the outer coating with minimal shrinking, and no use of volatile chemicals.
A UV curing system provides a very consistent process compared to other drying methods where evaporation occurs. The photochemical reaction happens so quickly that part integrity is maintained, increasing the quality of your customer's product. UV Curing provides high quality consistent results, with speed and automation giving even greater benefits with cost-saving efficient processes.
Some examples of UV curing used in commercial and industrial applications include:
Automotive – instant drying of inks on interior automotive parts such as window buttons and dashboard labeling
Aerospace – effective curing of parts labeling where durability and reliability are critical
Medical – drying and disinfection is provided from UV curing processes in medical and pharmaceutical applications
Screen printing – fast and effective curing on various products such as signs, t-shirts, mugs and pens
Systematic Automation has designed, engineered, manufactured and installed thousands of UV curing systems offering dozens of models to choose from. Our UV curing machines are manufactured with superior parts and components, providing long-lasting high performance.
Systematic Automation Has a UV Curing Machine for Your Application
With a variety of models to choose from, Systematic Automation has the right UV curing machine for you. We have several standard features incorporated into all of our top of the line UV systems, and can customize any curing machine to fit your current process.
Our Ultra Light UV Conveyor Machine comes with standard features including a user-friendly touch screen interface, revolutionary irradiator design for maximum energy efficiency, adjustable legs for height of the conveyor, a unique conveyor pulley design for hassle free tracking with a Teflon coated belt for long lasting durability. This UV curing machine is perfect for various flat items, with height adjustment up to 3.25" for a variety of products (custom height adjustment available).
Our Cylindrical 360 UV Curing Machine provides extensive versatility in curing a variety of cylindrical and odd shaped substrates. The unique 360° cure range provides consistent overall curing, guaranteed. This curing machine can accommodate items as small as an pen up to gallon size containers. This patented UVSP curing system comes with a unique revolving door design for minimal UV light escapement. The vacuum platens keep all substrates securely in place allowing for consistent 360° cure even on three-dimensional products.
Our highly skilled staff is pleased to assist you in finding the right UV curing machine for your inks, adhesive and coatings curing requirements. We have the experience, the knowledge and resources to provide the right curing machine for your needs, or we will customize a UV curing system to fit your current application.
Systematic Automation, Inc. sets industry standards with high performance UV curing machines for almost any commercial or industrial UV curing application. All machines are rigorously tested for high quality performance prior to shipping. Contact us today for proven effective solutions for your next UV curing machine.
SOME OF OUR SATISFIED CUSTOMERS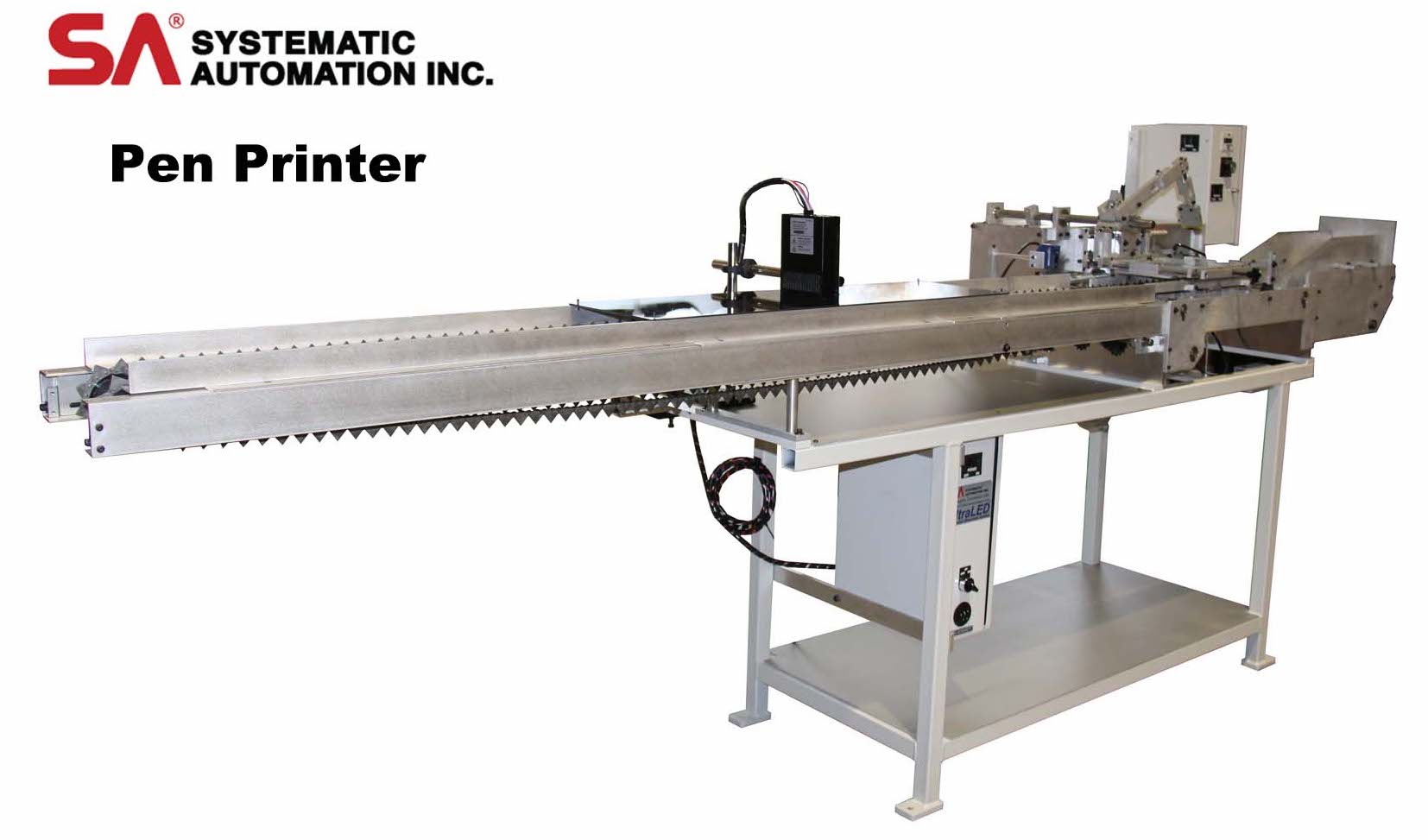 For over 75 years the in-line all mechanical pen printer has been around in various iterations. The SA printer uses chains and cams rated well over 300 million cycles. Precision machine tool quality throughout. This is a machine that will last you a lifetime. SA engineers have taken the historic designs of the past and…
Read More