Screen Printing Machines for Frisbees
You want the aesthetics of your appliances to accentuate the home. Screen printing on your appliances will provide the user with an opaque brand that will remind them every time that they use the appliance.
Appliances have an extensive range of products, all of which may require their fixture machined to your specifications. For instance, you may need the door on a microwave to get printed or a stovetop to get printed. Luckily, both can be printed using the same machine and with simple & quick changeover. Products such as stovetops will require a print that will last the abuse that hi-temp heat can put on it. We will assist you with the process and development of your system.
Some important factors to keep in mind when printing your appliances, especially those outputting heat or steam, are the pretreatment and screen you decide to use. Pretreatment of your products may require Pyrosil depending on the ink you use, which will be influenced by your production rate. Screens are also important to the printing process of your appliances. Some screens may require pretreatment themselves.
Systematic Automation will assist you while navigating what is required to optimize and automate your printing process.
Why Systematic Automation for Your Frisbees?
Systematic Automation offers Frisbee screen printing machines for new printing businesses to established shops looking to upgrade their machines. We offer an array of custom screen-printing machines built right here in the U.S.A.
The Model F1 is the industry standard for printing on frisbees. Systematic Automation has been manufacturing and engineering screen printing solutions for frisbees. We have had an outstanding response to with our Model F1 and frisbee printing. Tooling is made specific for your product with user designed simplicity. You simply place in your frisbee on the tooling, no need for adjustment. Taking the frisbee off the tooling without touching the ink has never been simpler. Your operator would only touch the side while maintaining precision machining for uniform print placement.
The versatility of the Model F1 allows your print all your promotional products. In our over 30 year history, we have not received an application that could not be printed with the Model F1. With the purchase of this machine, you are buying a system to print on any product, including cylindrical. The tooling offers quick changeover from the Model F1 tooling plate of typically less than a minute. You will have a one stop shop for printing on all of your promotional products with a machine designed for user simplicity and durability.
Printing your frisbees has never been more simple
Designed for simplicity and precision production.
Aluminum tooling plate base ground flat within +/- .001" (.025 mm).
Capability to print flat & cylindrical products.
Pneumatic system cannot overload, burn out, or become obsolete.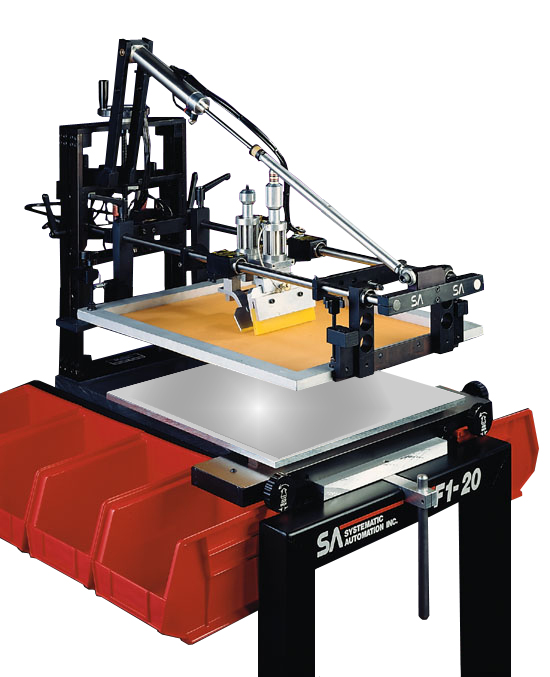 Screen Printing Machines for Adhesives
RC-1 Screen Printing Machine

RC-1 Screen Printing Machine

Rotary Index Printers For Flat Products

Ideal for license plates, 3D products, shoe insoles and more.
Top quality linear ball bearings rated at over 300 million cycles.
Smooth acceleration and deceleration of dial motion.
Machine can operate in single cycle or fully automatic mode.

Learn More
Ultra Light UV Conveyor

Ultra Light UV Conveyor

UV Curing Systems For Flat Products

Tri-Power 200/300/400 watts per inch power supply.
Lamp sizes up to 40"(1010mm). Conveyor belt width sizes up to 144"(1450mm).
Cooling air is drawn through unit by a blower.
LED integration available.
Plate belting available for heavy products.
Adjustable lamp/LED module distance.
Programmable power supply with PLC.

Get a Quote

Learn More
Make the Right Choice for Your Screen Printing Business
Systematic Automation is your choice for professional custom screen-printing machines made here in the U.S.A. We offer an array of custom screen-printing machine models to handle all your printing needs. We also offer UV curing machines, vacuum tables, and heat treatment machines to ensure your printing shop can fill every order. We have experienced technicians that offer support to help set up your machine and any technical questions you have once you start printing. Call or contact us today to speak with one of our expert technicians and choose the right machines for your business.
Some of Our Satisfied Customers