Screen Printing on Wine Bottles
Custom printed wine bottles will create a memorable keepsake for your winery, business event, or other personal events. Our machines print directly on the bottle, creating a permanent label for your brand or event name. Unlike the competition that uses adhesive stickers, your products will have the beauty and elegance to be remembered year after year.
Your bottle of wine will also stand out from the competition, with an opaque design that only screen printing can deliver. Your packaging is one step in your marketing and branding process. So give your customers the product packaging that will keep them coming back time and time again. Make their events stand out with a simple and beautiful wine bottle. Every brand touch, especially the memorable ones, will keep them coming back.
Our custom wine bottle screen printing machine provides the solution your shop and customers need. Our expert technicians design and build each machine in the U.S.A. Keep ahead of your competition by calling us today to learn more about how we can help you grow.
Why Upgrade Your Screen Printing Machine For Your Wine Bottles?
Systematic Automation offers wine bottle screen printing machines for new printing businesses to established shops looking to upgrade their machines and product offerings. We offer an array of custom screen printing machines built right here in the U.S.A.
Our Model F1-DC Semi-Automatic screen printing machine is perfect for printing your custom wine bottles. The Model F1-DC is built to keep your print jobs running smoothly while you handle your business. The F1-DC can print up to 3.600 parts per hour (depending on image size), allowing you to get your jobs done quicker. With fast product change over and no need to readjust or align for various products, the Model F1-DC is perfect for all size print shops. Our universal tooling allows for you to use one fixture for all sizes of your wine bottles with quick and easy adjustments between sizes.
PRINTING YOUR WINE BOTTLES HAS NEVER BEEN simpler
Ideal for cups, pint glasses, wine glasses, growlers, tubes, and more.
The precision system allows for multicolor printing.
Quick and easy product changeover in seconds.
Approximate throughput of 3,600 parts per hour (depending on the article).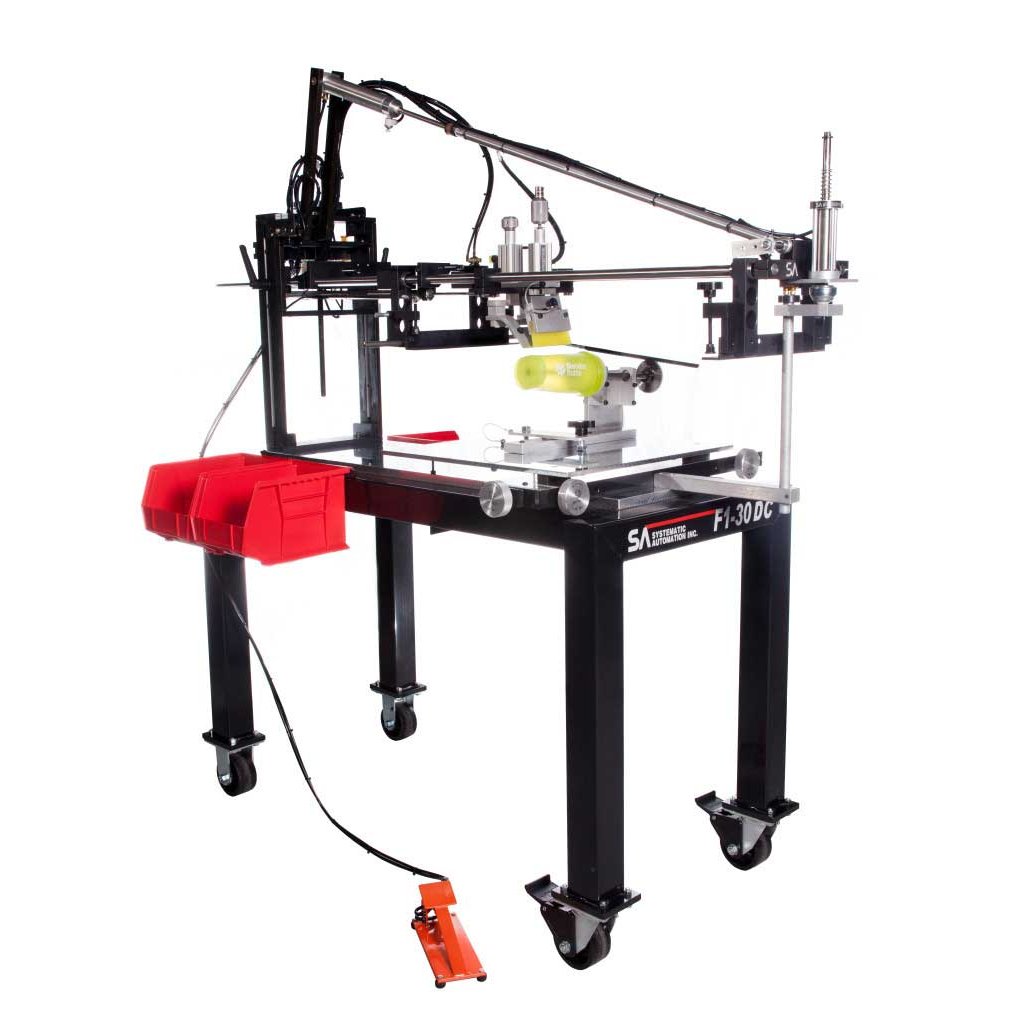 Make the Right Choice for Your Screen Printing Business
Systematic Automation is your choice for professional custom screen-printing machines made here in the U.S.A. We offer an array of custom screen-printing machine models to handle all your printing needs. We also offer UV curing machines, vacuum tables, and heat treatment machines to ensure your printing shop can fill every order. We have experienced technicians that offer support to help set up your machine and any technical questions you have once you start printing. Call or contact us today to speak with one of our expert technicians and choose the right machines for your business.
Some of Our Satisfied Customers