Vacuum Tables: What To Know
Vacuum tables hold substrates during machining, printing or any other automated process. There is a perforated table top containing a vacuum chamber, as well as a vacuum pump to maintain the vacuum, which is ideal when you want a completely unobstructed surface with your product during a procedure. Previously, clamps were the primary method for product hold down. This required manual intervention with products (fastening and loosening clamps) to move to the next process. Vacuum tables have enabled a variety of industries to automate their procedures, improve on them and much more.
Over the past half century, industrial engineers have used vacuum technology to hold down various materials effectively and reliably, allowing them to be printed, cut, machined, measured, coated, and adhered without the use of clamps or fixtures.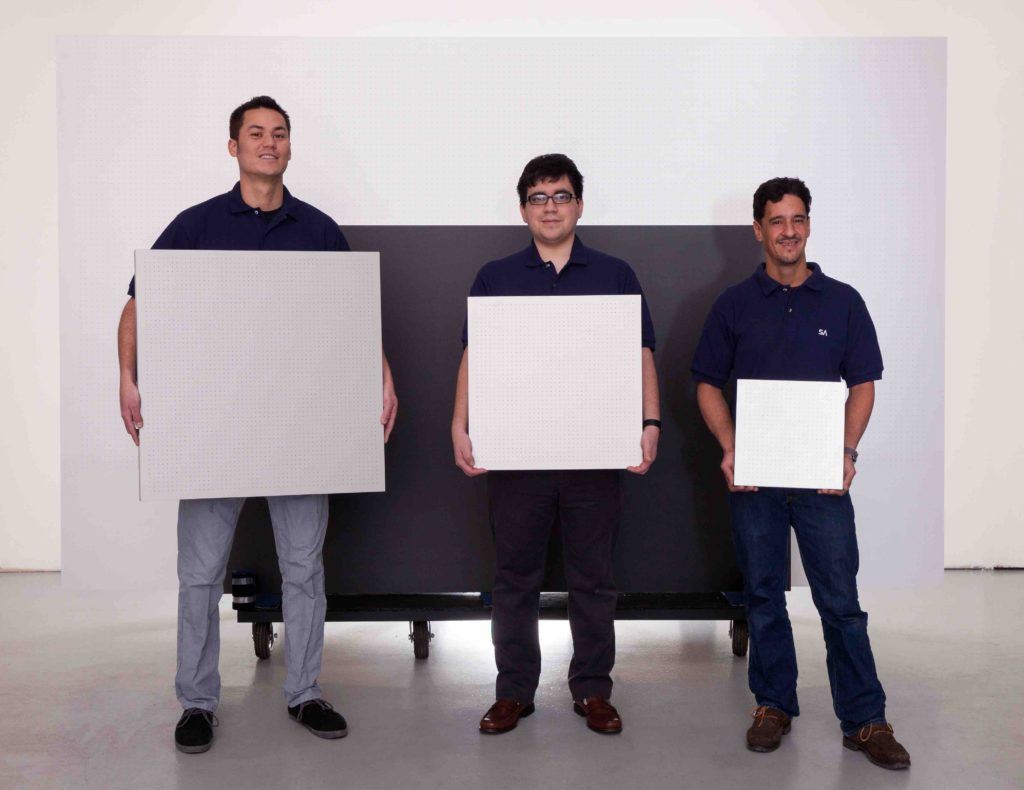 Want to learn more about how vacuum tables can assist your business?
Call us at 860-677-6400 or fill out a form
How do Vacuum Tables work?
Vacuum tables are simple and only require a vacuum pump, hose material and a vacuum port connector to get started. Vacuum pressure can be adjusted through the SA adjustable vacuum option which connects to the vacuum port and allows you to control the air flow in your vacuum table. In order to minimize the loss of vacuum to atmospheric pressure, one must place the work upon a vacuum table and use templates to concentrate the airflow for your specific product. Baffles can also be installed inside of the vacuum table to create a custom vacuum zone for your product. The vacuum can either be turned off with a valve, food pedal or manually.
There are several advantages to vacuum workholding:
Faster and more accurate setups.
Workpieces can be accessed from all sides.
Material handling and potential damage to the material and machine are minimized.
Custom made for your process.
Which Vacuum Table will give you the optimal result for your process?
Systematic Automation offers many screen printing solutions with vacuum table systems incorporated into semi-automatic and automatic screen printing machines to further improve efficiency and quality.
Screen Printing Vacuum Table for the Greatest Versatility
SA started producing vacuum tables in-house for manufactured screen printing machines. Demand for vacuum tables coupled with demanding image quality launched SA into becoming a leading provider of vacuum tables. Some of which have revolutionized production and what is possible when screen printing. One such is example is our heated vacuum table that was initially made to de-wrinkle bags prior to printing. It has since been proven to be revolutionary step for the process of thermoforming. SA uses the cumulative knowledge of the wide variety of vacuum tables for different industries to produce vacuum tables that are to be to be tailored to your production.
Vacuum tables are not only ideal for screen printing, but inkjet printing as well. SA has been a provider for inkjet manufacturing companies around the world. For inkjet, flatness is paramount when printing an image. Through our proprietary means, we have manufactured the flattest vacuum table at .001" flatness per linear foot, which is our standard. The entire production of vacuum tables is done in house, which allows SA freedom over control of quality and allows us to push the boundaries of what shape a vacuum table can take as well as integrated features. One such integrated feature, for example, are popup pins that hold the substrate in a particular location, followed by vacuum for maintaining precise placement. This is most often utilized with the Model SST, which carries material from different points of the printer, while maintaining unparalleled image accuracy.
Systematic Automation offers vacuum tables to suit your application and budget. Contact us to learn more about the best options for your business.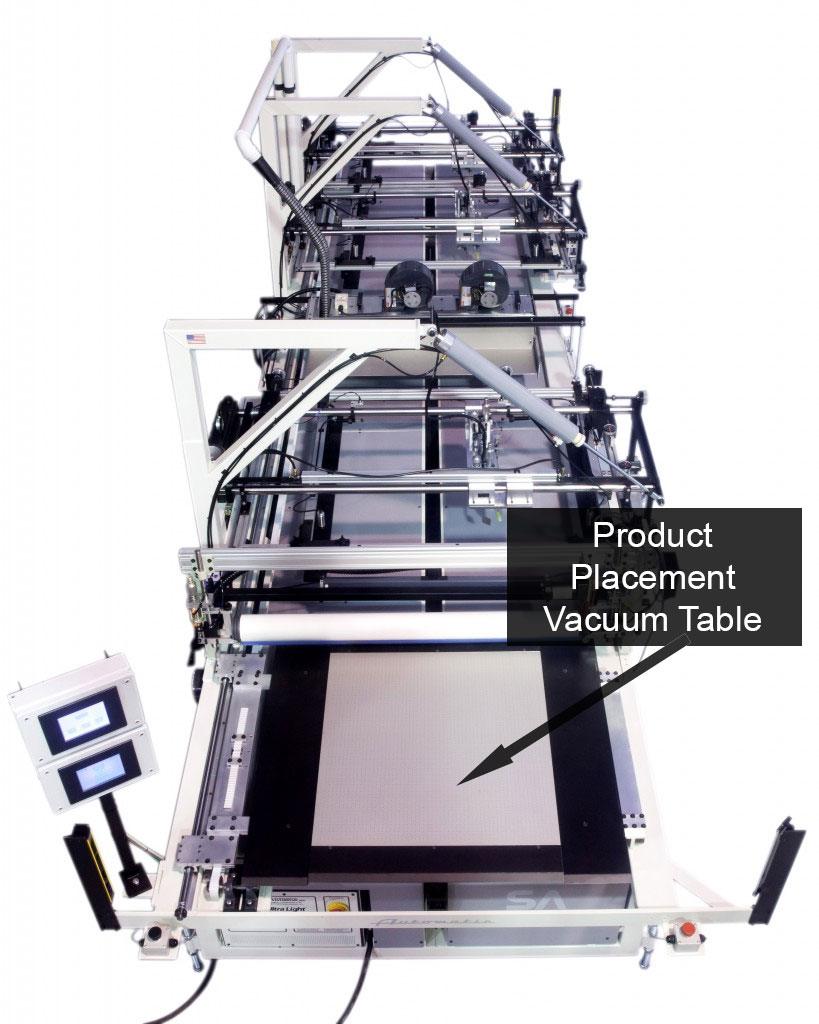 What custom options are available for my Vacuum Table?
A vacuum table can be designed specifically for your business and nearly any aspect can be customized, including:
Automatic pin registration that actuates when putting your substrate on and the pins come down when vacuum is actuated.

Wooden vacuum tables available.

Custom bases with wheels that slide or swivel for easy transport.

Formica can be added if your substrate is prone to conductivity or prone to scratches.

Stainless steel top skin available.

Size made to your preference - no vacuum table is too large.

Control valves for custom zones.

Parallelism for the top and bottom of the vacuum table to achieve flatness of +/-.001" per linear foot on both sides.
A coating of anodize can be applied to improve insulation properties and corrosion resistance.

X-Y adjustable base.

Hole patterns and sizes are custimizable.

Shapes tailored to your needs.

Separator for cooling fluid when using CNC so that the fluid does not get into your pump.

Integrated heat system with analog heating controls. Ideal for thermoforming and de-wrinkling.

An Air Purification System can be added to prevent 99% of particles from entering the pump and the environment. Ideal for medical applications.
Automatic Pin Registration
It is possible to make your own stop out of a rigid substrate and fasten it to the vacuum table top so that parts are oriented the same way every time on the vacuum table. Alternatively, we have an automatic pin registration system that consists of three steel pins inside the vacuum table that are in the up position for loading and retract automatically when the vacuum is activated.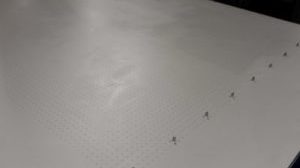 Already own a Vacuum Pump?
We offer reducers for our standard vacuum hose connections so that vacuum pumps of all sizes can be fitted onto any SA vacuum table. Alternatively, you can use our standard hose and manifold, and SA will make an adapter for your vacuum pump.
Mounting your Vacuum Table
You can either clamp down or drill through the 3/8" flange around the table's border to mount with a threaded rod. Custom bases are built upon request. Flanges for SA vacuum tables are optional.
Most vacuum tables have flat, parallel bottoms that can be mounted directly to your machine base. When the vacuum table is subjected to slight twisting forces (less than 1/16"), the surface will return to its original flat state.
As you mount your table, watch for rocking motions that indicate that the mounting surfaces are not aligned. Shims can be used to eliminate rocking. Make sure the table top is parallel with the gantry or slide of your machine, and correct if necessary by adding shims, avoiding any rocking that could twist the table top.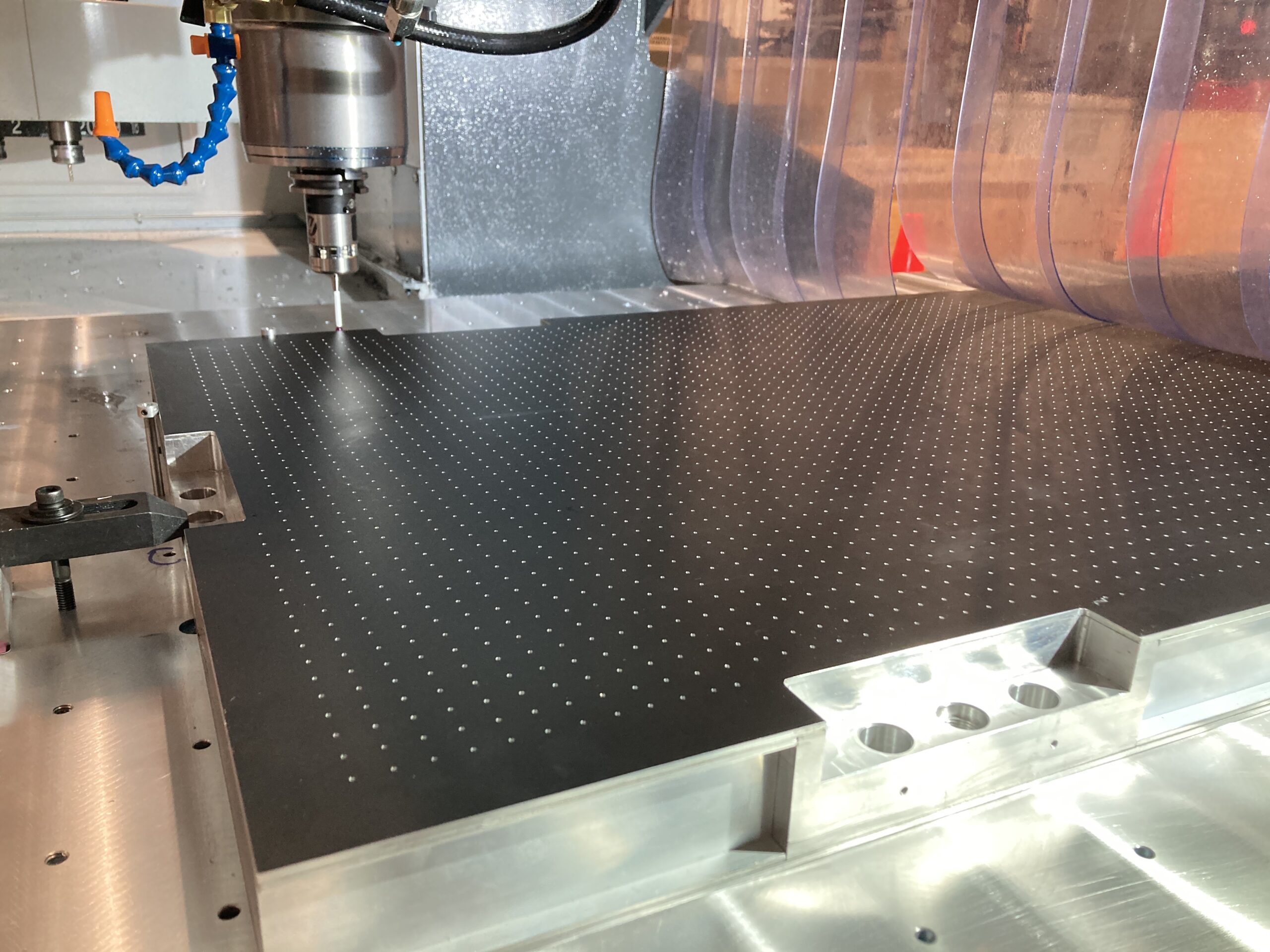 Avoid Substrate Scratching
To prevent substrates from scratching against the vacuum table when loading and unloading, you can use the vacuum valve with blowback. The valve blows air through the table for loading and unloading, similar to an air hockey table. When the vacuum is off, this option allows you to control how much air is blown back into the vacuum table. A minimum of 60 PSI of compressed air is required. You also have the option for your vacuum table to have a formica top skin.
SOME OF OUR SATISFIED CUSTOMERS