Screen Printing Machines for Awards
Custom Made Awards are the best way to celebrate employees or partners. A Custom Made Award gets manufactured to any choice, size, material, event, or function and customized to the personality of the company, establishment, or individual around a theme, brand, or occasion.
Trophies are a time-honored tradition dating back to ancient Greece, where the winners of the Olympic games eventually received an amphora with sacred olive oil in addition to their iconic laurel wreaths. In local games, the winners received trophies such as a tripod vase, a bronze shield, or a silver cup. The oldest sports trophies in the world are the Carlisle Bells, a horse racing trophy dating back to 1559, and 1599, first awarded by Elizabeth I. In the New World, chalices were given to winners of sporting events at least as early as the late 1600s. Today, the Davis Cup, Stanley Cup, America's Cup, and many World Cups are all famous cup-shaped trophies given to sports winners.
Our custom-designed awards screen printing equipment provides the perfect solution for your shop and customers. Each machine is made in the USA by our expert technicians. Give your patrons the custom-designed awards they can take pride in by calling us today to learn more about how we can help you grow your business in the custom awards market.
Why Systematic Automation for Your Awards?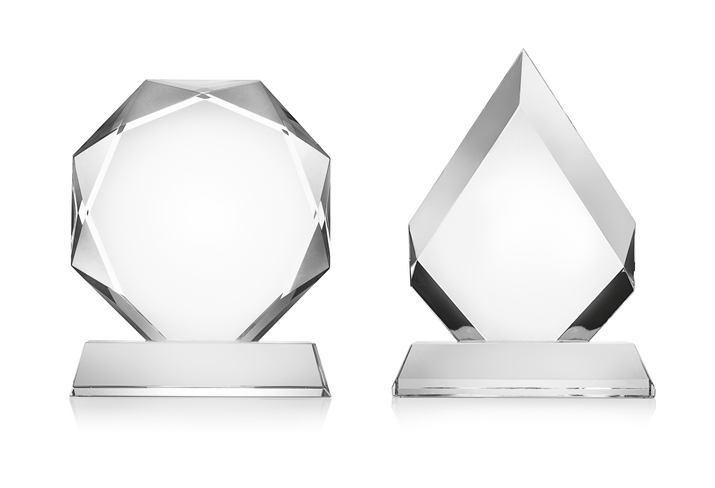 Systematic Automation offers award screen printing machines for new printing businesses to established shops looking to upgrade their machines. We offer an array of custom screen-printing machines built right here in the U.S.A.
The Model F1 is a versatile printer with the capability to print any award medium, whether they be trophy or plaque style. The Model F1 can print both flat and cylindrical mediums for awards. A trophy can have the tooling to engage both ends. Points of registration can get made for multiple color printing. You can also print flat awards with the same printer. Options such as pop-up pins can get integrated so you can more easily pick up the plaque from the tooling pocket after the print finishes. Components on the Model F1-DC are machined to tight tolerances, allowing you to print multiple colors.
UV conveyors are available if you plan on using UV inks for faster cure time. Approximate time for curing awards is 1 second. UV curing is ideal for printing awards with multiple colors because of the quick cure time between colorings. Contact us to learn more about pairing your award printer with a UV conveyor.
Printing your awards has never been simpler
Model F1 Semi-Automatic Screen Printer
Designed for simplicity and precision production.
Capability to print flat & cylindrical products.
A pneumatic system cannot overload, burn out, or become obsolete.
Modular LED input- you choose what system you want, we integrate.
Programmable scale factor in different units.
Special Teflon coated belt for longer life than conventional belts.
Unique conveyor pulley design for perfect belt tracking.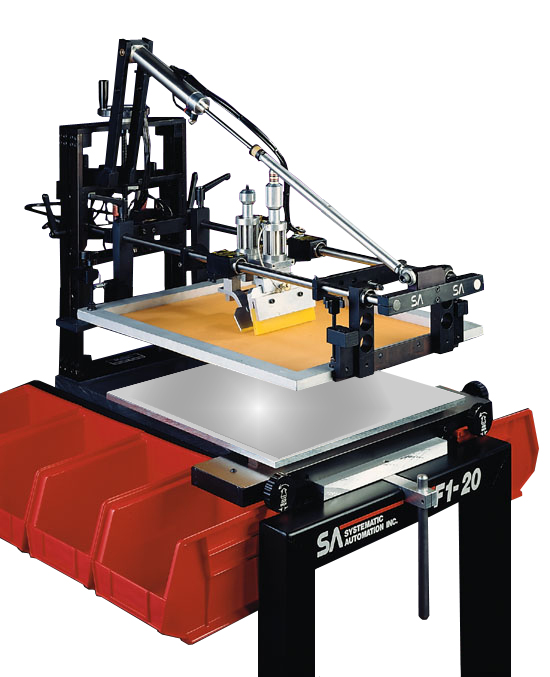 Screen Printing Machines for awards
F1 Screen Printing Machine

F1 Screen Printing Machine

Clamshell Printers For Flat Products

Designed for simplicity and precision screen printing.
Aluminum tooling plate base ground flat within +/- .001" (.025 mm).
Capability to print flat & cylindrical products.
Pneumatic system cannot overload, burn out, or become obsolete.

Learn More
Ultra Light UV Conveyor

Ultra Light UV Conveyor

UV Curing Systems For Flat Products

Tri-Power 200/300/400 watts per inch power supply.
Lamp sizes up to 40"(1010mm). Conveyor belt width sizes up to 144"(1450mm).
Cooling air is drawn through unit by a blower.
LED integration available.
Plate belting available for heavy products.
Adjustable lamp/LED module distance.
Programmable power supply with PLC.

Get a Quote

Learn More
Make the Right Choice for Your Screen Printing Business
Systematic Automation is your choice for professional custom screen-printing machines made here in the U.S.A. We offer an array of custom screen-printing machine models to handle all your printing needs. We also offer UV curing machines, vacuum tables, and heat treatment machines to ensure your printing shop can fill every order. We have experienced technicians that offer support to help set up your machine and any technical questions you have once you start printing. Call or contact us today to speak with one of our expert technicians and choose the right machines for your business.
Some of Our Satisfied Customers