WE SET THE INDUSTRY STANDARD FOR FLATNESS, CUSTOMIZATION, QUALITY, AND PRICE
Systematic Automation is an expert manufacturer of vacuum tables, leading the industry with proprietary technology and setting the standard for superior, precision vacuum tables. Our knowledge and resources allow us to provide the best value to you with a high-precision vacuum table at the lowest possible cost. Our highly skilled staff and expert engineers provide world-class automated solutions with standard or customized vacuum table systems.
We are the world's largest manufacturer of precision vacuum tables for:
Setting the Standard for 40 Years
We have been manufacturing vacuum tables for over 40 years. We provide continual support and professional customer service for all vacuum table solutions.
Our low price is the result of our high volume and efficient manufacturing processes.
Industry Leading Flatness
The near perfect flatness (+/- .001″ per square foot) is the result of our proprietary manufacturing methods and highly specialized equipment.
A Full Line of Precision Vacuum Tables
We manufacture thousands of vacuum tables every year for dozens of unique applications.
Vertical hold demonstration
Heated Table Demonstration
SOME OF OUR SATISFIED CUSTOMERS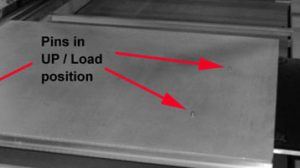 Automatic pin registration may be added as an option for your vacuum table to register your substrate.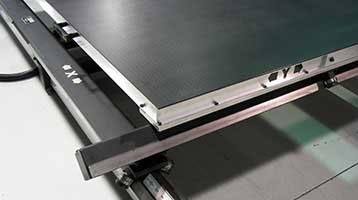 Sliding vacuum tables can be made custom for your application with up to two axis of travel. We also offer swiveling casters for easy transportation.
Formica is an option for your vacuum table surface if your substrate is prone to conductivity or sensitive to scratches. Stainless steel surface optional.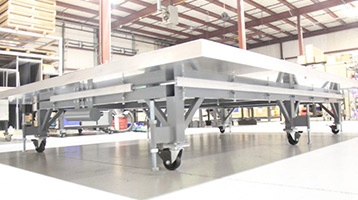 Bases manufactured custom for your vacuum table. Any size and any shape.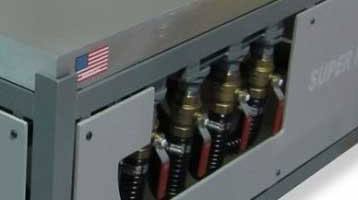 Valves may be added to your vacuum table to turn custom zones on and off.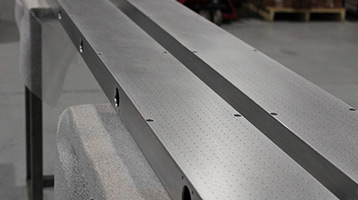 Vacuum table zones for actuating different specified areas of the vacuum table with vacuum.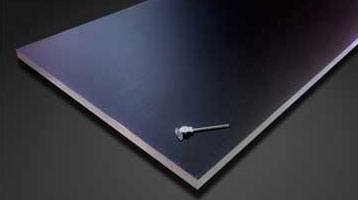 Anodize may be used for insulation and corrosion resistance. Options for colors are also available.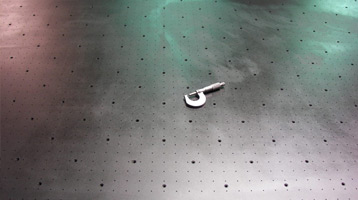 Custom vacuum table hole patterns are available.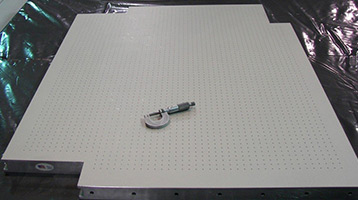 Custom shaped vacuum tables to fit your application.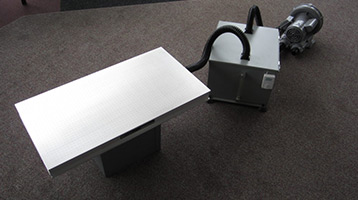 Coolant Separator is the SA solution to avoid CNC coolant from getting into your pump. The coolant will collect in the reservoir with an alarm once it reaches capacity.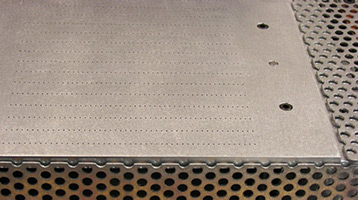 Heated vacuum tables can be made to your specification in size and can reach temperatures of up to 400 degrees.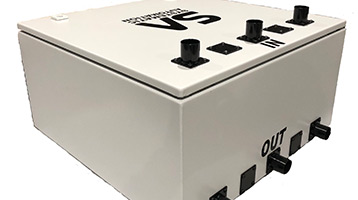 Air Purification filters 99% of particles from entering the pump. The vacuum can collect debris of any hazardous material if the table is used as a work bench.
The standard 1/8″ thick vacuum table top skin is a tough aluminum alloy backed up by a layer of epoxy resin. This combination provides excellent resistance to dents and dings. You literally have to hit these tables with a hammer to dent them. The entire vacuum table is constructed of aluminum with an aluminum honeycomb core. Commonalty of materials reduces the affect of temperature differences affecting the table flatness. The honeycomb core has a slotted top and bottom to provide vacuum flow evenly across the table.
A 1″ x 1″ manifold surrounds the slotted honeycomb core all around the core internally. This provides the best possible distribution of vacuum at all of the vacuum holes across the vacuum table top.
Just give us a call or drop us an email. Ask for the Vacuum Table Engineering Department and we will help you develop a table for your particular application or help you select the correct standard "off-the-shelf" vacuum table. It just can't get any simpler! Contact us now with your application and you will get an answer right away.
Systematic Automation vacuum tables are the number one choice for machine builders around the world. Our vacuum tables are carefully packed to avoid any damage in shipment.
Most tables can be shipped by UPS in wood crates. Crating / packing charge is 6% of the vacuum table price for sizes over 20″x20″. No special wood crafting is required for tables under 20″x20″.
The sizes listed are the outside dimensions of the vacuum table. The standard vacuum hole pattern is two inches less than the outside of the table, so a 20″ x 20″ table will have an 18″ x 18″ vacuum hole pattern.
5″ x 6″ x 1 3/16″
8″ x 8″ x 1 3/16″
12″ x 8″ x 1 3/16″
12″ x 12″ x 1 3/16″
12″ x 16″ x 1 3/16″
12″ x 24″ x 1 3/16″
12″ x 30″ x 1 3/16″
14″ x 14″ x 1 3/16″
16″ x 11″ x 1 3/16″
18″ x 11″ x 1 3/16″
20″ x 16″ x 1 3/16″
20″ x 17″ x 1 3/16″
20″ x 18″ x 1 3/16″
20″ x 20″ x 1 3/16″
22″ x 22″ x 1 3/16″
24″ x 18″ x 1 3/16″
24″ x 22″ x 1 3/16″
24″ x 28″ x 1 3/16″
26″ x 14″ x 1 3/16″
26″ x 19″ x 1 3/16″
26″ x 20″ x 1 3/16″
26″ x 30″ x 1 3/16″
26″ x 34″ x 1 3/16″
27″ x 40″ x 1 3/16″
28″ x 32″ x 1 3/16″
30″ x 20″ x 1 3/16″
30″ x 34″ x 1 3/16″
30″ x 40″ x 1 3/16″
36″ x 36″ x 1 3/16″
48″ x 48″ x 1 3/16″*
48″ x 96″ x 1.50″*
72″ x 144″ x 1.50″*
*Note: Other sizes available upon request. Vacuum tables over 48″ x 48″ require support at more than four points to maintain the plus or minus one thousandth of an inch flatness specification.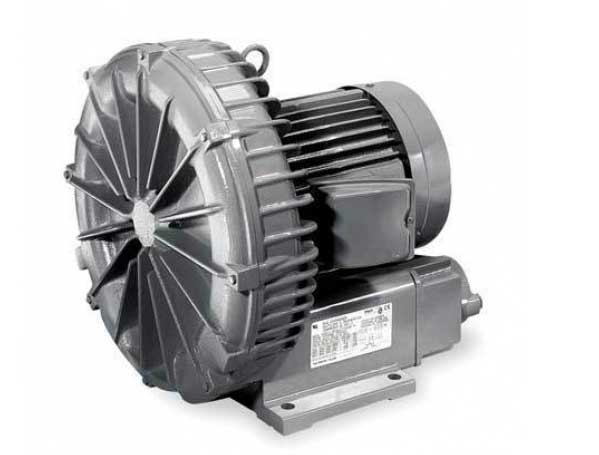 1/2 hp Regenerative Vacuum Pump
Part # R0807020 – Price $880.00
Vacuum valve not shown for clarity
Continuous duty
Quiet
56 cfm
45 in. water
120Volt 60hz
CE approved
The Vacuum Valve exhausts vacuum in the table when shut off. Standard valve for pump described above is vacuum on/off for 1 3/8″ vacuum hose (inside diameter) and requires a minimum of 80 PSI compressed air supply to operate.
Part # S1801000 – Price $375.00.
The Vacuum Valve with Blowback blows air into the vacuum table. The valve diverts the exhaust of the vacuum pump (pressure) as supply air. The air flow into the table is easily adjustable in force and flow rate, using an adjustment lever on the valve. For 1 3/8″ hose (inside diameter).
Part # S1801001 – Price $510.00.
Adjustable Vacuum Force Intake Valve permits the reduction of flow to the vacuum table by allowing a controlled amount of air to enter the vacuum table.
Part # S4036M14 – Price $136.00.
Foot Pedal for valve activation.
Part #S0122002 – Price $130.00
Vacuum Pump Technical Information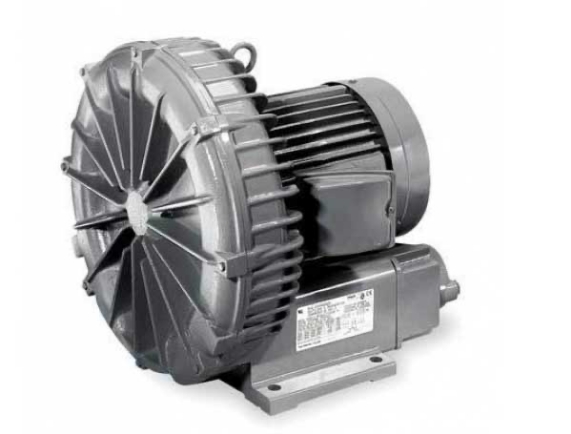 Regenerative vacuum pumps are typically integrated for high-flow processes when a high vacuum level is not needed. This is ideal when you want more vacuum on a larger area.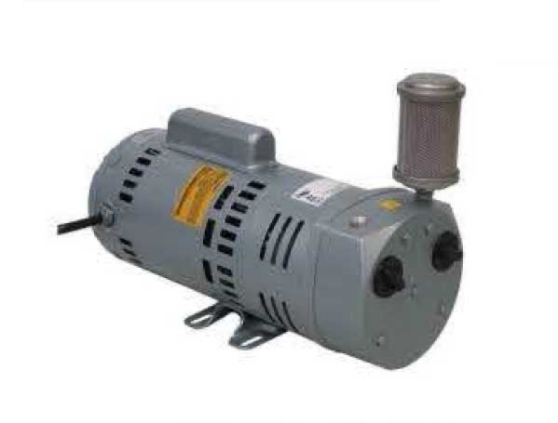 Used in conjunction with your vacuum table, high flow vacuum pumps allow some leakage without losing significant vacuum force. Rotary vane pumps have strong holding power but pull less vacuum throughout the area than regenerative-type vacuum pumps.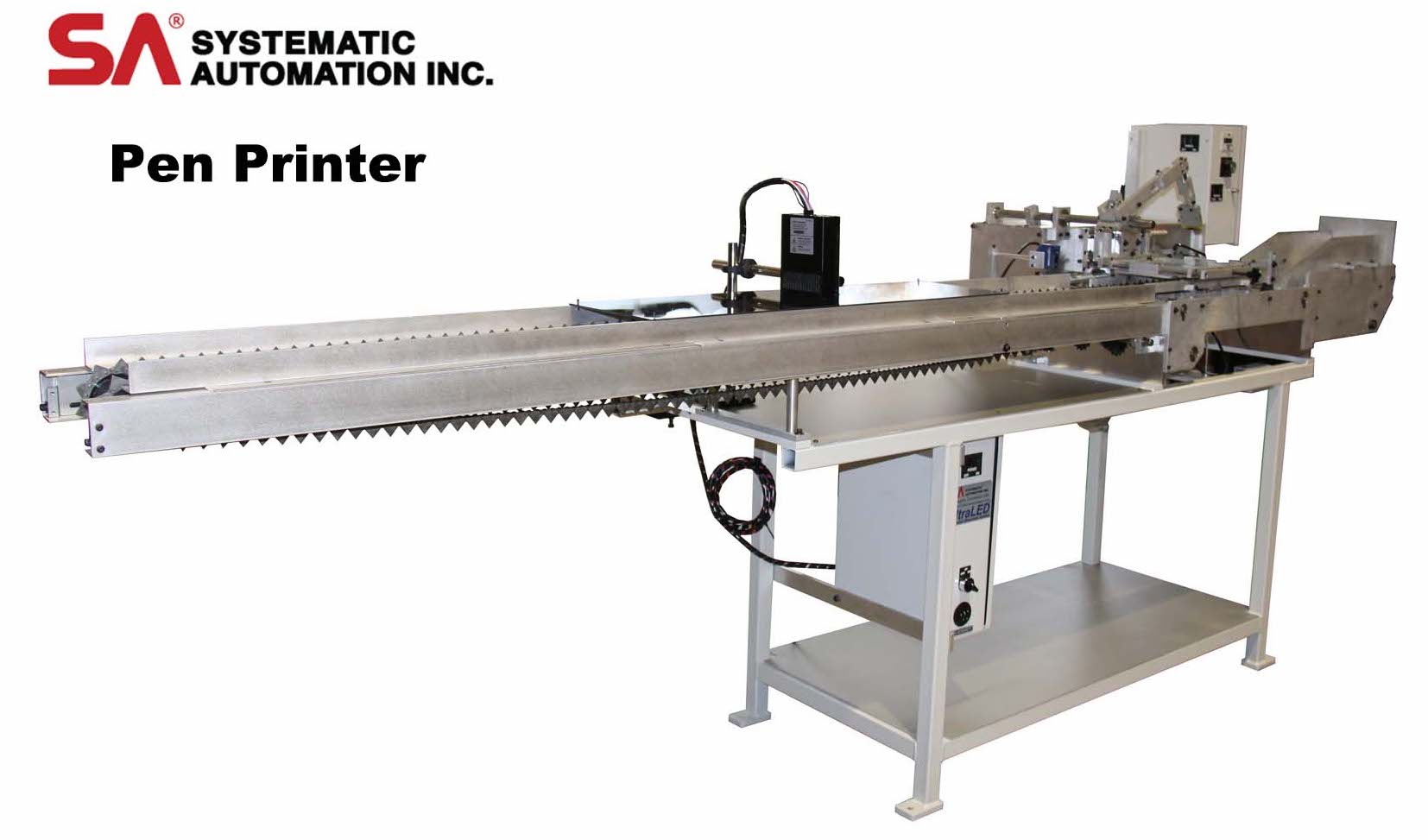 For over 75 years the in-line all mechanical pen printer has been around in various iterations. The SA printer uses chains and cams rated well over 300 million cycles. Precision machine tool quality throughout. This is a machine that will last you a lifetime. SA engineers have taken the historic designs of the past and…
Read More