Screen Printing Your Foam Cups
Foam cups provide an economical and efficient way to offer custom branding for your customers. It can take up to 12 brand exposures for your customers to recognize you. So give yourself the tools to help build your customer's brand recognition.
Printing foam cups is one of the most popular entry points for printers to get into when beginning a promotional business. One of the reasons is the demand and ease of printing. You may use solvent or UV inks. Since the cups are disposable, you don't have to concern yourself with pretreatment. UV inks offer instant curing while solvent based inks may take a few minutes prior to completely curing.
Foam cups may be air dried for curing, put through forced hot air or IR treatment if solvent based inks are being used. The quickest option for printing your cups is UV as the cure is instant, which also makes it ideal for multi-color printing.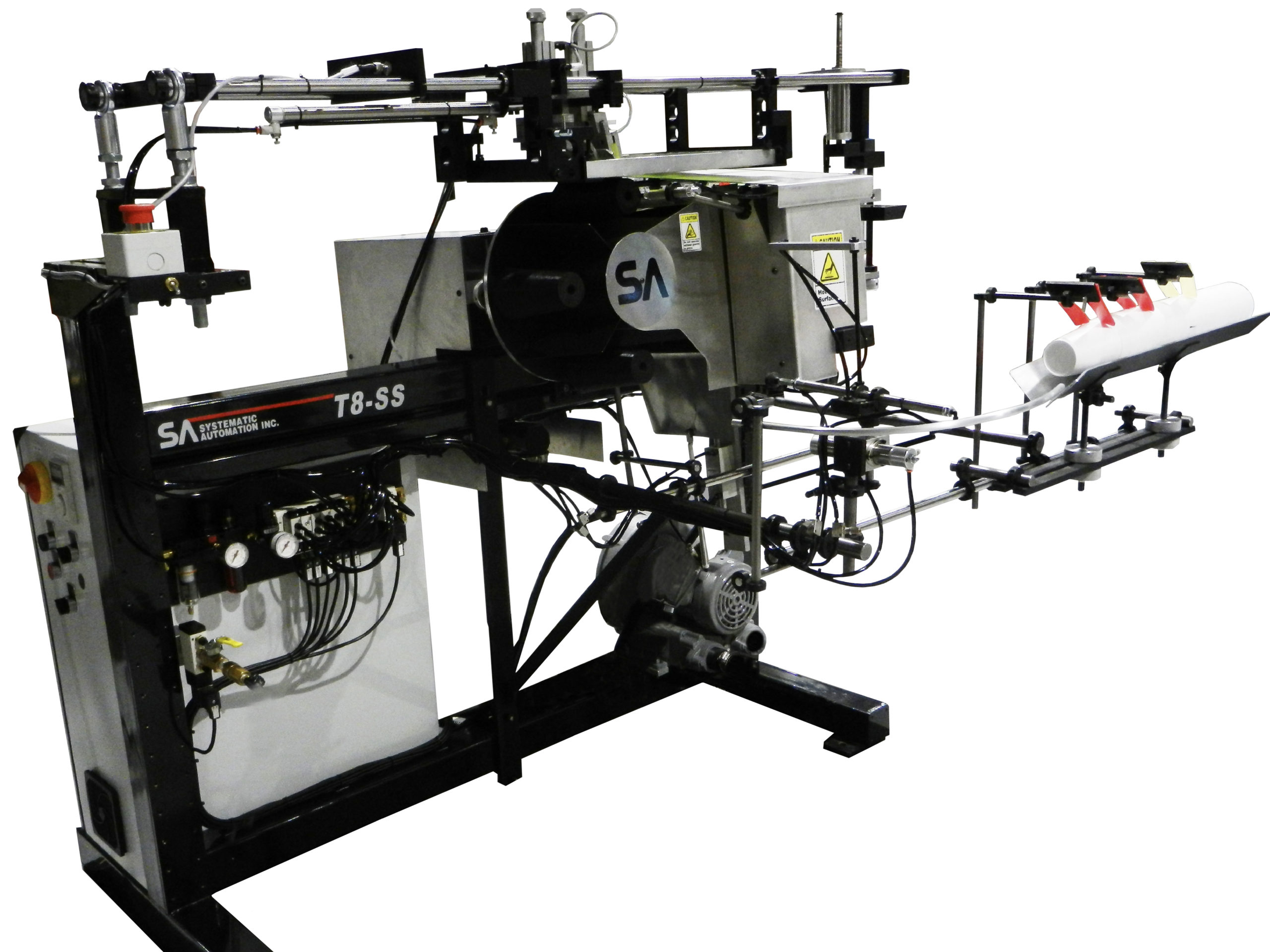 Why Upgrade Your Screen Printing Machine For Your Foam Cups?
Systematic Automation has been engineering solutions for foam cup printers for over 40 years. All that is required from you sending us samples of your product and we will manufacture a machine with tooling specific to your cup sizes and variability.
The Model F1-DC  is perfect for both new and experienced printers alike. You may have a wide variety of foam cups to print. The Model F1-DC allows you to print all your product sizes with quick 1 minute fixture changeover using our dedicated tooling. Registration systems can be integrated for multi-color printing.
The T8-SS is a stand-alone, fully automated screen-printing machine designed to offer you a reliable and straightforward method for printing your foam cups. With automatic loading and unloading and UV curing for instant ink drying, this machine will provide you with a simple turn-key solution for your printing. Little operator intervention or training is required, leaving your operator more time to work on other projects.
Screen Printing Machines for Foam Cups
F1-DC Screen Printing Machine

F1-DC Screen Printing Machine

Clamshell Printers For Cylindrical Products

Ideal for cups, bottles, glassware and more.
Built for demanding production and designed for simplicity.
Quick and easy product changeover in seconds.
Approximate throughput of 800 parts per hour (depending on article).
100% air operation - cannot overload or burn out, or become obsolete.
Shafts with linear ball bearings ­rated at over 300 million cycles.

Learn More
T8-SS Screen Printing Machine

T8-SS Screen Printing Machine

Turret Motion Printers For Cylindrical Products

Integrated UV and take-off system.
Simple, reliable, easy to service.
Machine tool quality and durability.
Harmonic acceleration and deceleration of rotary indexer.
Optional integration of automatic loaders, pretreatment and more.

Learn More
Make the Right Choice for Your Screen Printing Business
Systematic Automation is your choice for professional custom screen-printing machines made here in the U.S.A. We offer an array of custom screen-printing machine models to handle all your printing needs. We also offer UV curing machines, vacuum tables, and heat treatment machines to ensure your printing shop can fill every order. We have experienced technicians that offer support to help set up your machine and any technical questions you have once you start printing. Call or contact us today to speak with one of our expert technicians and choose the right machines for your business.
Some of Our Satisfied Customers