Screen Printing on Cosmetic Containers
Cosmetic companies require branding for their products. New and small companies will obtain small amounts of market share that can grow with clean and attractive branding. Our screen printing machines are the solution to your cosmetic branding needs. We have a custom machine that will print your bottles, no matter the size or shape.
Help your customers create a cosmetic brand with precise and colorful branding with our custom screen printing machines. Have your product stand out from the rest of the labels. Not only will it stand out by not being a label, but it will also have a vivid and opaque design that only screen printing can deliver. Every touch a brand has with its market, the more recognition and loyalty it will build. See how we can help you today.
Why Upgrade Your Screen Printing Machine For Your Cosmetic Container?
Systematic Automation offers cosmetic bottle screen printing machines for new printing businesses to established shops looking to upgrade their machines. We offer an array of custom screen-printing machines built here in the U.S.A. We provide a variety of machines that print on different cosmetic products. Two of our most popular printers for cosmetic bottles is the Model T8-SS and Model F1-DC
The Model T8-SS automatic screen printer is the perfect solution for your cosmetic bottle needs. The T8-SS is an automatic screen printing machine designed to cut labor costs with an easy-to-use setting adjustment to set your printing on autopilot while you handle other business functions. The T8-SS has a cycle speed of up to 2,000 parts per hour with automatic loading and unloading. The T8-SS comes with integrated UV curing for a completely turn-key operation with a high production rate.
The Model F1-DC is a common choice for cosmetic bottle printers due to its simplicity and versatility. It is spread between people starting out and companies that simply add a product to their catalogue. With the Model F1-DC, you can print one type of product and changeover in less than a minute, as well as printing multiple colors with integrated mechanical or optical registration. You can also print flat products. Your cosmetic bottles may require inflation prior to printing to receive a crisp image. Both the Model T8-SS and F1-DC provide you with the integration necessary for your production requirements.
PRINTING YOUR COSMETIC Containers HAS NEVER BEEN simpler
Integrated UV, loading & take-off system.
Simple, reliable, easy to service.
Machine tool quality and durability.
Harmonic acceleration and deceleration of rotary indexer.
Ideal for cups, pint glasses, wine glasses, growlers, tubes and more.
Precision system allows for multicolor printing.
Quick and easy product changeover in seconds.
Approximate throughput of 3,600 parts per hour (depending on article).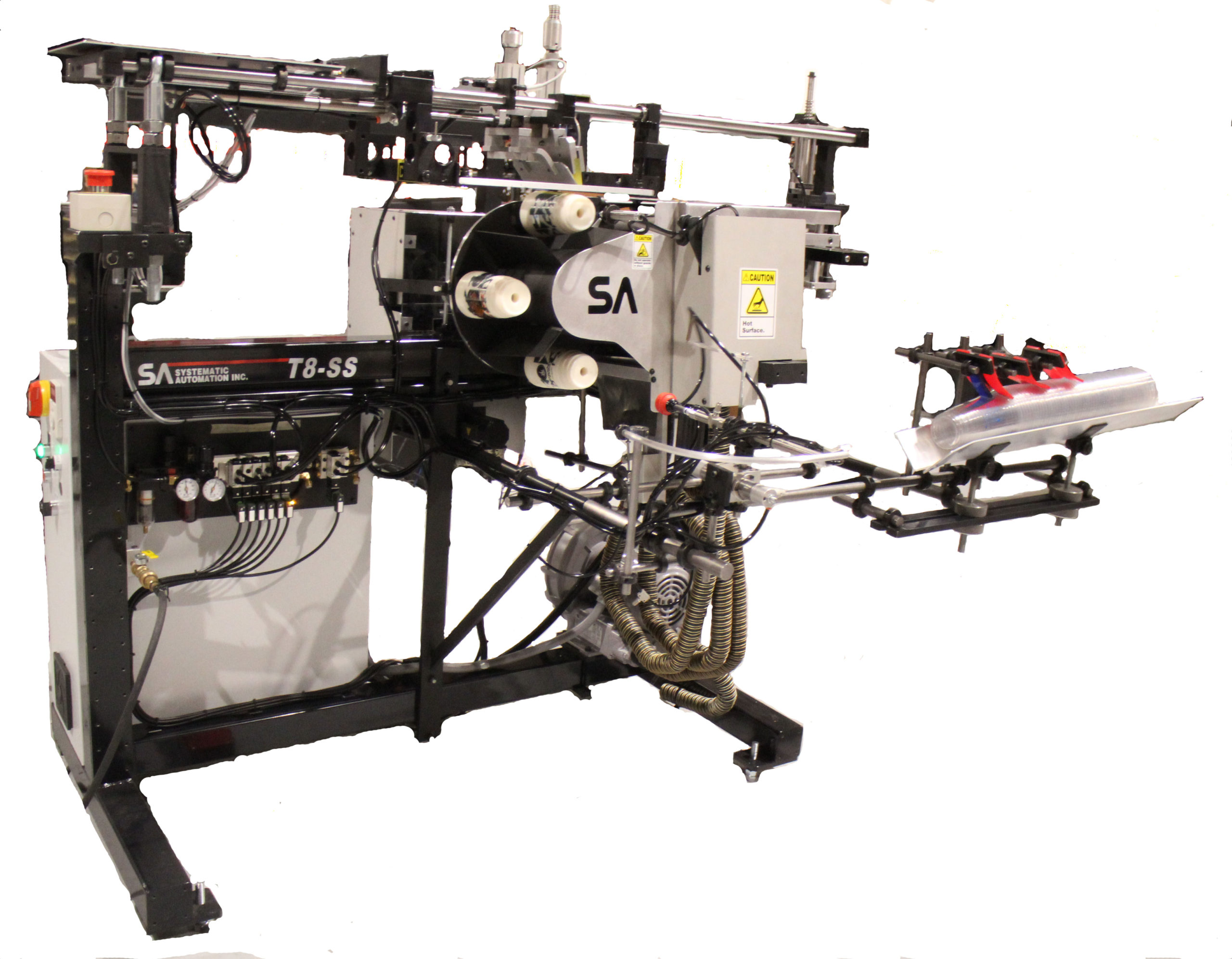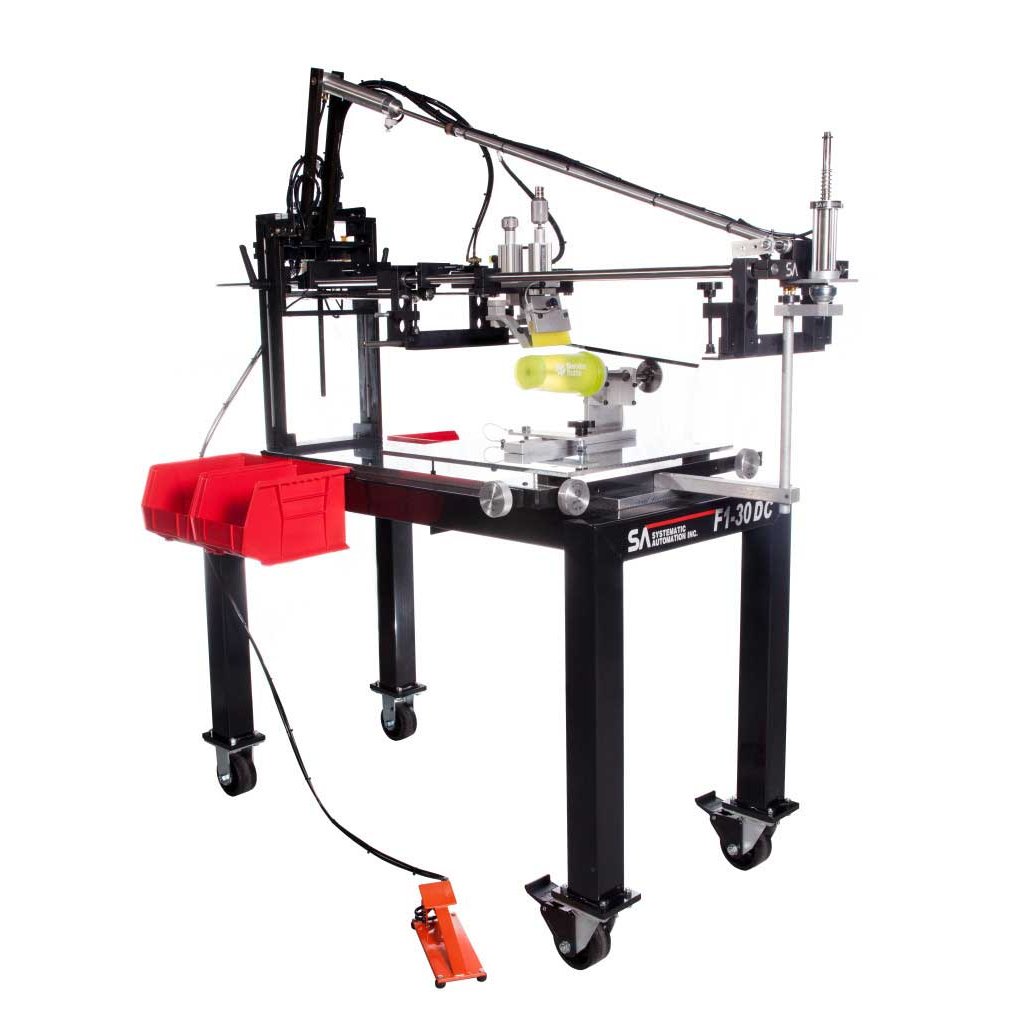 Screen Printing Machines for Cosmetics Bottles
T8-SS Screen Printing Machine

T8-SS Screen Printing Machine

Turret Motion Printers For Cylindrical Products

Integrated UV and take-off system.
Simple, reliable, easy to service.
Machine tool quality and durability.
Harmonic acceleration and deceleration of rotary indexer.
Optional integration of automatic loaders, pretreatment and more.

Learn More
Make the Right Choice for Your Screen Printing Business
Systematic Automation is your choice for professional custom screen-printing machines made here in the U.S.A. We offer an array of custom screen-printing machine models to handle all your printing needs. We also offer UV curing machines, vacuum tables, and heat treatment machines to ensure your printing shop can fill every order. We have experienced technicians that offer support to help set up your machine and any technical questions you have once you start printing. Call or contact us today to speak with one of our expert technicians and choose the right machines for your business.
Some of Our Satisfied Customers