Screen Printing Machines for Glass Jars
They display flowers and candles, dish soap, and table salt. The glass container with a screw-on metal top may evoke memories of shelves of jams and pickles for some, and it may inspire others to craft the jar into a lantern or a wall planter. Perhaps iced-tea was often served up in glass jars out of convenience. Still, the current popularity has pushed the canning jar into a whole new territory. Across the country, craft cocktails featuring the same glass jar that gets served at fancy bars and upscale yet casual farm-to-table restaurants frequented by young professionals in trendy neighborhoods.
Before refrigeration, canning was one of the few ways to preserve food, and glass jars became an indispensable tool used to feed America. Home canning may still be the main reason people buy glass jars, but the decor and crafting account for a third of the glass jar business. In addition to finding renewed use in canning and food storage, glass jars have made their way into home décor and become a familiar staple of the ever-popular rustic wedding.
These jars are so popular that someone saw an opportunity to rekindle their brand nostalgia, so don't let your customers miss their chance to corner the market with custom glass jars with their logo or branding. Each of our printing machines is custom built in the U.S.A. and backed by our highly experienced technicians ready to help you with installation, service, or troubleshooting.
Why Systematic Automation for Your Glass Jars?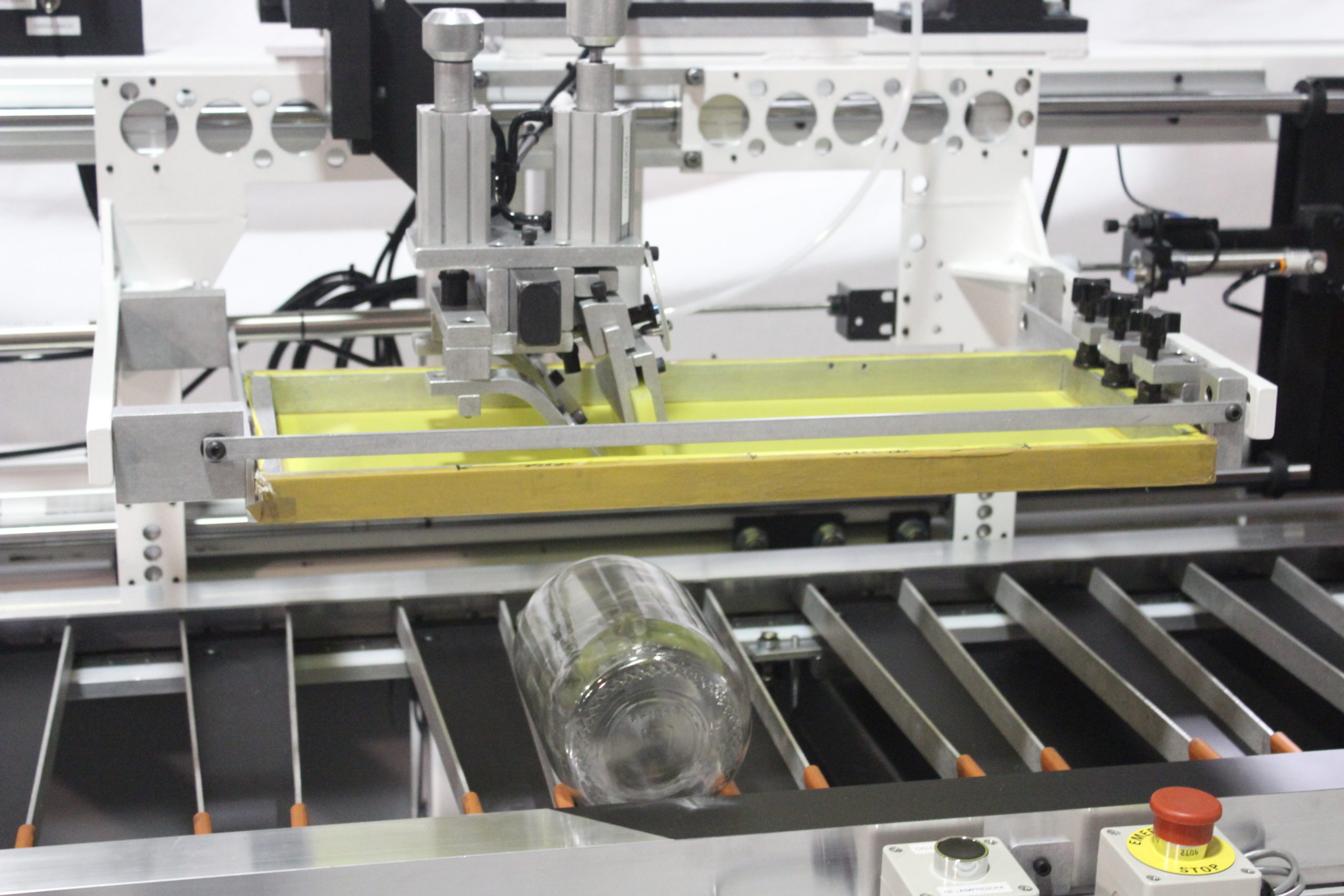 Systematic Automation offers glass jar screen printing machines for new printing businesses to established shops looking to upgrade their machines. We offer an array of custom screen-printing machines built right here in the U.S.A.
The multi-color Model Super R.O.I. can get configured to print a wide range of size and shaped glass jars. The modular design allows the user to easily and quickly changeover from one product to another. Registration for multi-color printing is either mechanical or optical. You may also integrate pretreatment options onto your Super R.O.I., such as flame, Pyrosil, or plasma, to increase adhesion on your glassware.
Our Model F1-DC can print any cylindrical product. Since jars are straight-walled, you can have one device easily print all sizes without using multiple pieces of tooling. The universal ware holder's design is for products like jars with only seconds of setup time required.
PRINTING JARS HAS NEVER BEEN SO SIMPLE!
Ideal for cups, glassware, bottles, and oil filters.
Servo driven indexer.
Low maintenance lube-free drive system.
User-friendly touch screen display/controls
Ideal for cups, pint glasses, wine glasses, growlers, tubes, and more.
The precision system allows for multi-color printing.
Quick and easy product changeover in seconds.
Approximate throughput of 3,600 parts per hour (depending on the article).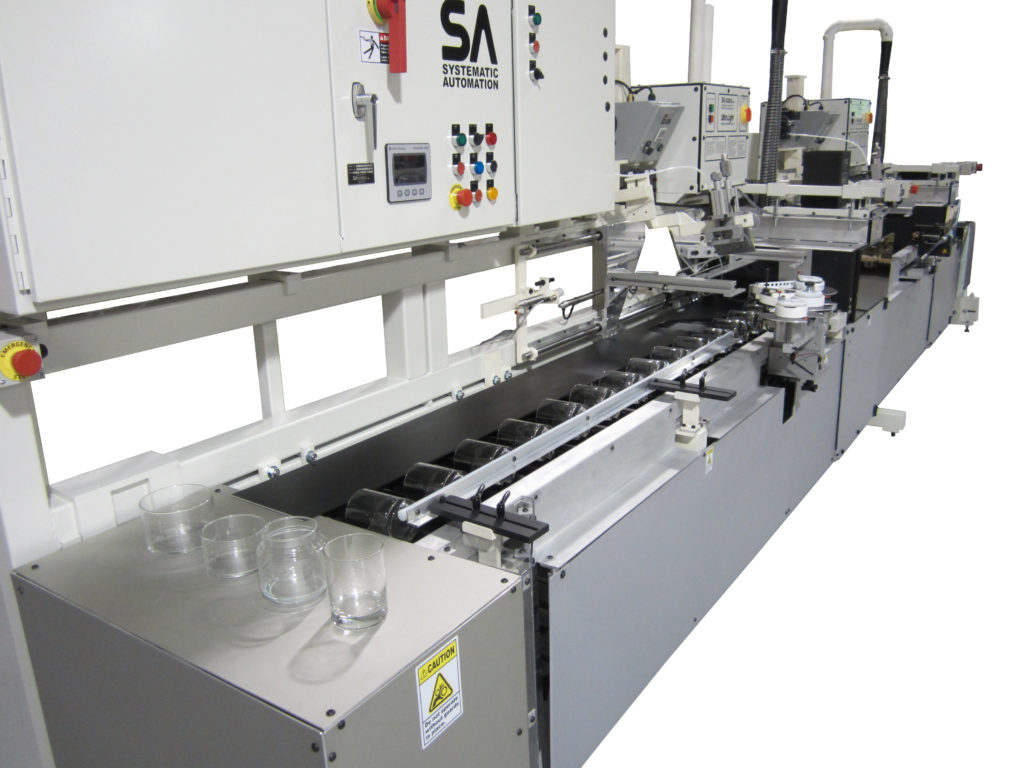 Screen Printing Machines for Gaskets
F1-DC Screen Printing Machine

F1-DC Screen Printing Machine

Ideal for cups, pint glasses, wine glasses, growlers and more.
Built for demanding production and designed for simplicity.
Quick and easy product changeover in seconds.
Approximate throughput of 3,600 parts per hour (depending on article).

Learn More
Make the Right Choice for Your Screen Printing Business
Systematic Automation is your choice for professional custom screen-printing machines made here in the U.S.A. We offer an array of custom screen-printing machine models to handle all your printing needs. We also offer UV curing machines, vacuum tables, and heat treatment machines to ensure your printing shop can fill every order. We have experienced technicians that offer support to help set up your machine and any technical questions you have once you start printing. Call or contact us today to speak with one of our expert technicians and choose the right machines for your business.
Some of Our Satisfied Customers