Screen Printing - What To Know
Screen Frames
What you need:
Screen frame: built to 3" beyond the image on each dimension (x,y)
Screen mesh: Your ink will dictate the size emulsion. Solvent inks will require a lower TPI (approx. 180-220) while UV ink will require a high TPI (approx. 280-300).
Image on film: You will need to print your image on a piece of film, center it on the screen and coat the screen with emulsion prior to burning.
The mesh will be tensioned and applied to the screen frame using glue. After the screen mesh is applied, a thin coat of emulsion is spread over the screen mesh. Then the image is applied to the emulsion and a final cure of the emulsion is performed using light exposuret. The UV light cannot penetrate (the image). Last, the screen is washed with a pressure washer removing the uncured emulsion from the areas that was covered by the image. This leaves you with a screen that is coated with emulsion in all areas except the image, which now allows ink to be pressed through your image onto your product.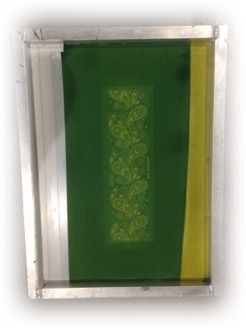 The squeegee material is typically made from polyurethane and very resistant to the different types harsh chemicals within screen printing ink. By first flooding the ink over the image in the screen, then applying pressure on the squeegee and sliding it over the image, the squeegee presses the ink through the image in the screen and onto the product.
Squeegee material comes in different hardness's also known as durometer rating. Screen printing industry standard durometers are between 60 and 90 durometer with 90 being the hardest.
The most commonly used squeegee for graphic printing material is 70 durometer.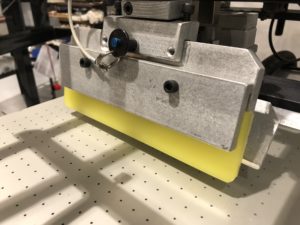 Your process will determine which inks best fit your needs. When choosing an ink, the main factors to consider are adhesion and opacity for your product. For example, the ink used for screen printing tee shirts must be able to withstand being washed over and over again while remaining opaque. Ink used for printing on drinkware must also be able to withstand being washed over and over while continuing to adhere to the glass. Pretreatment may be required for adhesion prior to printing.
There are three standard types of inks:
Water base - air dry (may require heat for expedited cure)
Solvent base – air dry (may require heat for expedited cure)
UV – requires a UV curing machine – cure/dries instantly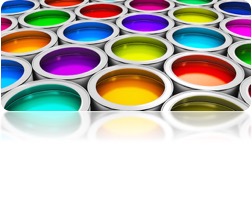 There are a few different methods of drying or curing screen printing inks. These methods are dependent on the ink themselves.
Water and solvent based inks are air dry and sometimes require a baking process for optimal adhesion and durability. A baking process is typically a conveyor with a heated tunnel that bakes the printed ink between 300°F and 450°F for a specified amount of time given by the ink manufacture.
UV curable inks may be cured through conventional UV or LED UV. Once the printed ink has been exposed to the UV light, the ink will instantly cure and allow handling. UV machines come in different styles from conveyors to carousel units. Product shape, size and throughput requirements can help determine which style of machine fit best for your application.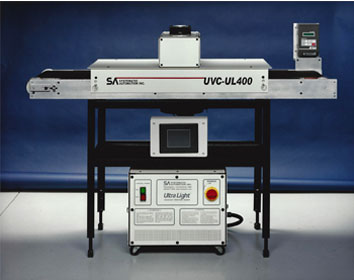 Printing Flat Products
Flat printing means the substrates printing surface is flat. The rest of the substrate can have any shape to it.
When screen printing a flat surface, the screen is stationary above the printing surface about 1/16" (off contact). The squeegee presses the screen down to the product, then slides across the image in the screen and presses the ink through the image and onto the product.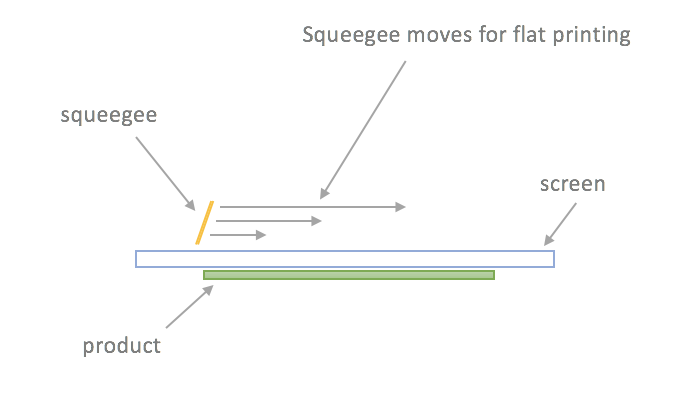 Printing Cylindrical Products
Cylindrical printing means the substrates printing surface is round. The rest of the substrate can have any shape to it.
When screen printing a cylindrical substrate, the screen is positioned approximately 1/16" above (off contact) the printing surface. The squeegee stays stationary and presses the screen down to the product, then the screen moves while the product spins at the same speed using the squeegee to press the ink through the image in the screen and onto the product.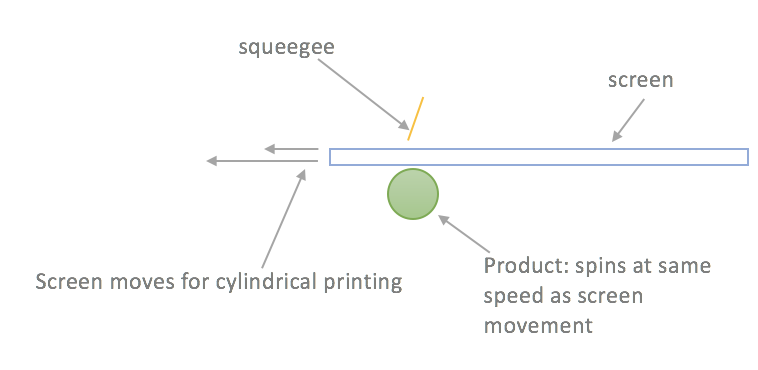 Screen Printing FAQ
Question: Why bring our screen printing in house?
Answer: Owning your own screen printing equipment is an investment that will pay for itself. You will eliminate the cost of shipping, obtain profits that would otherwise by retained by your contract printer and have quality control.
The principal reason our customers bring screen printing in house is because they are having problems outsourcing. You will be able to have control of delivery and quality. Your product is unique to you. We can help guide you through the variables involved in printing so the entire process is codified and part of your ability to respond quickly to your customers requests.
Question: What type of ink should I use?
Answer: You can choose from conventional or UV inks. Conventional inks typically offer better adhesion but slower cure times. UV inks cure almost instantly and require UV curing equipment.
There are many ink manufacturers producing UV and conventional inks for specific types of product surfaces. Some surfaces will not provide adequate ink adhesion. For instance, glassware typically requires pretreatment before screen printing. Systematic Automation offers a 360 flame pretreatment system.
Question: What is the importance of an ink adhesion test?
Answer: The adhesion test will tell you if the ink is exhibiting good adhesion or not and is used to determine the type of ink that you would have to use for a particular application.
We will show you the industry standard "Cross Hatch" adhesion test. All you need is a razor blade and regular office tape. Part of your quality control is being assured that your ink will stick and stay put after being exposed to time, light, washing, temperature changes, and any chemicals in the product use environment. SA can guide you through ink compatibility and surface preparation or pretreatment.
Question: Is my printer limited to printing only one type of product?
Answer: Systematic Automation printers are modular in design giving you the freedom to print a variety of different products. The Model F1, for example, can go from printing flat to cylindrical in less than a minute. Changeover between pieces of cylindrical tooling takes seconds. You can go from printing a shot glass to a wine glass in less than a minute.
Question: Can I print multiple colors without purchasing an automatic screen printing machine?
Answer: Yes, you just need your product to cure between each print and change your screen. Here is video of the Model F1 printing 4 colors with precise registration.
Question: What supplies do I need to begin screen printing?
Answer: All you need is a screen and ink. We will assist you in choosing the right screen and ink specification for your product. You can use products such as EZ Solv for cleaning your screen once finished with your print job.
Question: How do I prevent solvent based inks from drying to the screen, causing them to rip quickly?
Answer: UV inks will not cause this issue. For more information on UV, check out our Ultra Light UV System. Solvent based inks air dry, therefore it is very important to check the surroundings of your printer for anything blowing air such as open windows, fans & air conditioning. Leave the screen flooded at all time. Flow promoting additives may also be used.
Question: I am completely new to screen printing, does it require training?
Answer: Our printers are designed for unskilled labor. Dedicated pieces of tooling minimize any troubleshooting that is typically required from other printers. Also, The purchase of a screen printing machine comes with a free day of training at our factory, machine manual and video tutorial.
Your machine will be shipped ready to print. We will provide an instructional video of the machine printing your part upon your request. It is all part of the excellent customer support that comes with every machine we make.
Question: Where do you manufacture your machines?
Answer: We design and manufacture entirely at our ultra modern facility in Connecticut, USA. This enables us to have complete quality control.
Question: What is the difference between an H (mercury vapor) lamp and a D (iron) lamp for UV curing
Answer: An iron lamp will significantly increase intensity. Nanometer ranges are available on our website under UV and lamps. Iron spikes in the 395 nm range. Gallium additive is also available with a peak in the 410 nm range. Your ink supplier will verify if this will be more effective. If so, we recommend you try out an iron lamp and raise the lamp an inch or more. By raising it, you will allow more of the light emanating from the center of the lamp to reach to outside of the material being printed. Iron lamps and additive lamps in our experience are harder to start (may need to be fully cool to start and may require more than one attempt), they also have a shorter life.