Screen printing and uv curing boxes / cabinets
Boxes and cabinets require a large area for both printing and UV curing. Large cabinets may require systems optimized for large areas. Systematic Automation manufactures screen printing systems designed for printing on large products. The Model HLT provides the operator with a large working area for product placement. The Light Tank UV conveyor is engineered for large format products with options for dual UV curing areas. We can work with you to customize a solution to your specifications. Contact us today to learn more.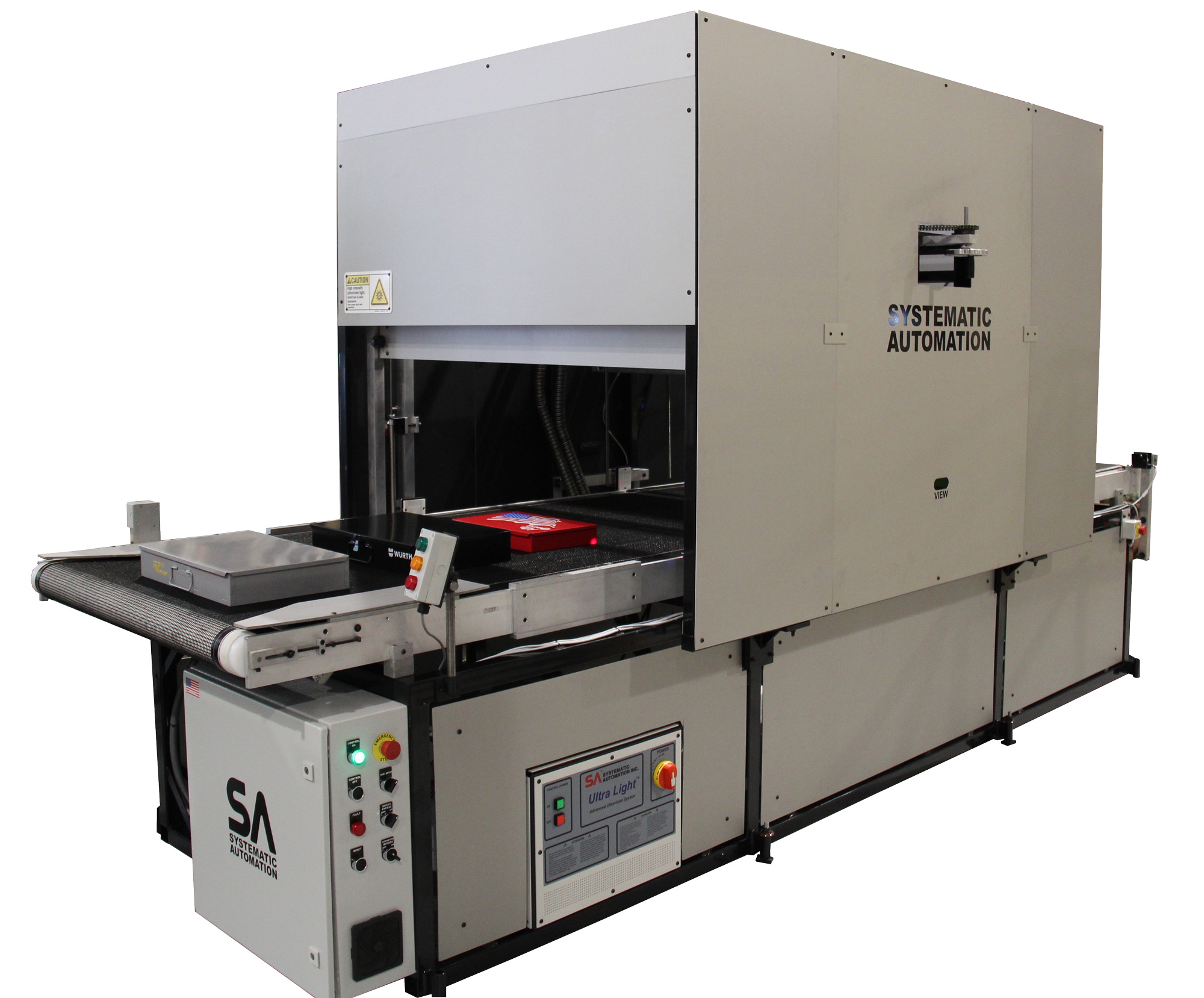 Simple, reliable printing on large boxes & cabinets
The Model HLT is ideal for screen printing your boxes and cabinets because of its open area for large products and its variability from large to small print areas. The system typically requires a fixture or a tooling plate with a grid pattern for product placement. Fixtures are made for easy changeover from the tooling plate that it rests on to accommodate different products with different print areas and sizes. The tooling plate with a grid pattern is a more cost effective approach on universal tooling for your product line. The Model HLT also comes with a control panel for adjustable squeegee pressure, automatic cycle switch & dwell time adjustment, E-stop and flood & print speed controls.
The Light Tank is designed for large products and multiple lamp configuration. The system is able to be configured with multiple lamps for curing different areas of your product simultaneously, for example the side and top of product. For operator safety, an adjustable sensor for incoming boxes and cabinets is used to open the UV curing chamber for product entry. The UV lamps are covered by an automatic shutter during this time to minimize light leakage. Once the product enters the UV chamber, the shutters open for curing while the conveyor is moving your product. The Light Tank also comes with the option to use conveyorized anodized aluminum plates to secure heavier products that would typically wear down or tear a conventional teflon mesh belt. The Light Tank comes integrated with the SA Ultra Light UV system. Tri-power settings of 200/300/400 WPI and LED module options are available.