Super ROI Screen Printing Machine
Ideal for cups, glassware, bottles and oil filters.
Servo driven indexer.
Industry leading precision.
Modular design permits process integration.
---
Product Description
Features
Typical Applications
Product Description
Increase Your Throughput & Simplify Your Printing Process
English Data Sheet | Spanish Data Sheet
Day after day, decade after decade, the Super ROI will faithfully produce. The utterly simple and modular design allows service and maintenance with basic tools. There are no computers or dedicated control boards to become obsolete or burn out, just the most rugged machine and reliable control system the world has to offer.
This precision one to six color screen printing machine incorporates servo technology. The machine uses the proven SGIA image award winning SA screen printer assembly, and our energy efficient Ultra Light UV System. You may choose to integrate pretreatment, UV LED and loaders/unloaders.
What makes the ROI cost effective and efficient is the simplicity and practicality of its operation. The linear transport of your substrates in one direction, combined with minimal lifting to print and cure, minimizes the substrate handling and systems required for perfect printing. Load your cylindrical products onto the wide loading area by hand (or by robot). The ROI will detect part presence, flame treat (optional), print, UV cure at a powerful 400 WPI, and take off at a rate you will be happy to try to keep up with.

Get a Quote
Made in USA and ready to get to work. This is a machine that will just keep paying for itself over again. You'll be amazed at how we took the complexity out and put the productivity in.The machine was designed for unskilled labor to operate the machine.

Features
Engineering Features
Print a variety of different products using the same machine.
Quick and easy product changeover.
Machine tool quality and durability.
Modular design allows for integration of different processes into system.
Servo driven indexer.
Low maintenance lube free drive system.
Allen Bradley user friendly touch screen display.
Indexing system is overload/crash protected.
Adjustable squeegee and flood stroke speed.
Operator protection from UV light and mechanical pinch points while maintaining free access to the loading station and screen printers.
Designed for continuous duty operation.
Precision linear motion bearings on the printer and substrate transport mechanism are rated at over 300 million cycles.
Stainless steel printer shafts to resist corrosion.
Worldwide availability of spare parts.
Standard Features
Adjustable operating speed.
Adjustable print stroke speed.
Adjustable flood stroke speed.
Adjustable squeegee pressure with gauge and regulator.
Emergency stop.
Single cycle/automatic mode selector switch.
UV spin speed control.
Part up/down speed control for print station and UV curing system.
20" (508 mm) stroke print head.
All necessary squeegee holders, squeegee material, and flood bars (specify size).
Touch screen display with operator control panel, PLC based control,servo drivers and motors.
6" (152 mm) UV Ultra Light system single power 400 WPI (watts per inch) power supply, and UV irradiator.
6" (152 mm) air cooled shutter system.
Typical Applications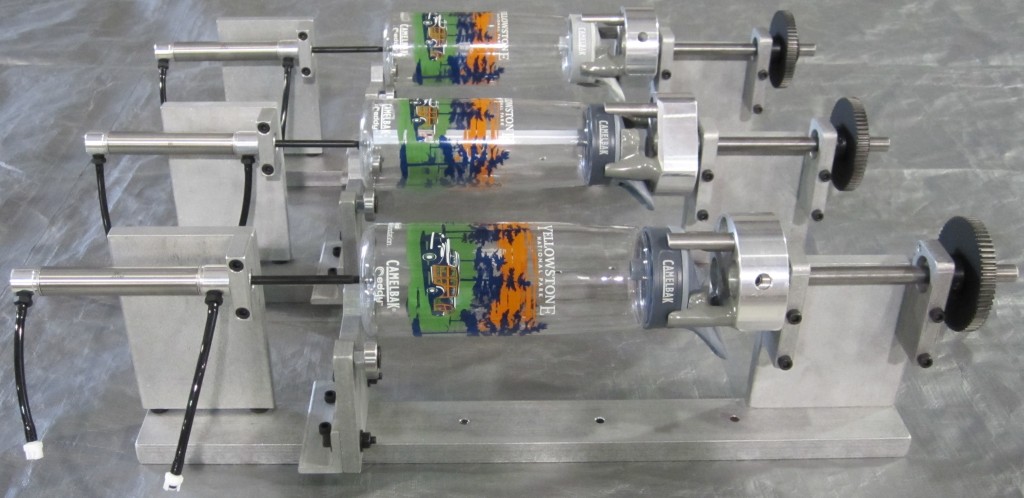 Pint Glasses
Wine Bottles