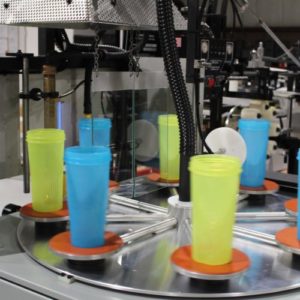 Pretreatment systems are used in a multitude of processes and applications to improve adhesion when bonding various materials to plastic products. Several industries are realizing the benefits of surface treatment systems such as automotive, aerospace, medical, packaging and printing operations. These industries often require the application of surface coatings, printing on plastic parts, application of labels or adhesion of film coatings.
Pretreatment Systems Aid the Automotive Industry
The automotive industry is recognized for lean manufacturing with advanced technology to achieve on-time delivery with zero defects. Many plastic parts suppliers deliver critical components to the automotive industry which must meet strict quality standards for function and aesthetics. Due to the nonporous surface of most polymers, PVC and plastic products, application of inks, coatings and adhesives is impossible without first treating the product for improved adhesion.
Pretreating these surfaces with a flame treatment machine allows for successful bonding of exterior coatings and adhesives. Flame treatment systems alter the molecular structure of the plastic surface without changing the appearance, improving bonding characteristics and allowing the part to bond with exterior coating applications.
Label Adhesion Improved with Pretreatment Systems
Many companies are faced with challenges when applying labels to plastic products such as containers, cups, caps or lids. The surface of these plastic products is inert chemically to bonding with surface treatments such as the glue on labels or direct application of inks. Pretreatment systems provide a means for packaging companies to successfully apply labels and printed coatings to plastic items for improved product quality.
Flame treatment systems alter the energy level of the exterior surface for a strong, durable and unbreakable bond. Pretreatment systems may be used in conjunction with screen printing machines and incorporated with automated equipment for a seamless operation.
Packaging Operations Improved with Pretreatment Systems
Pretreatment systems are used in packaging operations to improve the outer appearance of products and label adhesion on containers such as cosmetics for appealing exterior surface coatings. Flame treatment systems are widely used in packaging pretreatment processes to treat lids, containers and caps with improved adhesions, strength and durability.
Surface Treatment of Optic Lenses
Optic lens fabrication processes regularly use pretreatment systems to improve the adhesion of specialty lenses with required coatings. Flame treatment machines prepare the polymer or glass surface for a secondary coating application in many optic lens applications such as the reflective lenses in safety gear and signs, eyeglasses and many other optic lens applications.
Pretreatment Systems by Systematic Automation
Systematic Automation is a leading manufacturer of flame pretreatment systems, screen printing machines and vacuum tables used in a wide range of applications worldwide. We design, engineer and manufacture flame treatment systems for use in any application including automotive, packaging, optic lens operations, screen printing and many others. Our experienced engineers partner with you to develop a customized automated solution which provides efficient and effective surface treatment.
Our Model FL 360 Flame Treatment machine accommodates various products of differing sizes including bottles, cups, mugs, containers and lids for quick pretreatment within a fully automated process. We support efficient manufacturing required of the automotive industry, the precision required for treating optic lenses and medical supplies and improved aesthetics for high quality in all pretreated products. Systematic Automation has over 35 years of experience in supporting OEMs large and small with high quality, efficient automated equipment custom designed for your application.
Systematic Automation Provides Superior Pretreatment Systems
Our Model FL flame treating equipment provides 360° all over cure area utilizing patented vacuum platens to hold your product firmly in place during flame treatment operations. The universal hold down provides easy treatment of products in various shapes and sizes, in a compact and affordable pretreatment system. Featuring a simple overload clutch with a specially engineered Geneva indexer and 100-volt variable speed motor, the Model FL provides superior performance with little maintenance required and no chance of obsolescence of components.
Systematic Automation manufactures all equipment in our modern U.S. facility where we rigorously test all equipment for optimum performance prior to shipping. We provide ongoing service and support to ensure your process success. Our pretreatment systems, screen printing machines, UV curing equipment and vacuum tables are utilized worldwide to meet the demands of critical applications.
Systematic Automation is a recognized leader in design, engineering and manufacturing of high performance automated equipment, supporting OEMs worldwide. We provide proprietary technology and patented products for simple, efficient and effective automated processes. Contact us today to learn more about our surface treatment solutions with quality made pretreatment systems.