If you are considering buying a screen printing machine, there are some considerations that will help to make your comparison-shopping and your ultimate purchase a huge success. Whether you are shopping to replace an existing screen printer, starting a new screen printing process, or bringing an existing outsourced job in-house to do the printing yourself, you will want to evaluate several considerations before making your purchase.
Regardless of the Reason for Purchasing a Screen Printing Machine, Some Important Factors to Consider Include:
Size and shape of your product or substrate (flat, cylindrical or odd-shaped)
Type of your substrate (paper, wood, plastic or glass)
Volume of printing required
External exposure (such as a coffee mug that must withstand the heat and pressure from a dishwasher)
Type of inks required
Screen printing manufacturer
1) Know the Size and Shape of Your Substrate
Some screen printing machines will only print on flat substrates, some on cylindrical items, while some versatile screen printers will print on either in varying sizes. You need to know the size and shape of the items to be printed, and whether those requirements will remain the same. If you feel that your product line may expand, then you may want to be prepared with a versatile screen printing machine that can print on either flat or cylindrical items.
2) Evaluate Your Printing Substrate
Printing on plastic or glass is quite different than printing on paper products. You must know the type of products you plan to print on and whether additional processes will be required. For example, in order to improve the adhesion of inks to plastic products, you can run your products through a flame treatment machine first. This alters the molecular structure of the surface of the plastic allowing inks to adhere successfully for long-lasting, vibrant colors.
A UV curing machine can also be used to improve the look and durability of inks on various substrates. UV cured inks dry instantly under an ultraviolet light, resulting in quick production and high quality with glossy, bright colors in durable, scratch resistant inks.
3) Make Sure Your Screen Printer Can Meet Your Production Requirements
Compare your production requirements against the capacity of the screen printer. Reputable manufacturers will have several models of screen printing machines to choose from to provide the right amount of capacity with room to expand.
4) Substrate Exposure to the Elements
The function of your product is a very important consideration that will help determine the type of screen printing machine required. If your product will be exposed to harsh elements you will need to ensure that the ink will maintain proper adhesion even when exposed to things such as direct sunlight, heat, cold, or water.
Systematic Automation has been manufacturing screen printing machines for more than thirty years. We have vast experience in determining the best machine for your substrate based on shape, size and end user functionality.
5) Determine the Right Type of Ink to Use Depending on Product Volume and Exposure
Depending on your product volume, you may consider using UV inks with a UV curing machine which provides instant dry time for an increase in productivity. UV inks are replacing solvent based inks in a variety of applications for several reasons. UV curing is fast and efficient, and also provides an improvement in quality due to quick drying with little or no evaporation. This provides consistent product results, which is the key to high-quality products.
Solvent based inks also require chemicals or solvents that can be toxic, requiring ventilation systems for employee safety. A UV curing system eliminates the need to purchase, store and dispose of harmful chemicals.
6) Buying a Screen Printing Machine from a Trusted Manufacturer
Systematic Automation has more than 35 years of experience in designing, engineering, and manufacturing high quality screen printing machines. Our screen printing design engineers are dedicated to bringing innovative products to the market, with patented products developed with proprietary technology. All of our screen printing machines are manufactured in the United States with only the highest quality components and undergo rigorous testing prior to shipping.
We provide advanced technologies with simple to use screen printing machines in more than 20 various models to choose from. You can count on our years of experience and in-depth knowledge of all things related to screen printing to find the right screen printer for your process.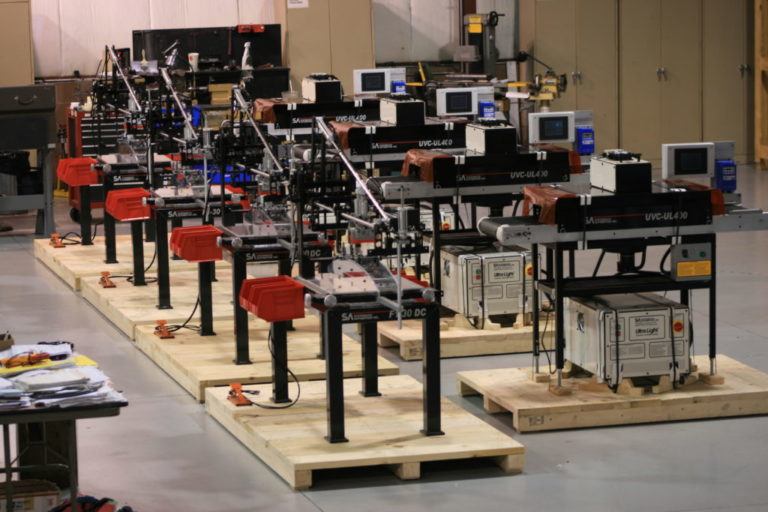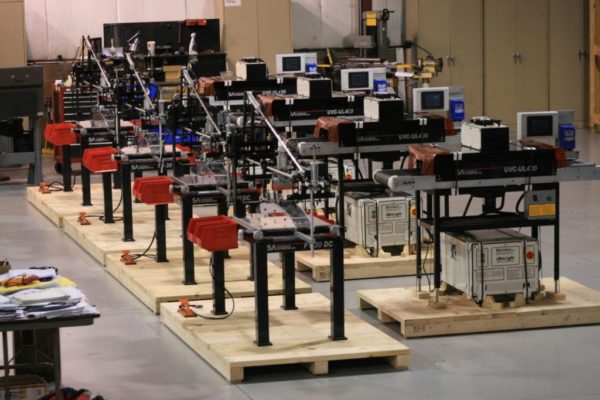 Top 5 Buyers Mistakes
Automatic screen presses are the very backbone of any small screen printing shop. While the initial investment may be a little higher than traditional manual screen presses, once word leaks out that you have an automatic press – many companies will be that much more inclined to reach an agreement with your company. Getting the right printing press can make a huge difference in both the bottom line of the company and the efficiency of the company. It pays to choose your press carefully. Here are some of the most common mistakes people make when purchasing screen printing machines.
1) Do the Homework
The key factor in purchasing a screen printing machine is to understand what you will need from it. If you are going to buy a screen printing machine and you do not have any idea of what you need that machine to do, you are going to end up costing yourself in the long run.
In terms of what you need it for, consider the following:
What is your budget? Consider the cost for the labor, maintenance and the equipment – as well as the materials.
What is your existing type of operation and equipment? Are you looking to upsize or are you tight on space and looking for a smaller machine that might be portable? Is your business outgrowing your current needs?
How much space are you working with? Screen printing machines come in small and large sizes. What will fit in the space that is available to you?
2) Invest in Training Before & After Purchasing the Screen Printing Machine
While it is true that you will be able to make money screen printing different items, making money doesn't just start when you purchase a machine. You will need to take the time to learn how to use it properly before you will be able to make any money with it.
Therefore, you will want to invest in regular trainings on how to:
Install the equipment properly.
How to train your people to use it.
How to increase productivity with proper preparation.
How to use the correct ink viscosity.
How to maintain the machine to keep it running smoothly.
You will also need to learn things like which mesh counts and inks to use in order for your equipment to operate efficiently, in addition to many other aspects.
3) Understand Your Target Market
The business of screen printing will be greatly impacted depending on your target demographics.
What kind of printing will my customers need?
How many colors will you typically use for a job?
Will you use specialty inks or be printing on darker materials?
How many items will be in a normal order with my target demographic?
Knowing the answer to these questions will determine not only the type of machine you need but also the size that will be required.
4) Know the Difference Between Manual & Automatic Press
In general, the amount of items that you will be printing in a typical order will have an impact on the type of machine that you will need. If your orders tend to be small, say 50-100 items or less, then you might go with a manual press. On the other hand, if you start out with a manual one without taking a typical order size into consideration then you might just be wasting that money and find yourself lagging in production capacity, so having an automatic press would be financially beneficial. If you want to know whether you should automate, here are some questions you should ask yourself:
Do you need to prepare yourself for a large order? It only takes one customer to completely transform your business and an automatic press can help you with that. It is recommended to get something in writing first before you make the initial investment.
Have you built a steady flow of solid business that give you 100's or 1000's of orders on a regular basis?
If these situations fit your business then it's time to purchase an automatic press.
5) Know the Optional and Standard Features
The biggest mistake that you can make in buying a screen printing machine is not having a clear understanding of what your options are. No matter what you need from a machine, you still need to look at things like:
How is the machine built?
Is it made from sheet metal or tubular steel?
How sturdy is it?
Will it hold up for what you need it to do?
Is there enough support for the components of the press such as the print stations?
Is it light enough that it is ergonomic and practical yet heavy enough to get the job done?
Does it have an all heads down capability?

This feature will make it possible to print at all of the stations at the same time if that happens to be what you need it to do.

Is it a rotary load?

This is where there is only a single screen that is down at any given time.

What type of system is used for screen holding? Does it have side or rear clamps? Is there a choice?
Which registration systems are compatible? Is it micro-registration compatible for jobs that require fine tuning? How do the registration systems work?
Does the press you are looking at have an off contact that is adjustable?

With this feature the screen will only make contact with the material that is being printed as the ink is pressed through it by the squeegee. This feature allows for the screen to pop back and allows for sharper print.

Is the angle of the screen something that is adjustable?

Being able to adjust the angle of the screen will allow you to compensate for frame weight as well as ensure that the screen is parallel with the printing pallet while not having an impact on the level of off contact.
If it there is any possibility at all, one of the very best ways to choose a new screen printing machine is by attending a trade show. Doing this will allow you the opportunity to see each machine in action, do comparison shopping and even try the different models. If you make a list of what your needs and preferences are beforehand you will be able to ask intelligent questions while you are at the show and these answers will be allow you to make a smart, informed decision in regards to purchasing your new screen printing machine.
Systematic Automation leads the industry with cost-efficient, reliable and high-performing screen printing machines. We offer customized solutions with ongoing exceptional customer service to ensure that your printing job is a total success. Contact us today for answers to all your questions about buying a screen printing machine.