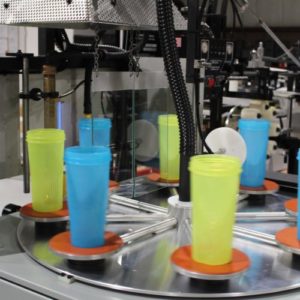 Flame treatment for plastics processes are used to improve several plastic manufacturing and finishing processes by altering the surface of the plastic. Flame treatment is used to enhance the plastic surface, which is chemically inert to adhering with surface treatments such as printing and bonding. Have you ever tried to write on plastic with a marker?  It rubs right off due to the nonporous surface. Applying a flame treatment process changes the molecular structure of the polymer to allow adhesion of inks, coatings and glues.
Flame treatment as a pretreatment process is also useful in manufacturing processes where products require the removal of excess flash or contaminants. When plastic products are molded by injection, blow or extrusion processes, depending on the condition of the tool or the molding process, parts may require the removal of strings and excess flash buildup dimensional areas.
Rather than pay an employee to sit there and clean up each part with a razor knife or a rotary tool, treat your plastic parts with a flame treatment machine as they move on an automated conveyor system.
Flame Treatment for Plastics Improves Various Industrial Processes
Flame treating your plastics products provides several benefits over other treatment methods in many industrial and commercial applications. Manufacturers in in a wide range of industries realize process improvements from incorporating automated pretreatment processes including:
Automotive
Aerospace
Medical
Glass
Textile
Packaging
Plastic Film Manufacturers
This is a concise list of the many applications in which flame treatment for plastics is improving manufacturing methods with several advantages.
Cost Saving Advantages of Flame Treatment for Plastics
Several advantages of flame treatment processes realized by manufacturers include:
Reduced Labor Expense – Let the flame treatment equipment produce a smooth and finished product at a higher rate of productivity and for far less cost than repetitive labor.
Higher Productivity – Flame pretreatment machines produce flawless product with high speed automation.
Increased Profitability – With reduced labor expense and increased productivity, companies see a quick ROI with increased profitability.
Improved Product Quality – Flame treatment pretreatment applications produce a higher quality of product with improved surface adhesion and appearance.
Increased Product Strength – Treating the plastic surface with flame treatment machines does more than improve the surface appearance, it creates a stronger, more durable product.
Eco-Friendly Process – Flame treatment machines provide advantages over chemical treatment methods including employee safety and storage requirements of chemical treatment products
With all these advantages it is easy to see why manufacturers are realizing the many advantages of automated flame treatment equipment.
Superior Flame Treatment Equipment from Systematic Automation
When you need answers to flame treatment processes, contact the flame treatment specialists and original equipment manufacturer, Systematic Automation. We are your one stop shop for questions and answers with proven solutions to improving your plastics part treatment process.
We have developed various flame treatment machines with patented technology that provides high-tech solutions in simple to operate equipment.
Model FL Flame Treatment Machine
The Model FL Flame Treatment Machine by Systematic Automation provides a 360° all over cure area in a compact and affordable flame treatment system. Our universal unique vacuum platens hold down products of various shapes and sizes, treating different sized products at the same time. The Model FL state-of-the-art pretreatment machine is used to treat a multitude of products including plastic and glass bottles, mugs, growlers and drinkware.
Systematic Automation utilizes proprietary technology for patented equipment features. Our Model FL flame treatment machine features a Geneva indexer, specially engineered and driven by a 100-volt variable speed motor. This provides very smooth operation even when accelerating or decelerating. We use high quality components with all manufacturing and quality testing performed in the U.S. All our machines are designed for long lasting, high performance with simple operation requiring ongoing minimal maintenance.
Leading Automated Equipment Manufacturer
Systematic Automation has been designing, engineering and manufacturing superior automated equipment to aid industrial processes around the globe for more than 35 years. We are the leading manufacturer of screen printing machines, vacuum tables, UV curing systems and flame treatment machines, meeting and exceeding customer expectations worldwide.
All our machines are rigorously tested for high quality performance before shipping and come with exceptional customer service and continual support. Our skilled engineers will help to design the most optimum automated solution for you to provide higher quality products with improved productivity and profitability.
Systematic Automation is a leading supplier of screen printing machines, vacuum tables, UV treatment and flame treatment machines for plastics, glassware and a wide variety of products. Contact us today for proven solutions with high-tech yet simple to operate equipment used in flame treatment for plastics.