Flame Treatment Equipment for Improved Adhesion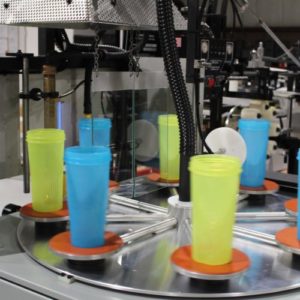 Flame treatment equipment is used in many applications, and is especially effective at improving adhesion of various materials to bond with plastic.  There are several industries utilizing the power of flame treatment machines to improve their processes. Some of these industrial applications include the following; label and print adhesion used in the packaging industry, treatment of optic lenses for film adhesion, various bonding applications in the Automotive industry, and many other bonding applications.
Systematic Automation is an experienced manufacturer of superior flame treatment machines manufactured with patented technology from over 30 years of experience.  We manufacture all equipment in our modern facility with only high-quality components for long lasting durability.
Flame Treatment Used for Label Adhesion
Packaging companies today are faced with challenges in label adhesion when applying labels to plastic containers, lids or caps.  The exterior surface of plastic containers is chemically inert to bonding with glue, causing many problems with labels not staying affixed to containers and peeling off.  One very effective way to improve the surface adhesion of containers is to treat with a flame treatment machine.
A flame treatment machine alters the energy level of the exterior surface to enable successful bonding and adhesion.   Flame treatment equipment can be combined with current assembly line systems for continuous automation, even mounted over a conveyor for simultaneous operation.
Systematic Automation offers flame treatment equipment to provide an altered surface conducive to bonding for label adhesion.
Flame Treatment in Packaging Applications
Flame treatment equipment is used in many packaging applications to improve the appearance of packaging, creating a flawless exterior finish to really get your audience's attention.  Flame treatment machines are used to improve label adhesion on packaging and containers, treating cosmetic packaging with metallization and appealing exterior coatings.
Flame treatment machines perform a required pretreatment process to treat containers, lids and caps for improved ink adhesion.   The Model FL 360 Flame Treatment machine accommodates assorted sizes of bottles, mugs and lids for an improved exterior finish.
Flame Treatment of Optic Lenses
Flame treatment systems are used in several optics field applications, again used to improve adhesion.  Specialty lenses require coating to prepare the glass or polymer material for a secondary coating application.  Pretreating with a flame treatment machine provides effective adhesion of coatings to optic lenses used in various applications such as eyeglass wear, lenses in reflective safety signs, and many other optic lens treatments.
Systematic Automation offers precision flame treatment equipment ideal for pretreating optic lenses for additional coating adhesion.
Flame Treatment Aids Automotive Industry
The Automotive industry is a known for lean processes with the latest in technological advancements, striving for zero defects as the norm.  Flame treatment is often used on plastic components for improved aesthetics and function.  Plastic parts are made of various polymers, each with unique properties and characteristics.   Plastics in general are nonporous which makes them non-receptive to bonding with adhesives, coatings, and inks.   Pretreating with a flame treatment machine alters the exterior finish allowing adhesion that will last.
Flame treatment equipment is widely used in the Automotive industry for improved adhesion of inks and coatings to plastic components, including parts with critical functionality.  Systematic Automation manufactures flame pretreatment machines for automakers worldwide assisting with cost efficient automated manufacturing.
Systematic Automation Provides Superior Flame Treatment Equipment
Systematic Automation incorporates patented technology into our superior flame treatment machine for pretreating cylindrical products with 360° total cure area.  Our Model FL Flame Treatment Machine is a compact and affordable surface treatment system with vacuum patens for universal hold down of assorted sizes and shapes.
Our patented flame treatment equipment features a simple overload clutch that requires very little maintenance with no chance of component obsolescence.  The specially engineered Geneva indexer is driven by a 100-volt variable speed motor, providing smooth acceleration and deceleration.
Flame Treatment Equipment Experts
Systematic Automation is a leader among automated screen printing machines, UV curing and flame treatment equipment.   Our extraordinary 360° Model FL flame treatment machine is used by OEMs around the world in several industrial processes.  This pretreatment machine provides extreme versatility with rotating platens incorporating universal tooling to accommodate numerous sizes of glasses, mugs, and odd-shaped products.
Systematic Automation has more than thirty years of experience in designing, engineering, manufacturing and installing top-of-the-line pretreatment machines, UV curing, screen printing machines and vacuum tables.  We have dozens of models of automated printing and curing equipment, and will customize a solution specific to your application.
Systematic Automation is a leading expert in designing, engineering, manufacturing and installing superior automated equipment used by OEMs around the globe.  We offer patented technology for simple and effective screen printing machines, UV curing machines, vacuum systems and flame treatment equipment.