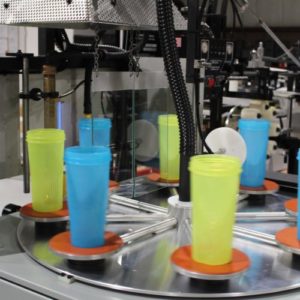 Finding the right flame treatment equipment for your process can be a challenge. With various models and features available, how do you know if the equipment you choose is the best solution for your process? It is important to understand how flame treating equipment works to know your options and feel confident with the equipment and features selected for your application.
Applications Utilizing Flame Treatment Equipment
Flame treating is a pretreatment process applied to various substrates such as plastics, glass or metals to alter the molecular structure of the surface so that it is more receptive to secondary operations such as adhesion with inks during screen printing applications. The outer surface of an untreated plastic part is typically smooth and nonporous, and not conducive to bonding with inks or coatings. Flame treatment is used on a wide range of substrates and products including plastic molded parts, films, coated boards, foils, packaging items and various bottles, growlers and glassware to improve adhesion properties.
Several industries realize the benefits provided with a flame pretreatment system including screen printing, film coating, automotive, aerospace and many others. Flame treatment equipment enhances several commercial and industrial processes, providing increased product quality with cost-saving efficiencies.
Manufacturing processes also utilize flame pretreatment equipment to burn off excess flash or contaminants on products. Flame treating provides a consistent method to treat parts resulting in a higher level of product quality.
Advantages of Utilizing Flame Pretreatment Equipment
Incorporating a flame treatment system into your process can reap big benefits to your bottom line. Providing a consistent process with repeatable parameters is necessary to produce products of high quality. Improving your product quality enhances customer satisfaction, leading to customer retention and new sales opportunities.
Flame treatment of products is a safer alternative to chemical treating, which exposes employees to harmful chemicals and forces a company to develop measures for the safe use, storage and disposal of harmful chemicals.
The right flame treatment machine will also improve your efficiency by speeding up cycle times compared to other treatment methods, which increases productivity and profitability.
Be sure that your flame treatment system will process your substrates effectively, with full exposure and fast, efficient cycle times.
Systematic Automation Offers Revolutionary Flame Treatment Equipment
Systematic Automation has over 35 years of experience in providing superior automated solutions for screen printing applications, vacuum table requirements and flame treatment systems.
Our Model FL flame treater is the only one of its kind with patented technology that outperforms the competition. The Model FL delivers a 360° uniform surface treatment to cylindrical products placed on universal rotating vacuum platens, providing versatility with our one-size-fits-all flame treatment equipment. No tooling is required to treat various sizes of products at the same time, providing efficiency and reliability in a simple and easy to operate design.
The is a versatile system offering UV curing, flame pretreatment processes or Pyrosil treatments in one simple and low-cost system. This one system solution enables products to undergo full UV cure and flame treatment with 2-inch elements running through the spiral ascension and descension process, providing recognized energy savings.
All flame treatment equipment features the revolutionary SA Burner, developed by our skilled engineering department with advanced features for performance and safety.
Revolutionary SA Burner for Flame Treatment Machines
Flame treatment systems burn a mixture of ultra-lean gas with air, which creates reactive chemicals such as excess unburned oxygen and atomic oxygen. These chemicals cause a reaction to exposed surfaces when under extreme temperatures, which can reach 1800°C. Our flame treatment burner features an internal baffle plate to ensure an equal mixture of gas and air, providing additional safety measures to employees.
The SA Burner is a standard 10-inch unit featuring an adjustable flame length anywhere from 2 to 10 inches, easily adjusted with no tools required. The precision bore holes produce the optimum flame that is highly efficient in treating plastics and glass.
Systematic Automation provides gas mixer assemblies for semi-automatic or fully automatic production, operating with natural and propane, and optional Pyrosil attachments.
When you need to know that your flame treatment machine will handle your process, contact the industry experts at Systematic Automation. For more than 35 years we have been developing high-performing automatic screen printing machines, vacuum tables, pretreatment and posttreatment machines in simple to operate designs. We do a lot more than provide high-quality equipment, we deliver ongoing exceptional customer service to ensure the total success of your process.
Systematic Automation delivers innovative, high-performing screen printing and flame treatment equipment based on decades of in-depth industry knowledge combined with the latest in technological advancements. Our machines outperform the competition with versatility and durability for reliable production in high-volume, demanding industries. Contact us today to speak with an engineer for personal assistance and success of your flame treatment process.