Finding the right flame treatment equipment for your process can be a challenge. With various models and features available, how do you know if the equipment you choose is the best solution for your process? It is important to understand how flame treating equipment works to know your options and feel confident with the equipment and features selected for your application.
Applications Utilizing Flame Treatment Equipment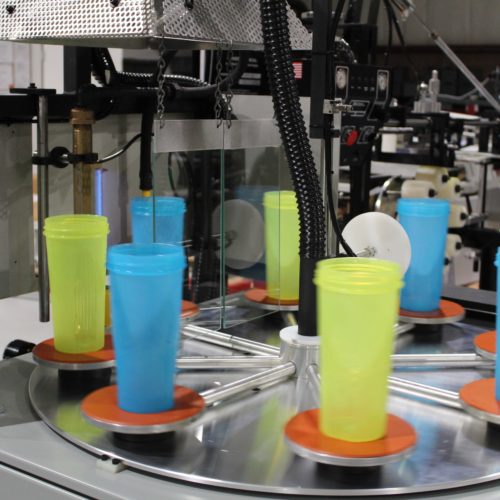 Flame treating is a pretreatment process applied to various substrates such as plastics, glass or metals to alter the molecular structure of the surface so that it is more receptive to secondary operations such as adhesion with inks during screen printing applications. The outer surface of an untreated plastic part is typically smooth and nonporous, and not conducive to bonding with inks or coatings. Flame treatment is used on a wide range of substrates and products including plastic molded parts, films, coated boards, foils, packaging items and various bottles, growlers and glassware to improve adhesion properties.
Several industries realize the benefits provided with a flame pretreatment system including screen printing, film coating, automotive, aerospace and many others. Flame treatment equipment enhances several commercial and industrial processes, providing increased product quality with cost-saving efficiencies.
Flame Treatment Used for Label Adhesion
Packaging companies today are faced with challenges in label adhesion when applying labels to plastic containers, lids or caps. The exterior surface of plastic containers is chemically inert to bonding with glue, causing many problems with labels not staying affixed to containers and peeling off. One very effective way to improve the surface adhesion of containers is to treat with a flame treatment machine.
A flame treatment machine alters the energy level of the exterior surface to enable successful bonding and adhesion. Flame treatment equipment can be combined with current assembly line systems for continuous automation, even mounted over a conveyor for simultaneous operation.
Flame Treatment in Packaging Applications
Flame treatment equipment is used in many packaging applications to improve the appearance of packaging, creating a flawless exterior finish to really get your audience's attention. Flame treatment machines are used to improve label adhesion on packaging and containers, treating cosmetic packaging with metallization and appealing exterior coatings.
Flame treatment machines perform a required pretreatment process to treat containers, lids and caps for improved ink adhesion. The Model FL 360 Flame Treatment Machine accommodates assorted sizes of bottles, mugs and lids for an improved exterior finish.
Flame Treatment of Optic Lenses
Flame treatment systems are used in several optics field applications, again used to improve adhesion. Specialty lenses require coating to prepare the glass or polymer material for a secondary coating application. Pretreating with a flame treatment machine provides effective adhesion of coatings to optic lenses used in various applications such as eyeglass wear, lenses in reflective safety signs, and many other optic lens treatments.
Flame Treatment Aids Automotive Industry
The automotive industry is known for lean processes with the latest in technological advancements, striving for zero defects as the norm. Flame treatment is often used on plastic components for improved aesthetics and function. Plastic parts are made of various polymers, each with unique properties and characteristics. Plastics in general are nonporous which makes them non-receptive to bonding with adhesives, coatings, and inks. Pretreating with a flame treatment machine alters the exterior finish allowing adhesion that will last.
Flame treatment equipment is widely used in the automotive industry for improved adhesion of inks and coatings to plastic components, including parts with critical functionality. Systematic Automation manufactures flame pretreatment machines for automakers worldwide, assisting with cost efficient automated manufacturing.
Manufacturing processes also utilize flame pretreatment equipment to burn off excess flash or contaminants on products. Flame treating provides a consistent method to treat parts resulting in a higher level of product quality.
Advantages of Utilizing Flame Pretreatment Equipment
Incorporating a flame treatment system into your process can reap big benefits to your bottom line. Providing a consistent process with repeatable parameters is necessary to produce products of high quality. Improving your product quality enhances customer satisfaction, leading to customer retention and new sales opportunities. Several advantages of flame treatment processes realized by manufacturers include:
Reduced Labor Expense – Let the flame treatment equipment produce a smooth and finished product at a higher rate of productivity and for far less cost than repetitive labor.
Higher Productivity – Flame pretreatment machines produce flawless product with high speed automation.
Increased Profitability – With reduced labor expense and increased productivity, companies see a quick ROI with increased profitability.
Improved Product Quality – Flame pretreatment applications produce a higher quality of product with improved surface adhesion and appearance.
Increased Product Strength – Treating the plastic surface with a flame treatment machine does more than improve the surface appearance, it also creates a stronger, more durable product.
Eco-Friendly Process – Flame treatment machines provide advantages over chemical treatment methods including employee safety and storage requirements of chemical treatment products
With all these advantages it is easy to see why manufacturers are realizing the many advantages of automated flame treatment equipment.
Systematic Automation Offers Revolutionary Flame Treatment Equipment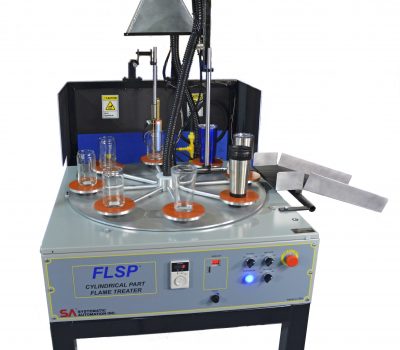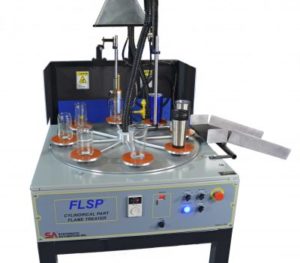 Systematic Automation has over 35 years of experience in providing superior automated solutions for screen printing applications, vacuum table requirements and flame treatment systems.
Our Model FL flame treater is the only one of its kind with patented technology that outperforms the competition. The Model FL delivers a 360° uniform surface treatment to cylindrical products placed on universal rotating vacuum platens, providing versatility with our one-size-fits-all flame treatment equipment. No tooling is required to treat various sizes of products at the same time, providing efficiency and reliability in a simple and easy to operate design.
All flame treatment equipment features the revolutionary SA Burner, developed by our skilled engineering department with advanced features for performance and safety.
Revolutionary SA Burner for Flame Treatment Machines
Flame treatment systems burn a mixture of ultra-lean gas with air, which creates reactive chemicals such as excess unburned oxygen and atomic oxygen. These chemicals cause a reaction to exposed surfaces when under extreme temperatures, which can reach 1800°C. Our flame treatment burner features an internal baffle plate to ensure an equal mixture of gas and air, providing additional safety measures to employees.
The SA Burner is a standard 10-inch unit featuring an adjustable flame length anywhere from 2 to 10 inches, easily adjusted with no tools required. The precision bore holes produce the optimum flame that is highly efficient in treating plastics and glass.
Systematic Automation provides gas mixer assemblies for semi-automatic or fully automatic production, operating with natural and propane, and optional Pyrosil attachments.
When you need to know that your flame treatment machine will handle your process, contact the industry experts at Systematic Automation. For more than 35 years we have been developing high-performing flame treatment machines in simple to operate designs. We do a lot more than provide high-quality equipment, we deliver ongoing exceptional customer service to ensure the total success of your process.
Systematic Automation delivers innovative, high-performing screen printing and flame treatment equipment based on decades of in-depth industry knowledge combined with the latest in technological advancements. Our machines outperform the competition with versatility and durability for reliable production in high-volume, demanding industries. Contact us today to speak with an engineer for personal assistance and success of your flame treatment process.