Vacuum Table Home Page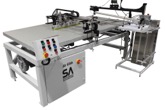 Systematic Automation, Inc. has more than thirty years of experience manufacturing the most precision, high-performance vacuum chuck system available. We manufacture thousands of vacuum tables each year, utilizing the advanced technology in our modern large capacity facility, setting the industry standard of +/-.001" for superior flatness and stability. Our knowledge and expertise with making vacuum chuck systems for virtually any application, combined with our large capacity resources allow us to provide state-of-the-art vacuum systems at the lowest available price.We have dozens of standard sizes and shapes to choose from with standard vacuum pressure applicable to several processes, or we can build a unique vacuum chuck system to your specifications. No size is too large, with various shapes available to accommodate your product or current automated system. Systematic Automation manufactures 100% of all equipment in the USA, with adherence to our tightly controlled quality system. No machine leaves our facility without rigid testing for high quality performance.Additional options for our vacuum chuck systems include automatic pin registration, sliding tables, and valves to control vacuum area with custom vacuum hold patterns available.
Vacuum Chuck Systems Aid Several Manufacturing Processes
Our vacuum chuck systems are used worldwide in a wide array of manufacturing processes, providing precision automation and enhanced part quality for industrial processes such as:
● Automotive – precision movement of product during additional processes such as pad printing or UV curing
● Aerospace – when critical part manufacturing requires precision part processes
● Screen printing – vacuum chuck systems aid in holding a variety of substrates securely in place for consistent printing results
● CNC machining – vacuum tables aid in holding products in place while the CNC conducts intricate cutting or drilling.
● Ultrasonic cutting machines – high vacuum pressure provides maximum control even under extreme manufacturing conditions
Our vacuum systems are used in these and many more precision applications around the globe. Contact our expert Vacuum Table Design Engineering team to learn more about how we can customize a vacuum system to your application, providing valuable automation and increased product quality.
Systematic Automation, Inc. excels with proven vacuum solutions using state-of-the-art patented technology. All machines undergo rigid testing for maximum quality performance prior to shipment and delivery. Contact Systematic Automation today, a leading global vacuum chuck system manufacturer.