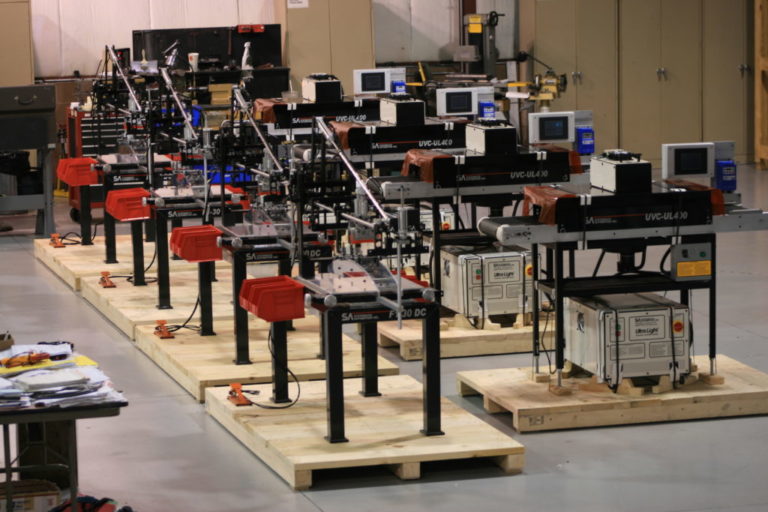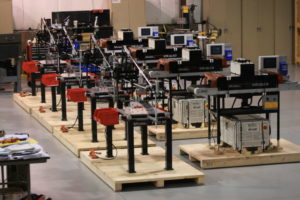 If you are in the market for a new screen printing machine, there are several things you should consider in determining the best machine for your application. Some reasons why you may be looking to purchase a new screen printing machine may be that you are either starting your own business as a screen printer, bringing a screen printing process in-house rather than outsourcing the printing, or maybe you are simply replacing an old worn out machine for a new one. The first consideration that is often overlooked is if you will be purchasing a machine domestic or internationally. Offshore machines will be less likely to offer support for the machine as well as being delayed spare parts for you, which will be a headache when you are in the middle of a job.
What To Consider:
Desired throughput
Single or Multi-color designs
Domestic or international
Reputable company – ask about machine service
Screen making or outsourcing
Non-proprietary components
If you are a screen printer, or starting your own printing business, you should decide if you are going to make your own screens.  This will pay off with a quick return on your investment for high volume production.  Having the ability to stretch and make your own screens puts control in your hands for quality and lead times, rather than relying upon outside sources.  If you are in the middle of a print job and your screen rips, you could replace it quickly rather than rely upon your vendor for a new screen.   Making your own screens also gives you the flexibility to have the correct type of screen available when needed, which will significantly reduce any down time.
If you are unsure as to whether this is advantageous to you, contact the screen printing experts at Systematic Automation for guidance on the benefits versus the costs of making your own screens.
If you want to purchase a new screen printing machine to bring the print aspect of your job in-house instead of outsourcing, you will no longer have to rely upon your supply chain for quality and timely printing.  You can bring your entire screen printing in-house and maintain control of your printing requirements while reducing your production costs.
Whatever the reason for your purchase, there are several considerations to ensure you purchase the perfect machine to give the most return on your investment.  The type of screen printing machine that you purchase depends upon several factors including the volume of printing requirements, substrate or product you will be printing on, external conditions that substrate will be exposed to, type of ink required, and the screen printing manufacturer.  Let's review each of these aspects in more detail.
Volume of Printing Requirements
The volume of your printing requirements will help to determine the best new screen printing machine for your needs.  Each machine will have a measured maximum output which can be compared against your total volume requirements.
A reputable screen printing manufacturer will have several options of machine capacity to choose from.
Type of Substrate
The type of substrate you will be printing on will dictate the type of machine you need, whether it is a flat, cylindrical or an odd shaped product.  Some screen printing machines are made strictly for flat products and cannot print on a round or odd shaped substrate, while there are other machines that are versatile enough to print on either flat or cylindrical items.
Systematic Automation has more than twenty different models of screen printing machines to accommodate virtually any substrate in any size or shape.
Substrate Exposure to the Elements
The function of your product is a very important consideration that will help determine the type of screen printing machine required.  If your product will be exposed to harsh elements you will need to ensure that the ink will maintain proper adhesion even when exposed to things such as direct sunlight, heat, cold, or water.
Systematic Automation has been manufacturing screen printing machines for more than thirty years.  We have vast experience in determining the best machine for your substrate based on shape, size and end user functionality.
Type of Ink Required
If your printing project is high in volume, it may be advantageous for you to use UV inks with a UV ink curing machine as they dry instantly and will give you a quicker cycle time. UV inks are ideal for high volume production, but will typically require a pre-treatment process for optimum adhesion. UV printing is replacing the once widely used solvent ink based printing in many instances due to a quicker drying time, and the high quality of UV inks.
Solvent based inks require the use of additional solvents which can be toxic to employees and may require a high-end ventilation system to remove dangerous VOCs (Volatile Organic Compounds).  When applied to the substrate, the solvent will evaporate leaving the remaining liquid ink on your product.  Since UV inks dry instantly, a UV curing machine will provide a consistent process as opposed to evaporation which may have some inconsistencies in dry time and final appearance.
If you are unsure of the type of ink required for your printing project, contact Systematic Automation for expert answers to all your questions.  We manufacture screen printing machines for any application, including UV curing machines. Click here for more information.
Experienced Screen Printing Manufacturer
One of the most important considerations when purchasing a new screen printing machine is the manufacturer, and subsequent service and support available to guide you through a successful printing experience.   Be careful of low cost models available from offshore companies, you never know the quality of internal components and the level of future service you will get.  Your definition of quality and ongoing support may be very different than the foreign company you deal with.
Your new screen printing machine should be simple to operate yet produce high quality, professional printing results, provide easy clean up, quick changeover, and come with ongoing service and support.  Systematic Automation manufactures semi-automatic and fully automatic screen printing machines with user-friendly options such as easy to use touch screens.  Depending on the type of ink required, features such as a detachable squeegee holder, screen lift and rear screen holder will provide quick and easy clean up.
Systematic Automation manufacturers more than twenty various models of screen printing machines entirely from our domestic location in the US, using only the highest of quality components for long lasting durability.  We provide ongoing service and support, technical assistance and replacement parts when needed.
In addition, Systematic Automation manufacturers high performing vacuum tables, providing state-of-the-art machines engineered with superior components.   We design, engineer, manufacture and install high precision vacuum table solutions for a variety of different industry applications.
Systematic Automation is a leading screen printing machine manufacturer providing high quality reliable printing equipment to businesses and manufacturers worldwide.  Contact us today for expert assistance with your new screen printing machine purchase.