Vacuum Tables Home Page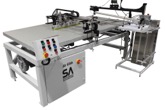 Systematic Automation is the number one global source for expert vacuum chuck systems with precision industry standard flatness of +/- .001" per linear foot, reliable holding power, and durable construction. Our vacuum chucks are manufactured with proven, proprietary technology in our manufacturing facility. We are one of the leading vacuum chuck manufacturers in the world. Vacuum chucks are tailored for your specifications, no size is too large or too small.
Our vacuum chuck systems are known for their superior quality. We have the knowledge and resources to provide world class vacuum chuck equipment with numerous options catered to your application, at an affordable cost. One of our highly skilled engineers can assist you in finding the most cost effective automated vacuum system to improve your production process.
Some available options with our superior vacuum equipment are:
● Automatic pin registration
● Sliding vacuum systems
● Valves to isolate or inactivate different zones
● Bases in any shape or size
● Customized hole patterns
● Surface options such as Formica for improved resistance to scratching
● Anodizing for corrosion resistance and insulation, available in different colors
Systematic Automation manufacturers thousands of vacuum chuck systems annually, providing enhanced part quality and cost saving efficiencies in industrial applications around the globe.
Vacuum Chuck Solutions Used for a Vast Array of Industrial Applications
Systematic Automation provides customized vacuum chuck solutions for unique applications worldwide. Vacuum chucks are used in several commercial and industrial applications including digital printing, flatbed printing, paper making, plotter cutter, and engraving processes.
Our vacuum chucks are also used in several precision applications such as surface grinding, ultrasonic cutting, UV curing and CNC machining processes providing superior holding power for consistent part quality.
Vacuum chucks enhance part integrity with consistent manufacturing processes in critical applications such as aerospace and automotive part manufacturing, while also providing cost saving efficiencies in high volume production. Our vacuum tables are proven to provide extreme vacuum force for holding a wide array of substrates securely in place even in highly pressurized conditions.
Contact our highly skilled vacuum table engineering department today for assistance with developing your unique vacuum chuck system customized for your process.
Systematic Automation, Inc. provides tested and proven vacuum solutions for several industrial processes worldwide. All vacuum tables are inspected for precision flatness of +/- .001″ per linear foot before shipment. Contact us today to speak with one of the world's leading vacuum chuck manufacturers.