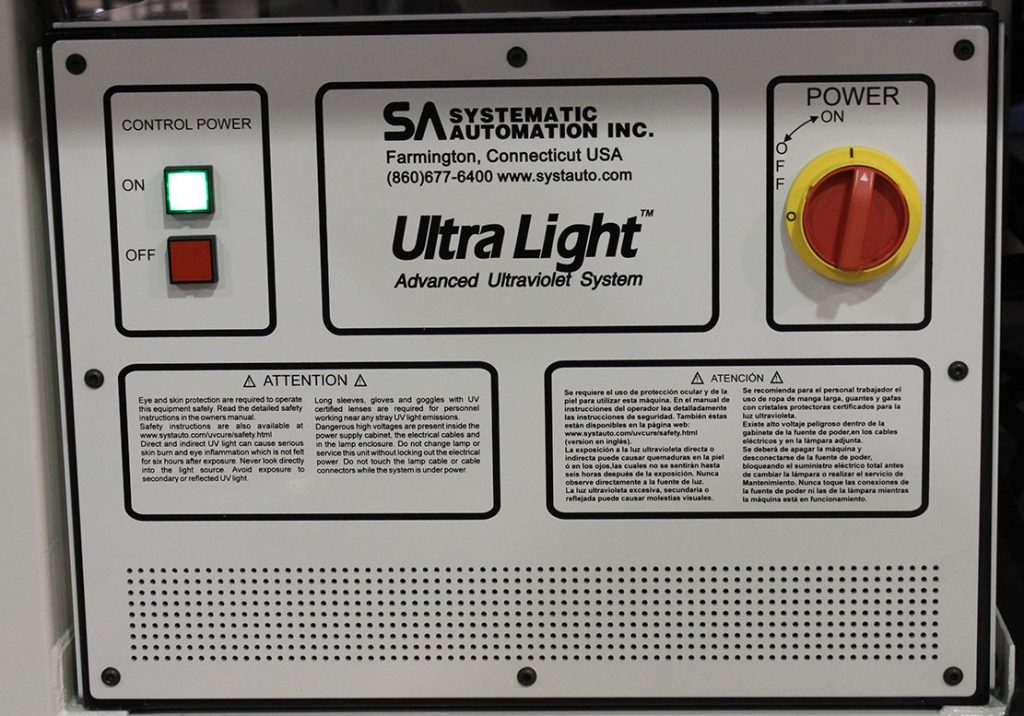 The Ultra Light UV power supply unit comes with a modular touch screen monitor that connects with a 10 foot (300 cm) cable. The unit is fully fused with fuse access from the top and both sides of the unit. The front, rear, side and top panels are individually removable for easy servicing. The Ultra Light operates on 208/220/230/240 or 460/480 volts, single phase for maximum possible operating efficiency. And safe low voltage control power of 24 volts DC.
On the front of the UV power supply unit is a built-in main power disconnect for safety. Safety instructions in English and Spanish are screen printed on the front of the unit. Non-conductive thermoplastic conduit is used to connect the irradiator where the UV lamp is housed to the power supply unit. There is a quick disconnect for separating the irradiator from the power supply unit.
Forced air cooling intake and a temperature sensor provides internal thermal component protection. There is also continuous monitoring of the irradiator cooling blower. This information is clearly displayed on the touch screen control panel. Programmable Logic Controller (PLC) is expandable for integration to your equipment. Just ask to speak with one of our UV application engineers.
One touch screen control panel can individually operate up to 10 power supply units. Power supply units are stackable to save space.
The power supply unit is a rugged tig welded, powder coated steel enclosure and is proudly made in the USA.