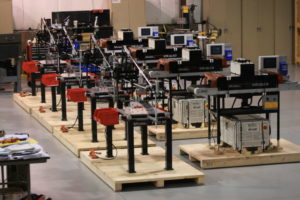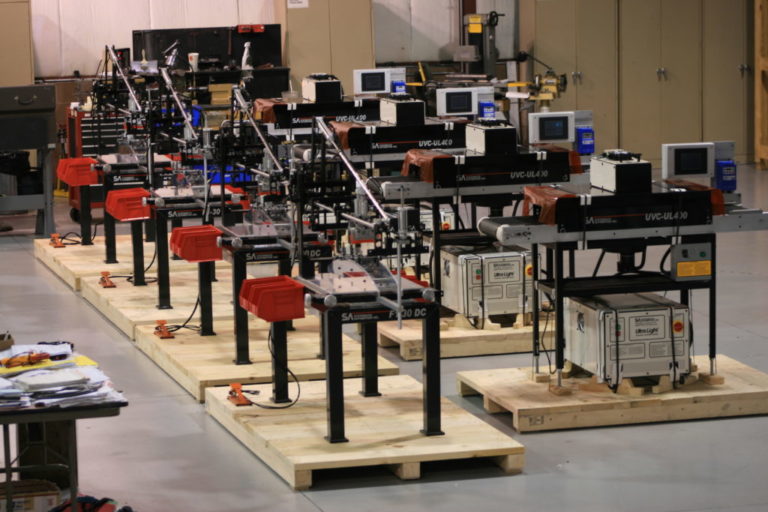 Not all screen printing machines are made the same and most screen printing machine design engineers do not have your process in mind when manufacturing screen printers. Screen printing should be a profitable operation designed to improve your process with high quality and cost efficient printing solutions. Be sure to speak with experienced screen printing machine designers to choose the printer that will improve your process and profitability.
Award Winning Screen Printing Machine Design
Systematic Automation is a leading global supplier of screen printing machines with more than 35 years of experience in screen printing machine design. Since 1983, we have been recognized as an authority on screen printing machine manufacturing, delivering first to market screen printing solutions. We offer a wide selection of more than 20 various models of screen printers, developed with patented and proprietary technology.
Model 810 Clamshell Printer for Flat or Cylindrical Products
Our screen printing machines set the industry standard for performance and efficiency, winning the Screen Graphics Golden Image Award with our Model 810 semi-automatic screen printer. The Model 810 series is designed to easily print on flat or cylindrical products, providing versatility and quick change over time. This screen printing machine design is the heart of all future designs, providing high quality and reliable performance with expandable controls.
The Model 810 is still in use today and offers 100% pneumatic controls for simple and quiet operation. Meet precision printing requirements with cost efficient production of up to 3,600 cycles per hour. This screen printing machine is ideal in applications such as ad specialties, glass, ceramics, molded plastic, labels, panels and even baseball bats.
Model CC 5000 Inline Card Printer
The Model CC 5000 Inline Automatic Card screen printer provides automatic printing on a wide variety of flat items such as cards, plastic cards, plastic tags, luggage cards and various flat products. This screen printing machine design is still in use today and provides reliable, cost-efficient performance at a low cost. The CC 5000 provides easy job setup and quick changeovers with X, Y and rotational micro adjustments for precision part registration.
Cards or printed items are quickly moved by conveyor through a dryer promoting quick cycle times with pick and place or stacking devices available. Additional optional features include anti-static devices, pre-treating stations, automatic ink dispensers and more.
HLT Semi-Automatic Large Format Screen Printer
The HLT screen printing machine is the prefect printing solution for signs and various flat, large format items. This semi-automatic, sliding table screen printer is designed with the same reliability and features of the Model 810 workhorse for reliable, precision printing. Easily print on large sizes of 36" by 36" or 48" x 48" with options available for printing on larger sizes.
The shuttle table design allows for easy access to substrates, while X,Y and angular micro adjust dial indicators provide quick setup without having to remove your screen. Constructed with the same quality components of all our screen printers, the HLT will deliver long lasting, high performance. This screen printer consistently performs for high quality large format printing.
Model T8-SS Fully Automatic Turret Motion Screen Printer
The Model T8-SS offers fully automatic screen printing for cylindrical items featuring automatic loading, unloading and pre- or post-treatment options with flame treating and UV curing capabilities. This screen printing machine is designed to meet high production with quick changeovers and the simple to operate fully automatic printing reduces labor expenses.
The Model T8-SS features 8 stations, inflation for soft products such as plastic bottles, multicolor printing with mechanical and optical registration. Output of up to 2,000 parts per hour are achievable depending on the application.
Systematic Automation Offers the Widest Selection of Screen Printing Machines
These are just a few of our screen printing machines from a long list of printers designed to outperform and outlast the competition. We stand out from any other screen printing machine supplier by offering custom engineering features designed around your business. We understand that screen printing should be the most profitable aspect of your process and we show you how to achieve it.
Our exceptional customer service is second to none with training and phone support provided to ensure your process success. We are committed to improving your process with cost efficient printing solutions and improving your product quality with precision, high quality screen printers. We manufacture all machinery and equipment in our state-of-the-art facility in the United States and thoroughly test all equipment prior to shipping.
Systematic Automation offers the widest selection of semi-automatic and fully automation screen printers for nearly any product shape or size. Our engineers are the best in the business with an in-depth knowledge of screen printing technology. Contact us to find the most cost effective printer for your process from the screen printing machine design experts.