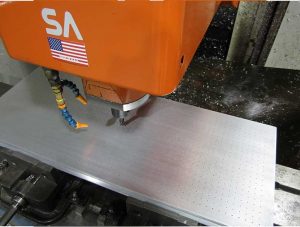 A precision CNC router for vacuum tables is valuable in many applications that require consistent movements with precision on a flat surface.  Vacuum table cnc router capabilities hold down numerous substrates such as paper products, steel, fabrics, PVC, canvas and plexiglass during precision applications.
Vacuum CNC Router Enhances a Multitude of Applications
A vacuum CNC router enhances a multitude of applications to provide precision with increased automation and throughput.  Vacuum tables with CNC capabilities are used in numerous processes including:
Surface grinding – vacuum tables with CNC router capabilities are useful when large grinding machines require maximum hold down force with superior flatness. Vacuum tables by Systematic Automation with CNC router precision provide more than 50 lbs. of holding power while maintaining extraordinary flatness when meeting precision tolerances.
CNC Machining – exceptional hold down force is required during numerous CNC machining processes. Our vacuum tables set the standard for exceptional flatness, meeting tight tolerances of +/-.001 flatness per linear foot.
Engraving Processes – vacuum tables by Systematic Automation provide superior hold down force for a wide variety of substrates during engraving processes. We incorporate a sacrificial sub-plate for engraving on thin materials when machining through your substrate.
Ultrasonic Cutting – when precision cutting on large substrates is required, our vacuum tables hold your substrates securely in place.
Plotter and Cutter Systems – our vacuum table CNC router systems provide maximum hold down force during plotting and cutting which is useful when cutting fabrics with precision. We offer a sacrificial top skin that can be used with quick and easy replacement.
Sail Making – it is critical to hold large canvases securely in place when performing meticulous cutting. Our large sized vacuum systems provide maximum hold down force over the entire canvas when precision cutting is required.
Vacuum tables by Systematic Automation enhance these precision applications and many other processes that require vacuum force such as screen printing and moving material in material handling systems.
Vacuum Table CNC Router with State-of-the-Art Technology
When you need a vacuum table CNC router for your precision application, talk to Systematic Automation for solutions to all your vacuum CNC processes.  We have been manufacturing state-of-the-art vacuum tables for more than 35 years with our engineers possessing a wealth of knowledge in vacuum table design and implementation in virtually any process.
Systematic Automation is the leading manufacturer of vacuum tables, developing patented equipment with proprietary technology to deliver the best in flatness, customized engineering features, performance and price.  Engineering features available with our vacuum tables include:
Control to activate or deactivate the vacuum force in specific zones
Hole patterns designed specifically for your application with customized hole patterns for maximum hold
Table surface options such as anodizing to provide protection from corrosion and Formica table surfaces which help to minimize conductivity issues while preventing scratches.
Fast and reliable set up of customized automatic pin registration registers your products for quick activation with a foot pedal or push button.
Sliding vacuum tables provide versatility with up to two axes of travel and accuracy in CNC processes.
With the wide variety of vacuum tables to choose from and the vast selection of engineering features, we are sure to provide the exact match for your application.  Our tables range in size from 5" x 6" x 1 3/16" all the way up to 72" x 144" x 1.5".  We provide custom designed table sizes with customized hole patterns available upon request.
With Systematic Automation, you get what you need without paying for more than you have to.  Utilizing our vast resources and our combined industry knowledge we can offer high performing equipment with the latest in technological advancements at a low cost to you.
Vacuum Pumps for Your CNC Vacuum Process
Systematic Automation provides two types of vacuum pumps each with engineering features beneficial to particular processes.  Our Rotary Vane vacuum pump, also referred to as High Flow, allows for leakage without loss of effective vacuum force.  Rotary Vane pumps pull with less force than Diaphragm vacuum pumps.  The Diaphragm pump establishes an air tight seal and pulls with high vacuum force for optimum holding power.
Systematic Automation Provides Ongoing Service and Support
We want your vacuum table process to be a huge success, that's why we provide ongoing service and support.  When you need a vacuum table, don't go to just any equipment retailer when you can get the best equipment straight from the manufacturer, designed for the success of your project at the lowest available cost.
Systematic Automation is a leading manufacturer of vacuum tables, screen printing machines,  flame pretreatment machines and UV curing systems, utilized in a multitude of successful automated operations.  Contact us today to speak with an engineer and learn more about our CNC solutions with high performing vacuum tables for CNC processes.