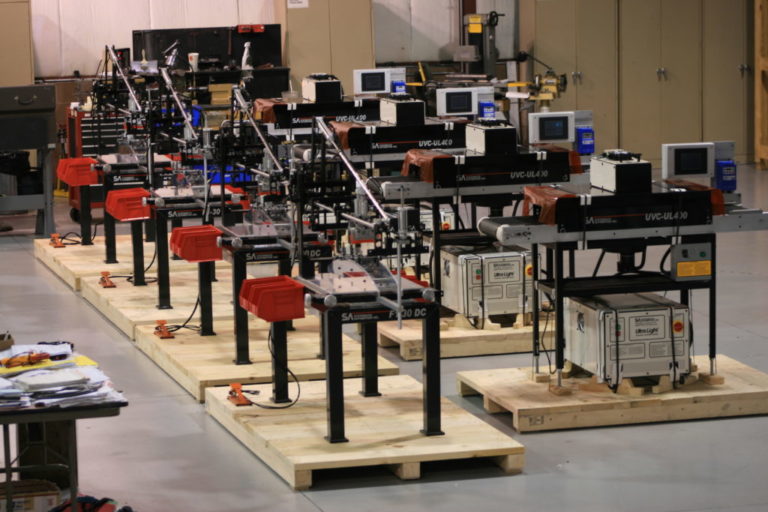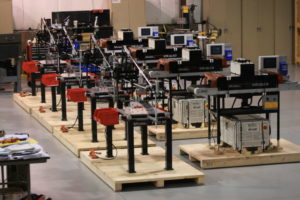 If you're wondering where to find the largest selection and types of screen printing machines, you need to check out Systematic Automation.  Systematic Automation leads the industry with nearly two dozen different models of screen printers to choose from with a wide variety of auxiliary equipment and engineering options.  With semi-automatic and automatic screen printing machines that print on flat or cylindrical items in one or six colors, on virtually any product or substrate imaginable, you'll be hard pressed to find another manufacturer with this many choices and options when it comes to screen printing.  
Add the in-depth expertise of the design and engineering team combined with exceptional customer service and support, and other vendors just don't compare with the added value that Systematic Automation delivers.  We design, engineer and manufacture screen printing machines, vacuum tables, flame treatment and UV curing systems.  We partner with you to ensure the total success of your project with optimized automated equipment which delivers maximum productivity.  We help you to deliver decorated products with higher quality, quicker throughput and lower cost.
Clamshell Screen Printers
Our clamshell printers offer four different types of screen printing machines which print on either flat or cylindrical items.
Model F1-DC – is recognized as the most versatile screen printer with brilliant design.
Model 810 – is designed for printing on all types of flat or cylindrical items.
MC-1 Manual Screen Printer – this manual screen printer is a great model to begin your precision printing process.
Model F1 – this is one of the most popular screen printers available as there are no electrical components to go obsolete in this completely pneumatic design.
Harmonic Lift Screen Printers
Model KEG – printing on kegs has never been simpler with this versatile KEG type of screen printing machine with UV curing available.
Model HLT – This harmonic lift table screen printer lifts the products up to the screen with the ability to adapt to a wide range of substrates in flat or cylindrical shapes including large products.
Turret Motion Printers
Model PT-8 – this turret motion high-speed screen printers is a low cost solution to print on a wide variety of cylindrical items.
Model KOOZIE – designed with servo driven unloaders this koozie printer removes collapsible koozies from the printer before exposure to a high efficiency dryer.
Sliding Table Printers
Model ST Series – This sliding table offers complete unobstructed access to the table when loading or unloading flat items.
ST36/ST48 Semi-Automatic Screen Printer – With sizes of 36" x 36", 48" x 48" and larger sizes available upon request this heavy duty screen printer delivers precision printing on large substrates.
In-Line Printers
Model Super ROI – this simple and practical screen printer prints on a wide variety of cylindrical items in one to six colors.  
CC-5000 Automatic Screen Printer – this low cost In-Line type of screen printing machine offers reliable and rapid performance with pneumatic operation.
Model SX – print two to six colors with this multi-color type of screen printing machine, with speed and precision.  
Rotary Index Printers
Model RC-2 – this unique screen printer offers the ability to print two colors on three-dimensional and difficult to hold products such as glass and ceramics, aiding many industries including pharmaceuticals, cosmetics, electronics, automotive and many others.  
Model Vinci 1452 – this high speed, automatic durable screen printer is designed for continual production with reliable performance.  Simple design and CAM based controls make this screen printing machine very user friendly and easy to use.
Model RC-1 – this screen printer is brilliantly designed with a simple overload clutch and all mechanical Geneva indexer.  
NCC.5E Automatic Screen Printer – this two color printer for flat products offers a high speed programmable logic controller (PLC).  
Model NCC – perform precision high speed screen printing with this accurate and reliable high speed indexer with UV curing options.
Model MICRO SLIDE – print on delicate micro slides in chronological order with this fully automatic screen printing machine.  
Model T8-SS – this fully automatic screen printing machine features automatic loading, unloading, pretreatment and UV curing processes on cylindrical products.
Systematic Automation offers these many models and types of screen printing machines to satisfy virtually any screen printing requirement.  We offer vast resources which include decades of experience combined with in-depth expertise and a modern manufacturing facility. Our skilled design engineers are committed to providing total screen printing solutions with custom designed machinery and auxiliary equipment.
Systematic Automation offers patented screen printers designed with proprietary technology, engineered with durable components and manufactured entirely in the U.S.  We provide exceptional customer service to ensure the total success of your printing job. Contact us to speak with an engineer and learn more about our wide selection of various models and types of screen printing machines.