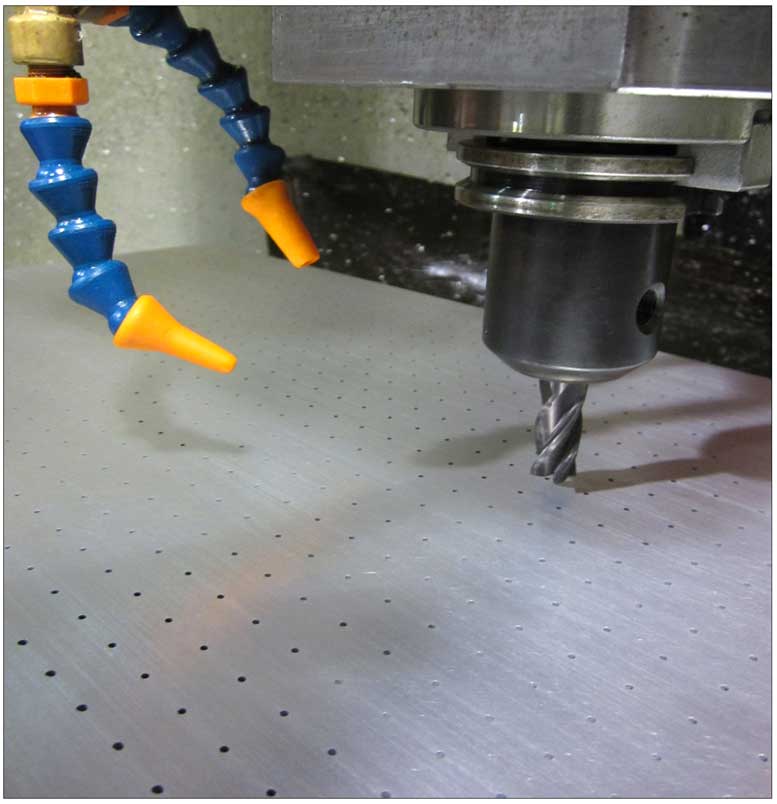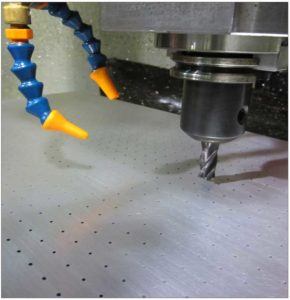 Many manufacturers utilize the power of a vacuum table for CNC applications to enhance quality and efficiency during various industrial processes.   A vacuum table is a table with holes through it allowing a strong vacuum force to hold down a wide variety of substrates during additional industrial processes.  Vacuum tables for CNC applications provide consistent flatness with strong vacuum force, combined with the accuracy of computer numerically controlled (CNC) devices.
CNC vacuum tables are valuable machines for processes that require precision applications with consistent movements to a flat surface.  Vacuum systems with CNC capabilities are used to hold down various flat substrates such as plexiglass, PVC, steel, paper products, fabrics and canvas during meticulous applications.
Applications Benefiting from Vacuum Table Systems
There are many industrial applications that utilize vacuum table systems to enhance precision and automation in their process.  Vacuum tables for CNC applications are used in a wide variety of critical applications including:
Screen Printing – vacuum tables hold substrates securely in place for accuracy while a screen printing process is applied.
Sail Making – strong tables hold down sturdy canvas for meticulous cutting with careful movements.
Material Handling Systems – vacuum systems help to move products without damage.
Surface Grinding – large grinding machines require superior flatness with maximum holding force. Our vacuum tables provide over 50 lbs. of lateral holding power while maintaining exceptional flatness for precision tolerances.
Engraving – Our high precision vacuum table can accommodate thin materials with the use of a sacrificial sub-plate if machining through your substrate.
CNC Machining – vacuum tables provide superior hold down force during CNC machining.
Ultrasonic Cutting – maximum hold down force is required for precision cutting of large substrates.
Plotting and Cutting Systems – typically used with fabrics, our vacuum pumps provide optimum hold down force of your substrate for precision cutting. A sacrificial top skin can be applied for fast and simple replacement.
When looking for a vacuum table manufacturer, be sure to look for experience with in-depth knowledge of vacuum table systems, quality components for high performance and durability, and features for simple operation with maximum hold down force.
Experienced Vacuum Table Manufacturer
Systematic Automation has been manufacturing high performing vacuum tables for CNC applications for more than thirty years, providing state-of-the-art machines engineered with superior components.   We design, engineer, manufacture and install high performing vacuum tables with maximum hold down force used on a variety of substrates.
Systematic Automation was founded in 1983 and quickly became recognized as an industry leader developing patented automated equipment designed by our knowledgeable engineers.   We have developed patented machinery and equipment utilized by OEMs around the world to increase capacity with faster cycle times, adding profit to their bottom line.
Vacuum Tables with Quality Components for Durability
A standard table that performs well in most applications has holes that are 1/16" in diameter and are set 1/2" apart.   Systematic Automation will drill and tap additional holes or add flanges custom designed to your application.
One of the most vital requirements of vacuum tables is exceptional flatness, with high performance tables boasting a flatness of +/- .001" per linear foot.  Reliable flatness is necessary to enhance product quality with consistent and accurate automation.  No size is too small or too large, our tables range in size from 5″ x 6″ x 1 3/16″ to 72″ x 144″ x 1.50″, with custom sizes available upon request.
Systematic Automation offers two types of pumps for the perfect solution to your vacuum system.  Our Rotary Vane (High Flow) vacuum pump allows for some leakage without loss of significant vacuum force.  Rotary Vane pumps pull with less force than Diaphragm vacuum pumps.  Our Diaphragm pump pulls with high vacuum force for optimum holding power by establishing an air tight seal between the vacuum table and your product.
Features of Superior Vacuum Tables for CNC Applications
Systematic Automation offers several features for simple to use vacuum systems with superior long-lasting performance.  Some options available include:
Automatic pin registration – automatically register your products with pins that are actuated pneumatically with a foot pedal or push button. Points of registration are customized to your specification. This feature provides quick and reliable set up.
Sliding vacuum tables – available with up to two Axis of travel, and swiveling casters for easy mobility.
Additional Zoning Valves – control different zones by turning them on or off.
Customized Hole patterns – specified to your process.
Formica Table surface – your table surface can be finished in Formica to accommodate substrates that are prone to scratches or conductivity issues.
Anodizing – your table surface can be anodized for resistance to corrosion and for added insulation in various color options.
When you need a vacuum table for CNC applications or any process requiring reliable vacuum force, call the experts at Systematic Automation.  We understand the importance of consistent accuracy with your automated processes, leading the industry with high performing automated equipment.
Systematic Automation is a leader in automated screen printing, vacuum table and UV curing systems.  Contact us today to speak with one of our knowledgeable engineers on how we can improve your automated process with a vacuum table for CNC applications.