Systematic Automation is a global leader in commercial screen printing machine manufacturing, serving the automotive, aerospace, pharmaceutical, glassware, plastics and advertising industries with best in class screen printing equipment. Commercial screen printing machines are required for numerous applications in several commercial and industrial production applications.Many industries are using screen printing machines in their automated production process to speed up cycle times while reaping the benefits of high speed production with low cost. Whatever your need for commercial screen printers in your industrial application, Systematic Automation has the right machine for you. We have been designing, engineering and manufacturing various commercial screen printing machines for over thirty years.
Applications Utilizing the Commercial Screen Printing Machine
A commercial screen printing machine is used in various industrial settings such as automotive assembly lines to quickly print labeling, decals or instructions on various parts. Using an automated screen printing machine keeps your assembly line moving, providing a fast and efficient printing process without interruption of your flow of goods. Your parts can easily drop into your next assembly line station. Systematic Automation has decades of experience matching your commercial screen printing machine to automated auxiliary equipment, providing you maximum benefit and efficiency. Streamlining your automated process with speed and efficiency provides increases in profitability and a speedy return on your investment.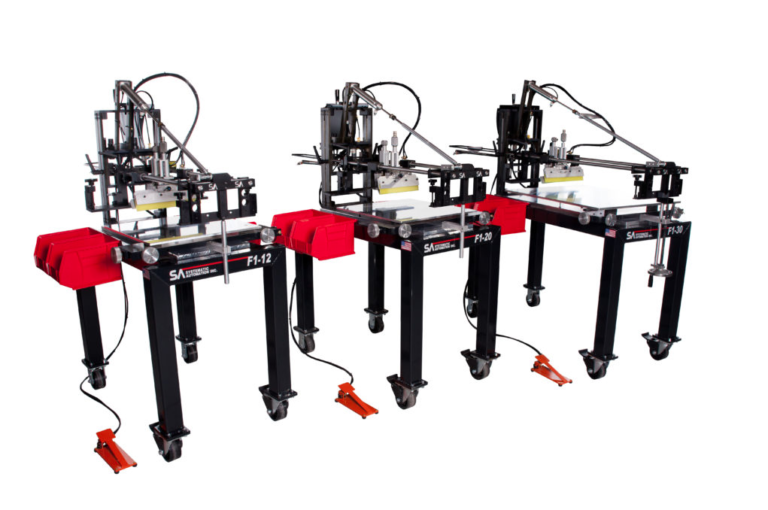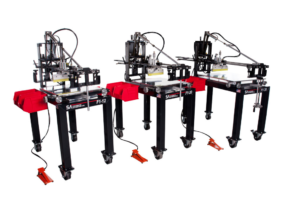 Commercial Screen Printing Machine Manufacturers
Systematic Automation has over twenty variations of high performance semi-automatic and fully-automatic commercial screen printing machines. As global leaders in the industry, our patented technology has set the standard for screen printing machines used today.  We offer various models of Flat Bed Clamshell Screen Printers, Harmonic Lift Printers, In-Line, Turret Motion, Rotary Index, and Sliding Table screen printers. We can recommend the best option for your commercial screen printing process, whether printing on flat or cylindrical shapes, on almost any substrate imaginable. Whether you are printing on postcards or magnets, or high performance items such as critical automotive or aerospace products, we have the right machine combined with extensive experience to get you up and running quickly with consistent high quality results.
At Systematic Automation, providing a simple and efficient printing solution is our main focus. Automating your process increases efficiency and profits.  Contact the knowledgeable staff at Systematic Automation to learn how our experience as commercial screen printing machine experts can benefit your company.