Systematic Automation is an experienced manufacturer of the leading, high performance vacuum table for CNC machines which require consistent flatness with reliable vacuum force. Our vacuum tables set the industry standard of +/- .001" per linear foot in any table size including oversized and custom designed vacuum table systems. You can find our vacuum tables utilized across a multitude of applications worldwide including precision CNC milling processes.
We offer skilled engineers with in-depth expertise in analyzing your process and designing the optimum vacuum system for your application. Our more than 35 years of experience in developing superior vacuum table systems provides many benefits including effective hold down force which meets your specifications with cost efficient vacuum solutions. All equipment is manufactured in our state-of-the-art, modern U.S. facility and tested rigorously for quality performance prior to shipping.
Quality Constructed Vacuum Table for CNC Machines
Systematic Automation manufactures each vacuum table for CNC machines with only the highest of quality materials and components. Our standard table top skin is constructed with toughened aluminum alloy in 1/8" thickness with an epoxy resin layer, providing durable resistance to dents and dings. The aluminum honeycomb core construction provides resistance to fluctuations in temperature, with a 1" x 1" manifold surrounding the slotted core internally delivering an even vacuum flow.
We manufacture vacuum tables for CNC milling machines and a multitude of applications in virtually any size imaginable from 5" x 6" to 72" x 144", in thicknesses from 1 3/16" to 1 ½" with custom designed sizes available. Tables with 1 3/16" thickness feature a 3/8" flange surrounding the perimeter for drilling or clamping. You can have vacuum port connections from any side or the table bottom. For vacuum tables with ports on the side there is no flange on the side with the manifold.
We will design additional holes to meet your specifications and provide additional flanges as required. Sacrificial sub plates with matching vacuum holes are available if milling through the workpiece.
Vacuum Table for CNC Machine Applications
Vacuum tables for CNC machines enhance many commercial and industrial applications which entail precision drilling, machining and cutting. Some applications which benefit from quality constructed vacuum systems include:
CNC Machining
CNC Routing
Precision Cutting Systems
Laser Cutting
Cutting Systems
Plotter / Cutter Processes
Ultrasonic Cutting Machines
Surface Grinding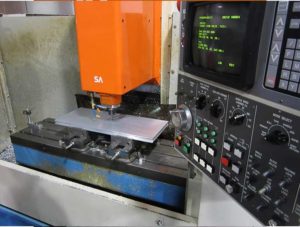 Vacuum tables aid these CNC milling machine applications and many others, with reliable hold down force to improve quality and productivity. Systematic Automation offers expertise in analyzing your process to deliver the optimum vacuum table system which improves your process. We deliver proven vacuum solutions with quality constructed, high performance vacuum tables.
Systematic Automation is a leading manufacturer of vacuum tables with over 35 years of experience. We design, engineer and manufacture high performance vacuum tables with consistent flatness and reliable hold down force. Contact us to speak with an engineer about our proven vacuum solutions with the leading vacuum table for CNC machines.