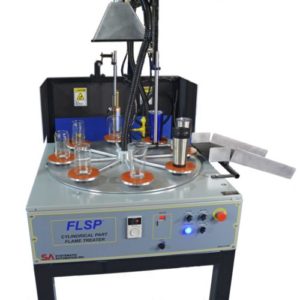 Not all products are created equal and that boils down to the surface of said product. If you are for example, printing glassware, you will need a pretreatment machine when printing with UV inks. Screen printing machines and inkjet systems use UV ink. Your system will adjust the surface tension of your product and improve the print adhesion. The option of what machine works best for you is the most important factor when printing. Purchasing the wrong machine will be an expensive mistake.
Pretreatment machines come in 3 different forms for printing – flame, Pyrosil and plasma. You can find out the surface tension of your product by yourself through measuring the dyne level, which will indicate whether or not you will not require a form of treatment. The results should not be taken at face value as dyne level tests can only point you in the right direction. Dyne level tests are measured via the human eye so there is room for accidental readings. You can easily have free testing done for you by shipping your product to an ink manufacturer.
Automatic inkjet cylindrical systems typically require a treatment system when the parts are glass or plastic. This is typically the same case when it comes to screen printing. You are investing money into printing equipment. In most cases, thousands of dollars. You want your printed product to last with the customer. Dishwashing can wear away the UV ink. It can even be scratched off. You want an opaque image that will not wear out, to look as good as it did the day it was printed.
The least expensive and most efficient pretreatment machine on the market is the Bottle Treater. Systematic Automation manufactures treatment systems that are the most efficient, longest lasting systems in the industry. The Flame Treater is another example of an SA treatment system that has revolutionized the process of pretreating. This all mechanical machine will last forever and accommodate any shape cylindrical product. SA also manufactures treatment systems for large cylindrical products such as buckets and kegs. The versatility of the Bottle Treater & Flame Treater has made it the treatment systems necessary for company product lines. This is also done at a much smaller foot print that conventional conveyor treatment systems. The SA pretreatment machines cut your treatment consumables in half because only one burner is used. The product is always rotated parallel to the treatment element with SA equipment. Machines have shipped worldwide from the Systematic Automation headquarters and manufacturing plant in Farmington, CT.
You don't immediately need a treatment system when starting your printing business. Screen printing machines can print using solvent ink, which don't require treatment. Solvent inks can air dry with an oven (over a few minutes time). Solvent inks aren't perfect. They typically have a high VAC content and can dry to the screen, which can ruin the screen. Clean up is also more time consuming. UV inks are easy to work with and stay in a liquid state. You can even leave the ink on the screen and put a black plastic bag over the screen (UV for the lights can cure the ink over time) and the ink will stay in a liquid state when you come next morning. It is also ideal for high production because cure time is almost instant.
How your pretreatment machine fits into your production process is also key. You may purchase a stand alone unit or retrofit a pretreatment element to your existing piece of automatic equipment, which is not recommended if you are using a cylindrical inkjet machine. Screen printing machines such as the ones manufactured by SA have a modular design that can easily incorporate flame treatment. This versatility is due to the open design of screen printing machines, which accounts for the space between the print and UV stations. Multiple stations allow for multiple processes to be applied to a product.
When looking into a treatment system, you should be aware of the amount it will take to replenish your consumables (natural gas, propane, plasma etc…). The Systematic Automation Bottle Treater applies treatment through a 3" element. For example, if you are to pretreat a 12" tall bottle, all you would need is a 3" element. The Bottle Treater treatment system uses spiral ascension to completely cover the surface area of the 12" bottle. For example you would be using a 1 quarter of the of the consumables than you would be typically. In some cases you would be using even less. Conventional treatment systems use two full size elements to completely treat the product. One burner will compensate for 180 degrees of the bottle, 2 burners would give a product complete 360 degree coverage. Where it is a Bottle Treater or Model FL flame treatment machine, your consumables will be at least ½ of what they would be with a conventional treatment system.
Systematic Automation is the industry leader for treatment systems, screen printing machines, vacuum tables and UV curing systems. All machines are manufactured entirely at the SA headquarters in Farmington, CT. Contact us today to speak with an application engineer.