The Model F1-DC Is the Recommended Machine For Printing Your Mugs
The Model F1 mug printing machine can be tooled to print a wide variety of different mugs such as glass, ceramic and more! Design of the mug printer machine provides superior print coverage by allowing the handles to raise 45 degrees on each side. This precision mug printing machine has machined components to tight tolerances for increased print registration. Printing multi color designs on a mug has never been so simple. Options such as mechanical pointers may be used to assist in registration. Also standard on the Model F1 is the hinged screen frame holder feature, which allows the operator to clean the screen without losing registration. The handle for your mug can also be used as a point of registration for the product.
Mug Printing Has Never Been So Simple!
Mugs are the go to product for your customer's hot beverages such as coffee and tea. These beverages tend to stay with the customer longer than a typical glass of water. This is the time for your branded mug to make an impression on the end user. Mug are being more cleverly designed for the operator to have an attachment to the piece of drinkware. Mugs date back to 6,500 BC and have been decorated ever since. Now, the decorating of mugs isn't to the foundation of the mug but rather, the design on the cup.
You can print UV and solvent based inks with the Model F1 mug screen printing machine. UV inks are ideal for high production due to their fast curing capability (approximately 1 second). Solvent based inks take longer to cure but have better adhesion once completely cured. The Model UVSP is ideal for instantly curing your printed mugs.
Mug Screen Printing Machine Fully Customizable
Designed to grow your business, Systematic Automation offers ­literally ­hundreds of attachment combinations to accommodate future applications. The addition of ­modular ­components easily upgrade the F1 to fulfill increased ­production and ­customization demands.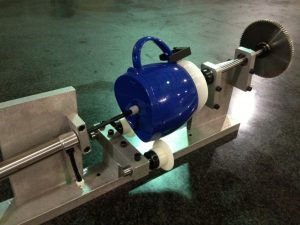 The Model Super ROI is a precision, multi-color mug printing machine with versatility to print on a wide variety of cylindrical items. This in-line printer provides high-quality, precision printing in one to six colors with highly efficient, simple operation for a quick return on investment. The simple design moves your items with linear transport and minimal lifting for efficient printing and curing.
The Model Super ROI accommodates flame pretreatment options and UV curing for turnkey printing processes. You'll be amazed and the simplicity and ease of operation combined with increased productivity.
Systematic Automation is a leading manufacturer of screen printing machines utilized worldwide in a multitude of applications.  We provide a wide selection of machine types for any screen printing applications and options with custom designed solutions available from skilled engineers. Contact us today to learn more about our mug printing machine solutions.