All Mechanical Large Format Stacker
This large-format, self-contained stacking device will efficiently handle most flat or rectangular products up to 18"x18" (460mm x 460mm), to a maximum of 3,500 parts per hour. And, as its name suggests, it's all mechanical- no air required. A built-in endless conveyor shuttles your product to a inverted slider/crank transfer mechanism, which gently lifts and stacks your product onto a bottom stacking open receiver, all driven by a powerful 1/2 h.p. A.C. gear motor. The rugged tubular steel frame, precision bearing construction and solid state part sensing are only a few of the features that will ensure many years of trouble-free service.
Superior performance and attractive pricing are standards, not luxuries, at Systematic Automation. Please contact our factory regarding your specific requirements. One of our application engineers will assist you in determining the most efficient manner of stacking your parts.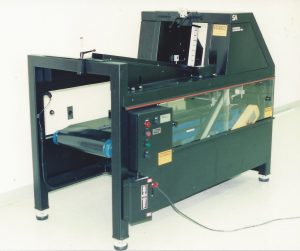 Minimum Substrate: 1.5"x1.5" (38x38mm)
Maximum Substrate: 18"x18" (460x460mm)
Stack Height: 36" (914mm)
Maximum Weight Of Stacked Material: 2000 lb. (908kg)