Automation offers a variety of clamshell flat bed screen printers for various flat or cylindrical products. The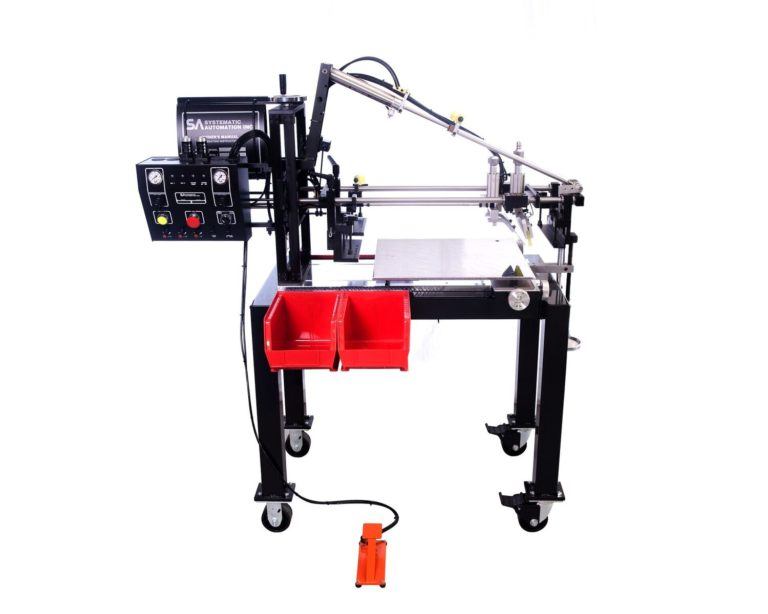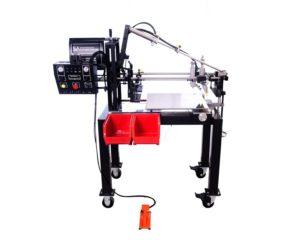 clamshell machine will quickly become the workhorse of your operation, and is an extremely versatile flat bed screen printing machine. We offer four different clamshell models, manufactured with proven technology and rigorously tested for optimum performance.
Various Models in Clamshell Flat Bed Screen Printers
Systematic Automation brings simple solutions as your flat bed screen printing machine manufacturer by offering four different models of flat bed clamshell printers, each providing high performance at a low economic cost.
Our Model F1 Semi-Automatic flat bed screen printer is perfect for flat or cylindrical products, and boasts several engineering specifications such as a quick release squeegee holder and flood bar assembly, micro-adjustable knobs located on X, Y axis, and is a 100% air operation, pneumatic system providing smooth and quiet operation. The Model F1 offers precision performance at a low cost.
The Model F1-DC Semi-Automatic Screen Printer is known as one of the most versatile screen printing machines ever made. It is simple and easy to operate, yet has the capability to print on virtually any cylindrical product with precision, even with multi-colored printing. The F1-DC has approximate output of 3,600 parts per hour, depending on substrate used, and utilizes a proprietary quick-change tooling system allowing your operators to changeover products within 30 seconds. Fulfill your production orders on time or ahead of schedule with this workhorse flat bed screen printer.
Our MC-1 Manual Screen Printer is a rugged manually operated machine providing precision performance with simple operation. This manual printer has repeatability functions, making it suitable for even demanding applications. The quick and simple handwheel adjustments make it easy to adjust for height changes and easy set up.
The Model 810 Semi-Automatic Screen Printer was designed and manufactured by Systematic Automation in 1983, setting a new standard for flat bed screen printing. The 810 Series is simple to learn, easy to operate and remains virtually unchanged to this day, becoming the industry standard for specialty plastics, glassware, electronics, medical and many other industrial applications.
Contact Systematic Automation today to learn more about our simple solutions for your automatic or semi-automatic screen printing needs. We will provide you with a labor saving, cost effective and efficient solution as a world leading flat bed screen printing machine manufacturer.