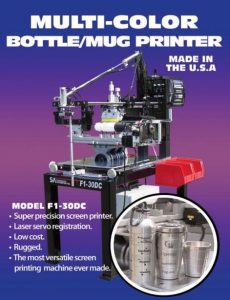 Computers have found their way into every aspect of this modern world including screen printing with automatic mug printing machine options. Screen printing machine manufacturers embrace computerized control with programmable logic controllers (PLCs), bringing digital technology to the screen printing industry. PLCs operate from microprocessors similar to those that power computers, replacing analog machine controls with digital user interfaces to set screen printing parameters and programmed for user friendly operation.
The introduction of computers and automatic programs provide many benefits to all screen printing machines and processes including automatic mug printing machine applications. Some advantages of utilizing digital technology in automatic screen printers include:
Set and edit printing parameters – automatic screen printing controls provide flexibility when entering or editing screen printing parameters as well as offering precise variables to match your print area. This is especially ideal for multi-color printing and other precision printing applications.
Repeatable press set up – once you have the optimum printing parameters, it is easy to save that program for future use. Control systems provide quick and easy printing press set up for consistency and repeatability which promotes quality processes and improves product quality. Programming is done in house. Inquire within for this option.
Optical recognition – provides an easy method to outfit your printing press with a camera for instant optical recognition of products.  Optical inspection is useful for quality control and press set up processes. A high-resolution camera can be programmed to recognize products that require precise prints.  Optical functions can drive adjustments to screen registration for multi-color jobs or jobs which experience inconsistent or problematic operation for accurate troubleshooting.
Automation on and off the press – not only do computerized digital controls enhance the printing process, computers are used to create digital files such as in Photoshop or popular Adobe programs.  When used in conjunction with optical recognition, these digital renditions add great value to automating the printing process on and off the press.
The Most Versatile Automatic Mug Printing Machines Available
Systematic Automation offers the widest selection of screen printing machines for virtually any application including automatic mug printing machine options. Our two most popular mug screen printing machines are the Model F1 and the Model T8–SS.
Model F1-DC Machine
The Model F1-DC screen printing machine offers a host of benefits and many options for upgrades to grow with your business. The Model F1 easily prints on mugs, ceramics, glassware and many other items. This precision screen printing machine provides multicolor printing on mugs with precision print registration. Modular components may be added to accommodate increased production with customized options available.
Model T8–SS Machine
The Model T8-SS mug printing machine offers enhanced automation with automatic loaders and unloaders as well as optional modular equipment. Pretreatment systems such as flame treating may be adapted to this simple to use automatic mug printing machine which provides easy set up and operation with consistent, repeatable printing processes.  This fully automatic mug screen printer offers eight stations and a servo driven rotary indexer for maximum speed and accuracy.
Setup from one product to another is simple by setting predetermined values and provides for easy operation without the need for skilled machine operators.  Flame treatment for pretreating parts is available to improve ink adhesion and UV curing provides instant drying of inks and sealing in vibrant colors with quick cycle times.  Achieve up to 2000 parts per hour with this workhorse mug screen printing machine.
Systematic Automation offers these mug screen printing solutions along with dozens of other models of screen printing equipment to accommodate virtually any printing application.
Systematic Automation is recognized for designing and manufacturing high quality, high performance screen printing machines, vacuum table systems and modular equipment. We provide turnkey solutions which improve process and product quality with cost-efficient, automated equipment. Contact us to learn more about our wide selection of screen printing machines including automatic mug printing machine options.