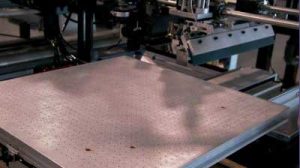 Combining screen printing with vacuum table systems provides many benefits which greatly improve product quality and process efficiency. Screen printing machines which utilize vacuum systems realize greater product quality as substrates do not move during the printing processes for precision printing. This is true of many different products such as printing on small parts for automotive or aerospace parts and is also true for large products such as boat canvas sails or large printed signs.
Holding your product firmly in place is always a good thing, especially if you can do so with efficient hold down methods. This is another benefit of utilizing screen printing and vacuum table systems together as vacuum tables can be instantly turned on or off for quick changeovers in between products. This is much more efficient than screwing and unscrewing products in place or manipulating jigs and clamps in between product changeovers.
Vacuum tables are also more efficient and cost-effective over adhesive hold down methods as there is no need to purchase and apply adhesive between each product cycle, saving time and money. With the right screen printing and vacuum table system combo, you can achieve significant improvements in product quality, efficiency and ultimately, profitability.
Screen Printing Vacuum Table for Flat Products
Systematic Automation offers many screen printing solutions with vacuum table systems incorporated into semi-automatic and automatic screen printing machines to further improve efficiency and quality. Check out the Model ST36/ST48 semi-automatic screen printer which accommodates large, flat items such as signs and banners at either 36" x 36" or 48" x 48". Features include x, y and angular micro-adjust, dual print head controls, foot pedal operation and vacuum system to accommodate high volume production.
Our Model CC-5000 is an automatic screen printing vacuum table for flat items and is the perfect solution for printing items such as plastic cards. Features include adjustable print stroke speed, variable stroke length, pneumatic controls, machine leveling and a vacuum pump with 4.5 cfm for precision, accurate screen printing.
Screen Printing Vacuum Table for Cylindrical Products
Vacuum systems do not have to come only in the form of a large flat table. In fact, screen printing machines utilize vacuum platens to hold cylindrical items in place during printing on cylindrical items such as mugs, glasses, plastic cups or even Koozies. The Model 810 by Systematic Automation is a semi-automatic, clamshell screen printer offering versatility with printing on flat or cylindrical items. The 810 provides many engineering features and additional options, including screen printing with vacuum table system included.
The MC-1 Manual screen printer is a great machine for those beginning to bring screen printing in house with versatile, precision printing. The MC-1 offers many features such as versatility to print on flat or cylindrical items, semi-automatic upgrade options and vacuum table systems with anodizing surface table top available.
Systematic Automation Offers Screen Printing Vacuum Table Solutions
Systematic Automation is a leading global manufacturer of screen printing machines and vacuum tables, with over 35 years of experience designing automated printing solutions. We offer one of the widest selections of screen printing machines, from start-up manual printers to semi-automatic and fully automatic printing solutions. Our screen printing machines include several models of various types including:
Clamshell
Harmonic Lift Printers
Turret Motion Printers
Sliding Table Printers
In-Line Printers
Rotary Index Printers
We are also one of the largest manufacturers of vacuum table systems, with standard sizes available in any size from small table top systems to large tables 6 ft x 12 ft and even larger sizes available upon request. We set the industry standard with +/- .001" flatness per linear foot, with all tables constructed of quality components in our modern U.S. facility. Our skilled engineers will custom design a screen printing and vacuum solution to meet your unique specifications, with the optimum amount of vacuum hold down force for your product.
Our vacuum tables are found worldwide in a multitude of applications, supporting precision CNC router processes, screen printing, material movement, cutting, grinding, and many other commercial and industrial processes. As an experienced manufacturer of both screen printers and vacuum tables, we offer extensive experience in designing the right solution for your products with engineering options such as foot pedal control and pin registration.
Systematic Automation is recognized as a leading supplier of screen printing machines and vacuum table systems, providing automated solutions which improve your business operations. We provide exceptional customer service with initial training and ongoing support for your total success. Contact us to learn more about our screen printing vacuum table solutions.