Systematic Automation is a leading manufacturer of holdfast vacuum chuck systems, offering more than 35 years of experience in designing, engineering and manufacturing high quality vacuum systems. We employ skilled engineers with decades of experience in developing high performance vacuum systems which outperform other systems with reliable holdfast vacuum force. Our skill and experience combined with our vast resources allow us to provide state-of-the-art vacuum chuck systems at the lowest available cost.
Our vacuum chuck systems can be found in a multitude of industries worldwide, providing consistent and reliable holdfast vacuum force to many commercial and industrial processes. You can rely on the experienced engineers at Systematic Automation to deliver high performance vacuum chucks to any application, including:
Screen printing
Engraving
Ultrasonic cutting
CNC machining
Surface grinding
Material handling systems
Routers
Paper making
Sail making
Any cutting process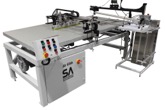 Our holdfast vacuum chuck systems are found in these applications and many more, including any process which requires reliable hold down force. Our heavy duty aluminum core construction reduces temperature changes which can affect the flatness of the table, with a slotted honeycomb core which provides an even layer of holdfast vacuum force across the table.
Holdfast Vacuum Chuck System Options
Systematic Automation offers standard and customized options for the most reliable holdfast vacuum chuck system for your process. We partner with you to learn your process and provide the most effective and cost-efficient vacuum solution, with the right options for your application. Available options to enhance your holdfast vacuum force include:
Custom designed hole patterns
Control valves to activate or deactivate specified zones
Automatic pin registration
Heated vacuum tables
Sliding vacuum tables
Anodizing for resistance to corrosion and added insulation
Formica table top surface is available for scratch resistance
We offer these options and many more with customized design services available from skilled engineers. No job is too large or small with vacuum chucks available in virtually any size or shape, while maintaining superior flatness of +/-.001" per linear foot. All equipment is manufactured in the United States and tested rigorously for quality performance prior to shipping.
Systematic Automation is an industry leading manufacturer of vacuum tables, screen printing machines, UV curing systems and flame treatment equipment. We offer decades of experience, vast modern resources and skilled engineers who provide ongoing service and support to ensure your total success. Contact us today to learn more about our superior holdfast vacuum chuck systems.