Ultra Light UV Curing System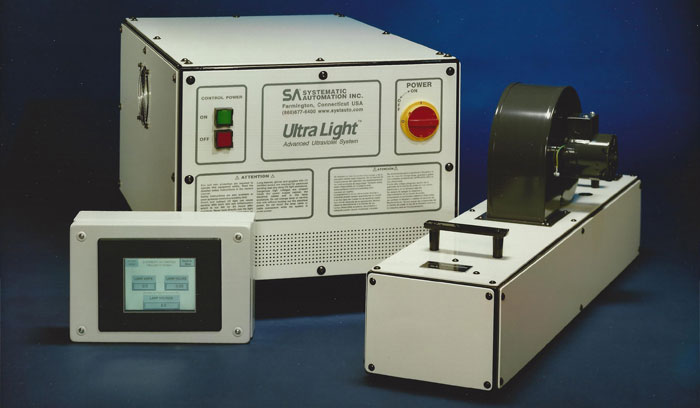 The Ultra Light UV curing system has taken the complexity out. The Ultra Light includes touch screen controls which can mount anywhere on your conveyor or machine. A quick disconnect cable in a standard 10 foot (300 cm) length is included with the system. One touch screen can individually control and monitor up to ten UV power supplies.
All of the functions of the Ultra Light are accessed through the system's touch screen control panel. On the main screen, the operator can choose from the three modes of operation: Setup, Run, and Monitor. Each mode is simply chosen by the touch of a screen. It is possible to switch between all modes of operation even when the UV system is running.
The Setup Mode Screen (password protected) allows the operator to set the delay on/off time of the UV blower. Multiple blowers may be configured in a system if required. The total operational hours of the lamp are displayed in a message box on this screen as well. The operator resets this hour meter reading when a new lamp is installed in the UV system. Industry standard lamps are in always in stock for quick delivery.
The Run Mode Screen displays different lamp power settings (200/300/400 watts per inch) and are selected through this screen. The status of the UV lamp as well as step-by-step instructions for the UV system are displayed in a message box at the lower right section of the screen. This straight forward and intuitive approach allows a novice operator to run the Ultra Light system.
The Monitor Mode Screen displays the condition of the UV lamp, lamp current and total lamp operation hours.
The Ultra Light curing system is a turnkey solution to your UV requirements. Systematic Automation also manufactures conveyorized systems for UV curing flat substrates. The conveyors are available in standard sizes and can accommodate most products. If you need to UV cure cylindrical or irregular shaped products, the UV Spin Cure was designed for you. This patented system cures plastic bottles, pint glasses, and dozens of other products. Both UV systems for flat and cylindrical products have our Ultra Light integrated with them.