SCREEN PRINTING: WHAT TO KNOW
Screen printing is the process of pressing ink through a stenciled mesh screen to create a printed design. The screen printing technique is ideal for creating bold canvases, posters, and artwork, but it can also be used to print fabrics and textiles, so it can also be used for creating clothing and products.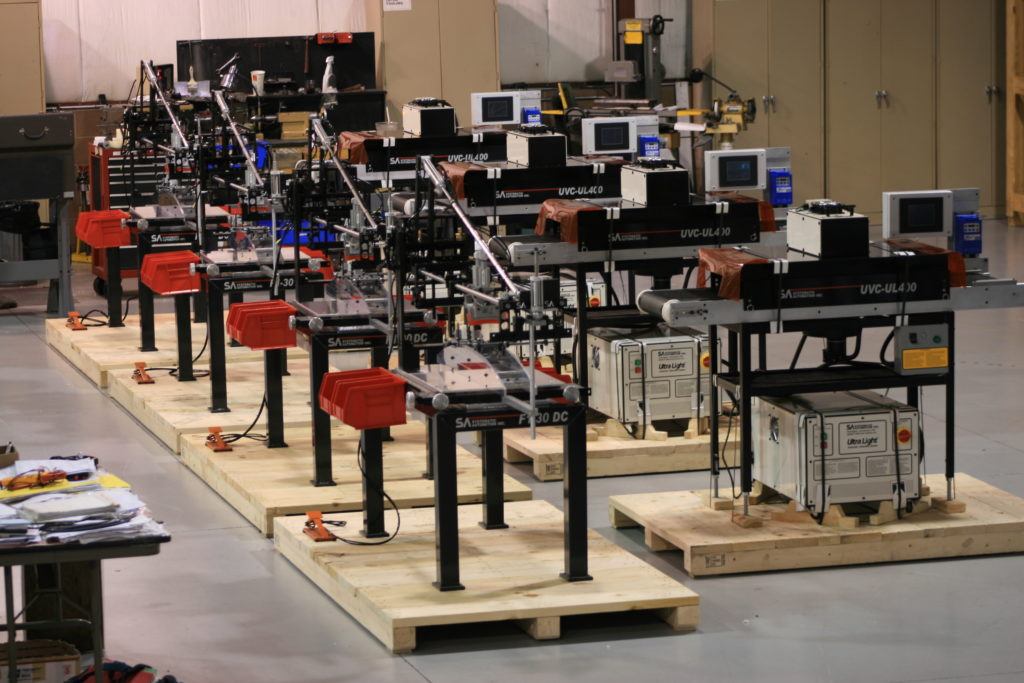 How Does Screen Printing Work?
Screen printing involves the use of a mesh to transfer ink onto a substrate, except in areas blocked from ink by stencils. The screen's mesh apertures are filled with ink by moving a blade or squeegee across it. As the screen springs back after the blade passes, the ink wets the substrate and is pulled out of the mesh apertures. Several screens are needed to produce a multi-coloured image or design because each color is printed separately. Depending on the application method, screen printing can be referred to as serigraphy or silk screen, but they refer to the same basic method.
Some advantages to Screen Printing include:
Processes can be completed within seconds.
Automated processes are easy to set up.
An all-in-one system with less waste generation.
No solvents are needed; 100% cures without any other materials.
Simplified system handling.
Minimal costs are involved.
Screen Printing Machine Will Give You the Optimal Result for Your Screen Printing Process?
Clam Shell Printing Machines
Clam shell printers are a type of semi auto screen printer which looks like a clam shell. At Systematic Automation we offer two versions of this machine, the F1 and the F1-DC.
The Model F1 is one of the most popular screen printing machines because of its versatility and ease of changing from flat to a cylindrical printing design. The F1 Screen Printing Machine is perfect for printing on canvas, cups, posters, glass, plastic bottles or any other items that are either flat or cylindrical.
Known as "the most reliable screen printing machine ever made". It's brilliantly simple. Simple to use. As well as versatile. Built for demanding production and designed for simplicity, this machine will be a great addition to your shop floor. A cylindrical product such as a cup, pint glass, wine glass, growler, etc., is the perfect application for the F1-DC.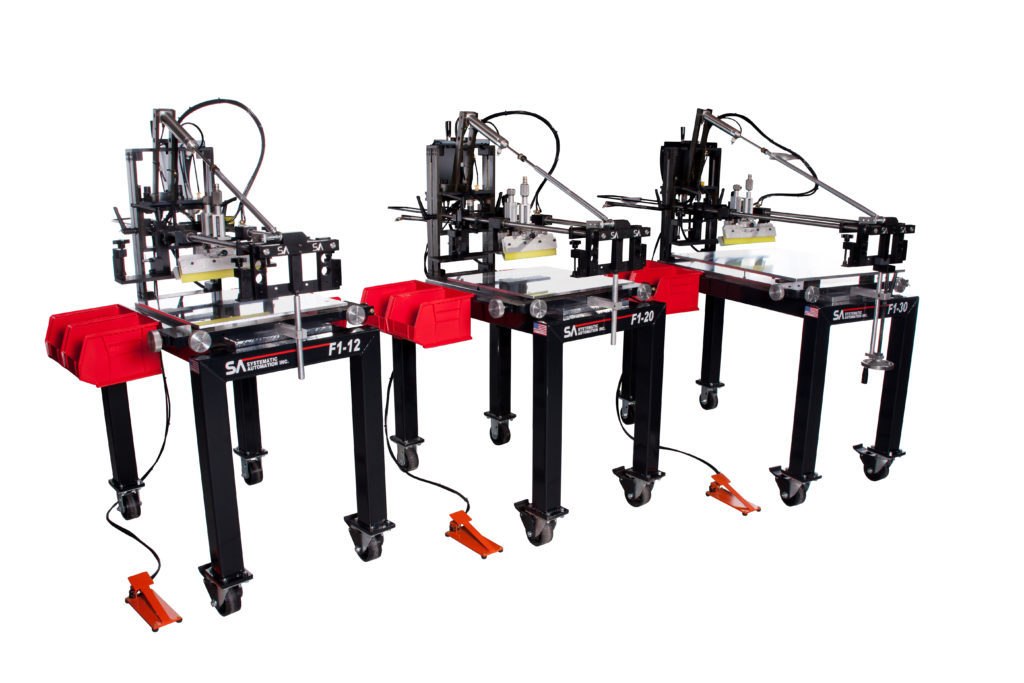 Pictured: F1 Screen Printing Machine
Harmonic Life Screen Printing Machine
The harmonic lift table is a platform capable of holding materials and raising, lowering, and adjusting them to any height to meet the needs of an application. Systematic Automation offers the Keg Screen Printing Machine and the HLT Screen Printing Machine.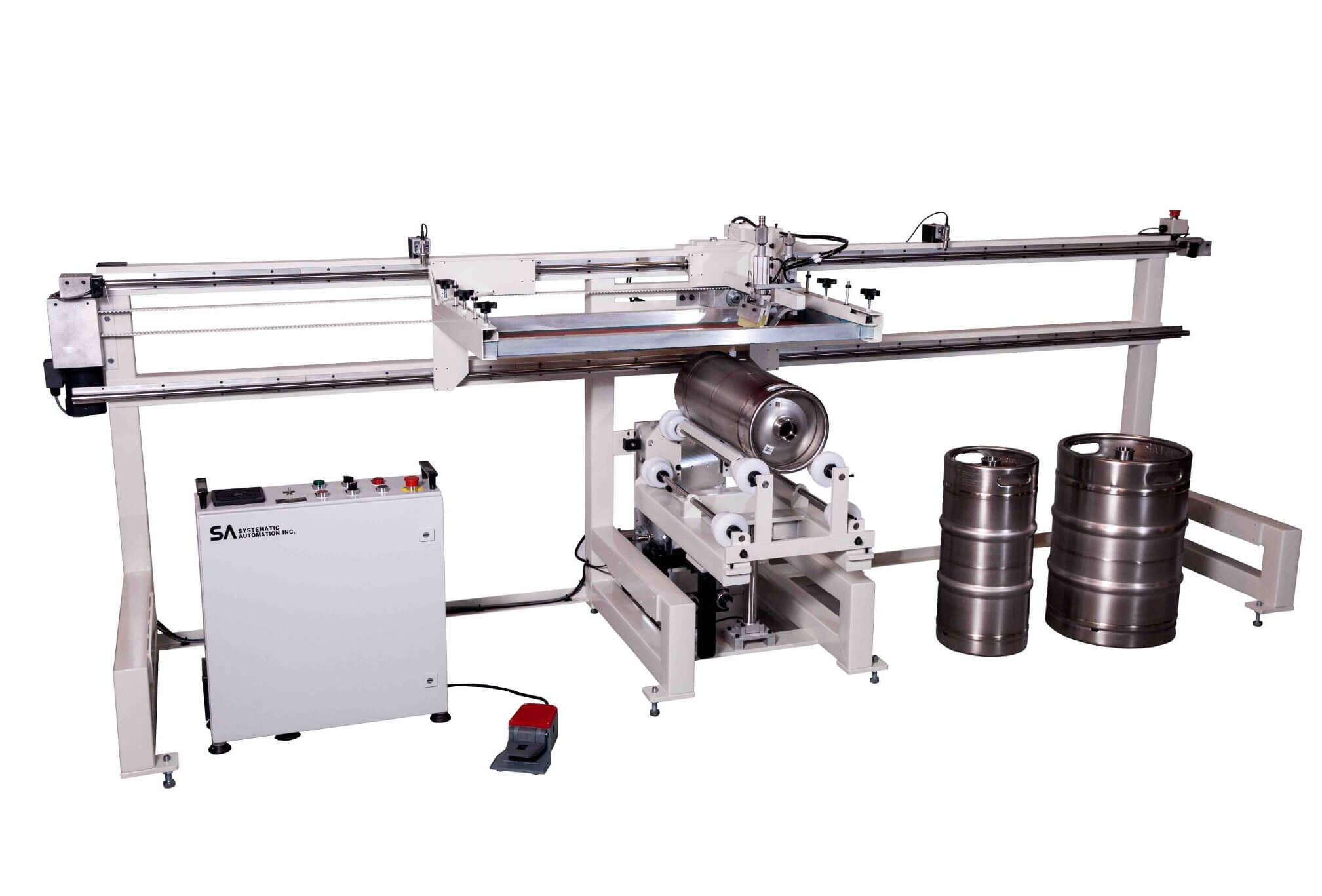 Pictured: KEG Screen Printing Machine
With the KEG Screen Printer, you can print on stainless steel kegs, Finn Kegs, RSR Kegs, Optikegs, Wine Kegs, Growlers, and CO2 tanks with ease. Additionally, it can print up to four colors simultaneously on one screen using our multi-color printing attachment.
The HLT is powered by the Harmonic Lift Table for smooth, fast, vibration-free operation. A wide print area and best-in-class print quality make the HLT an ideal choice for printing rulers, plaques, panels, 3D products, and more. X, Y, and angular motions are independently micro-adjustable.
In Line Screen Printing Machines
As their name implies, these machines have premium capabilities. The line screen production of these machines is the best in the industry, which indicates how many halftone lines are printed per linear inch. A printer's ability to reproduce photographic images is measured by this important metric. We have four of these machines at Systematic Automation:
You can automatically print your pen catalog with the PEN Screen Printer. You will be able to print approximately 4,200 pens per hour using the PEN Screen Print Machine.
PRINT BELT SCREEN PRINTING MACHINE | FLAT PRODUCTS
Designed for flat products, the PRINT Belt is an in-line automatic turn-key screen printing machine. A revolutionary design eliminates the need for tooling or extra fixtures in order to produce multi-color precision printing.
CC-5000 SCREEN PRINTING MACHINE | CARD PRINTING
With the Systematic Automation CC-5000 Card Printing Machine, all types of flat card materials can be printed in production. It can be used for cards, poker chips, tokens, nail files, and more. Servo integration is available upon request.
SUPER ROI SCREEN PRINTING MACHINES | CYLINDRICAL PRODUCTS:
In the years to come, the Super ROI will faithfully produce optimal screen prints. This printer is ideal for printing cups, glassware, bottles and oil filters due to its utterly simple and modular design.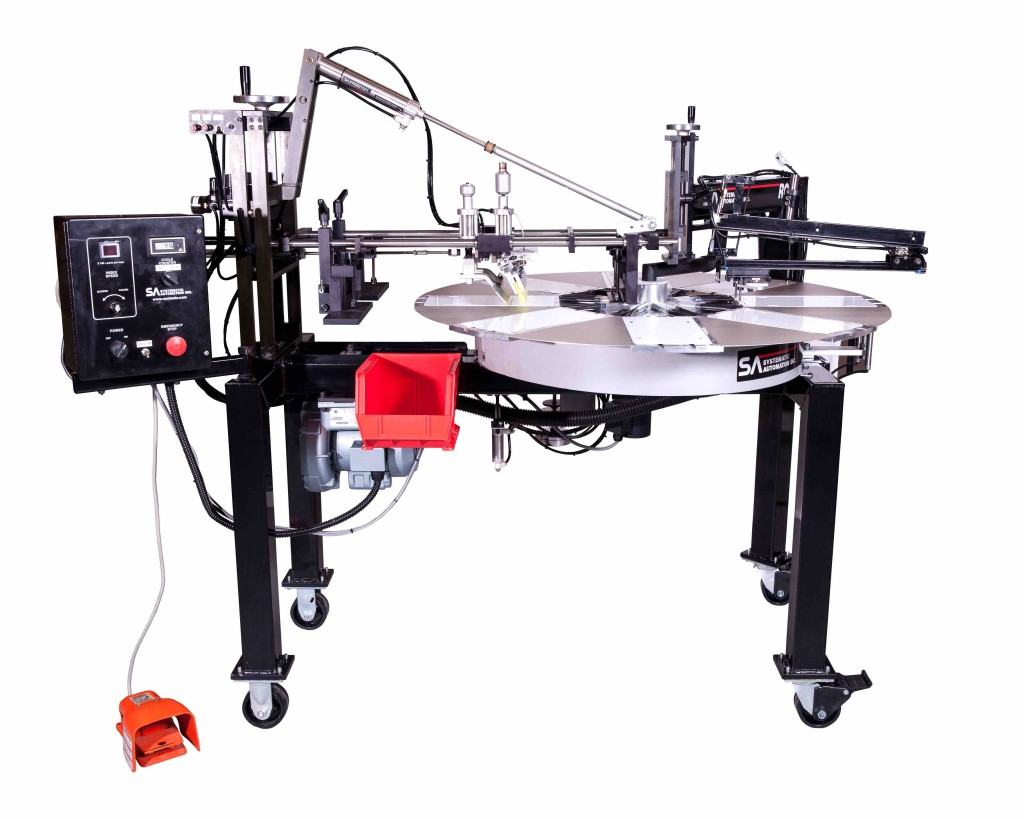 Pictured: PEN Screen Printing Machine
Rotary Index Screen Printing
In order to produce crisp lines and detailed images, rotary machines are ideal. Because a rotary machine applies the design as the item moves through it, ink penetrates the fabric and holds color better.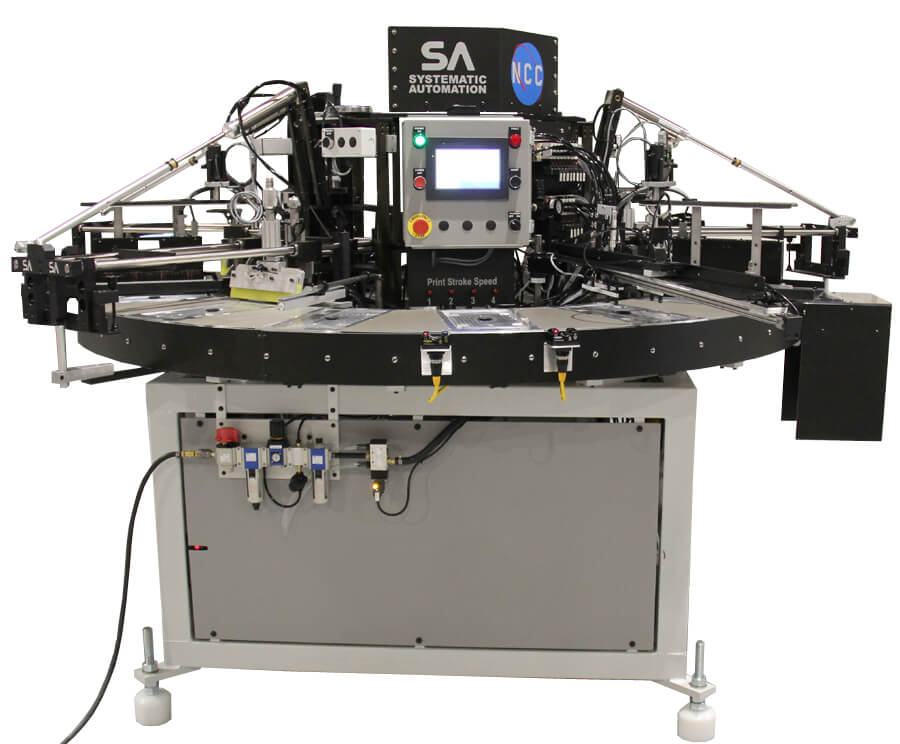 Pictured: NCC Screen Printing Machine
RC-1 SCREEN PRINTING MACHINE | FLAT PRODUCTS: The rugged and dependable RC-1 provides operators with great flexibility at an affordable price, offering high speed and accuracy. A smooth acceleration and deceleration of the dial motion is ideal for license plates, 3D products, shoe insoles, and more.
NCC SCREEN PRINTING MACHINE | FLAT PRODUCTS
This screen printer (US Patent # 5,784,932) offers superior performance compared to most other screen printers. Servo motor drives and reducers of the highest quality are used, and its modular design allows for easy modification and integration.
MICROSCOPE SLIDE SCREEN PRINTING MACHINE
Systematic Automation has developed a fully automatic precision Microscope Slide Printer that allows you to print perfectly printed slides in exact order quantities, all automatically. In order to produce perfect slides in exact order quantities, all automatically, Systematic Automation has developed a fully automatic precision Microscope Slide Printer. A Servo-driven rotary indexer virtually eliminates glass chipping.
Sliding Table Screen Printing Machines
SX Screen Printing Machine | Flat Products
Using a unique patented design, the Systematic Automation Model SX is the thoroughbred of multicolor in-line UV presses. The SX allows full edge-to-edge printing of substrates. An aircraft grade honeycomb vacuum table advances from printer to printer in a continuous flow of production.
SST Screen Printing Machine | Flat Products
In one machine cycle, the Model SST can screen print up to six colors with precision and accuracy. With the SST, you can change the sequence of color laydown without moving screens, squeegees, or flood bars. The user-friendly touch screen interface automatically doubles or triples color printing for panels, windshields, sheet stock, plaques, and more.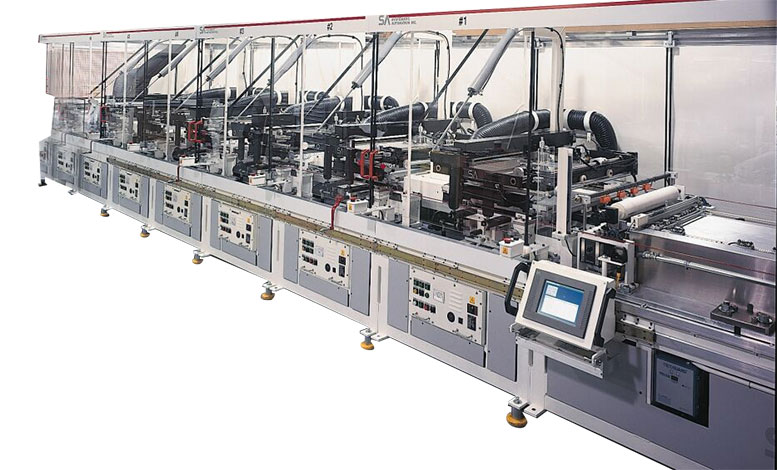 Pictured: SX Screen Printing Machine
Turret Motion Screen Printing Machines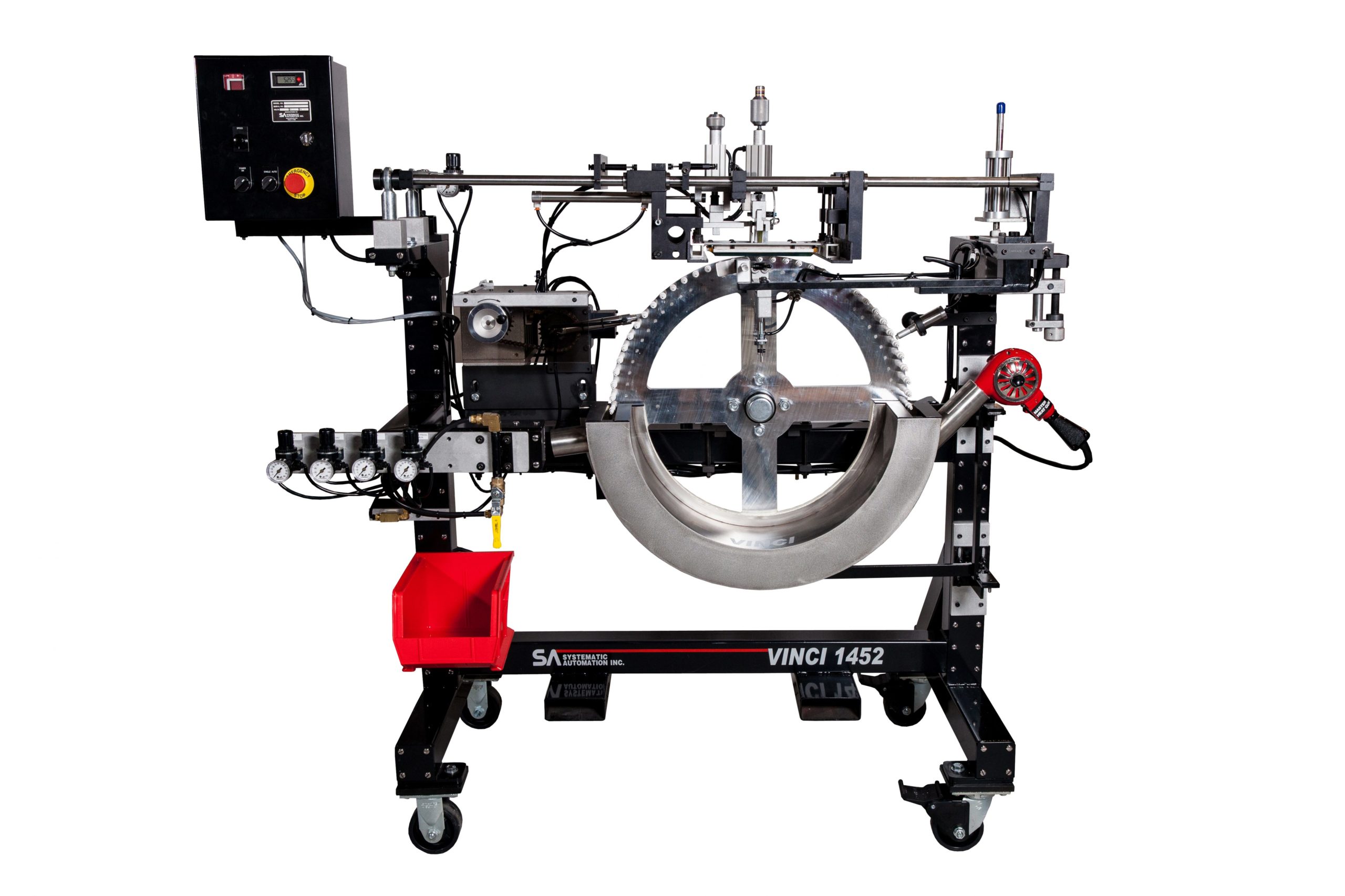 Vinci 1452 Screen Printing Machine | Cylindrical Products
A Vinci 1452 screen printing machine is one of the fastest machines on the market. Running and maintaining this machine is extremely simple thanks to the unique, high speed indexer and cam-based controls.
T8-SS Screen Printing Machine | Cylindrical Products
Model T8-SS is a compact profit center that provides years of reliable service. It includes UV and pick-up systems. Easily serviceable, simple, and reliable the machine tool quality and durability is perfect for novice operators and experts alike.
What is the Difference Between Flat Printing and Cylindrical printing?
Flat printing means the substrate's printing surface is flat. Cylindrical printing means the substrate's printing surface is round. The rest of the substrate can have any shape to it.
When screen printing a flat surface, the screen is stationary above the printing surface about 1/16" (off contact). The squeegee presses the screen down to the product, then slides across the image on the screen and presses the ink through the image and onto the product.
When screen printing a cylindrical substrate, the screen is positioned approximately 1/16" above (off contact) the printing surface. The squeegee stays stationary and presses the screen down to the product, then the screen moves while the product spins at the same speed using the squeegee to press the ink through the image on the screen and onto the product.
What is the Squeegee and How Does It Work?
Squeegee materials are typically made of polyurethane, which is highly resistant to harsh chemicals found in screen printing ink. After flooding the ink over the screen image, the squeegee presses the ink through the image and onto the product by applying pressure to the squeegee.
Squeegee material comes in different hardness levels, also known as durometer ratings. In the screen printing industry, durometers range from 60 to 90 with 90 being the hardest. The most commonly used squeegee for graphic printing material is 70 durometer.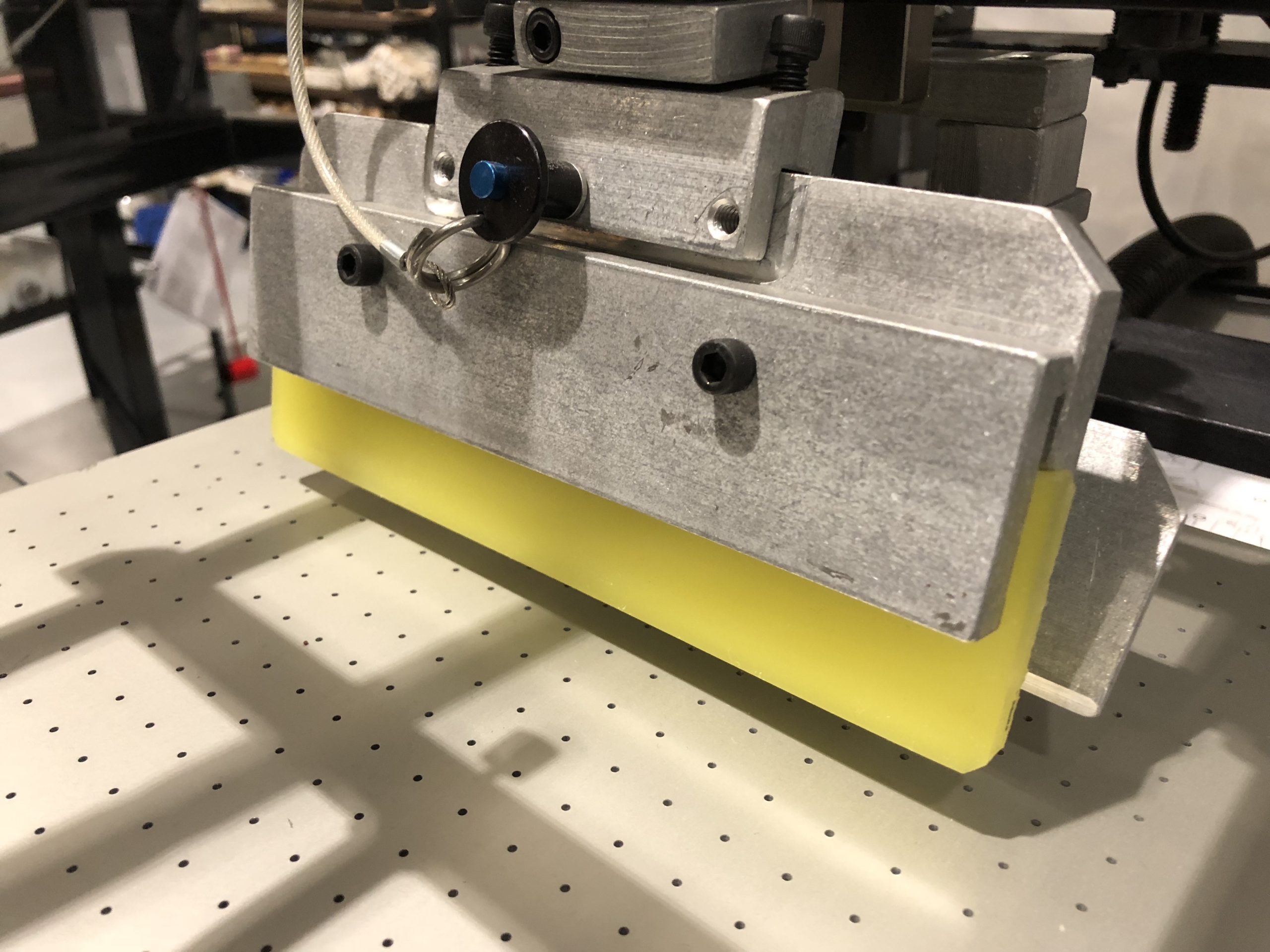 What Screen Printing Inks Should I Use?
A product's adhesion and opacity must be considered when choosing an ink. The ink used for screen printing tee shirts, for example, must remain opaque despite being washed repeatedly. It is also important that the ink used for printing on drinkware can withstand being washed repeatedly while still adhering to the glass. In some cases, pretreatment may be required for adhesion prior to printing.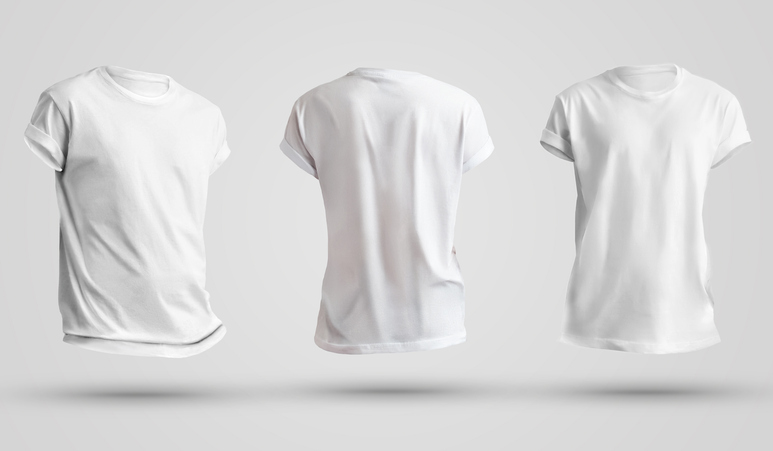 There are three standard types of inks:
Water base - air dry (may require heat for expedited cure)
Solvent base – air dry (may require heat for expedited cure)
UV – requires a UV curing machine – cure/dries instantly
How Do I Cure My Screen Printing Inks?
There are a few different methods of drying or curing screen printing inks. These methods are dependent on the ink themselves.
Water and solvent based inks are air dry and sometimes require a baking process for optimal adhesion and durability. A baking process is typically a conveyor with a heated tunnel that bakes the printed ink between 300°F and 450°F for a specified amount of time given by the ink manufacturer.
UV curable inks may be cured through conventional UV or LED UV. Once the printed ink has been exposed to the UV light, the ink will instantly cure and allow handling. UV machines come in different styles from conveyors to carousel units. Product shape, size and throughput requirements can help determine which style of machine fits best for your application.
When to Pretreat
Using a pretreatment will help your product to look better. Although your print may look fine without pretreatment, colors and designs will appear more detailed and vibrant with a pretreatment base. Applying dark shades requires something to adhere to in order to keep them looking sharp and clean.
When printing white ink on a surface, you must use pretreatment. It is particularly important to pretreat the white ink in order to maintain its adhesion to the surface of the product. The purpose of this step is to create an optimal surface on which the colors will be printed. The result is a brighter and more detailed white, and like printing on a light-colored surface, the details are more apparent.
To succeed in your new business opportunity and to produce a product you can be proud of and your customers will enjoy, you must incorporate pretreatment into your print jobs.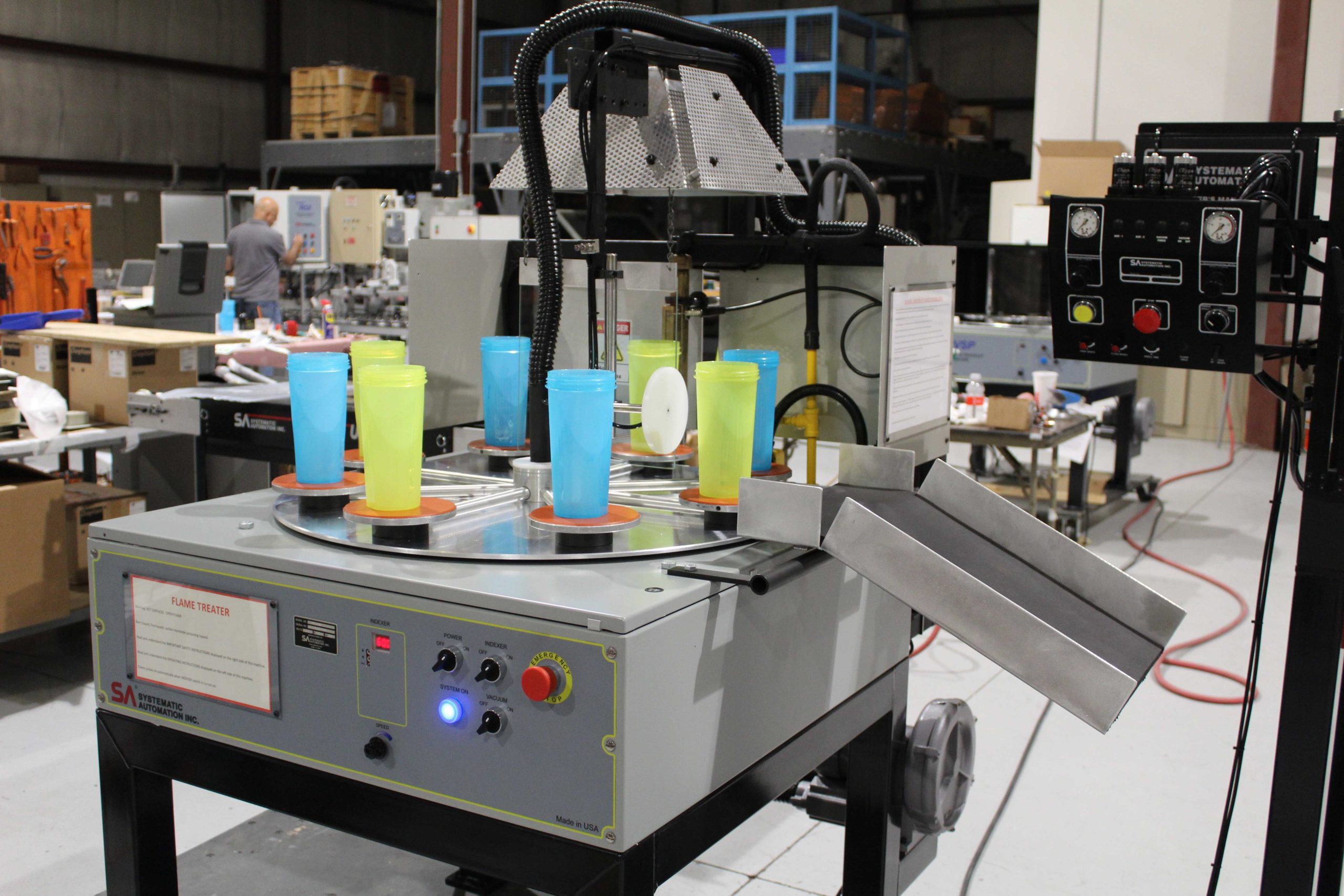 Screen Printing Frequently Asked Questions
SOME OF OUR SATISFIED CUSTOMERS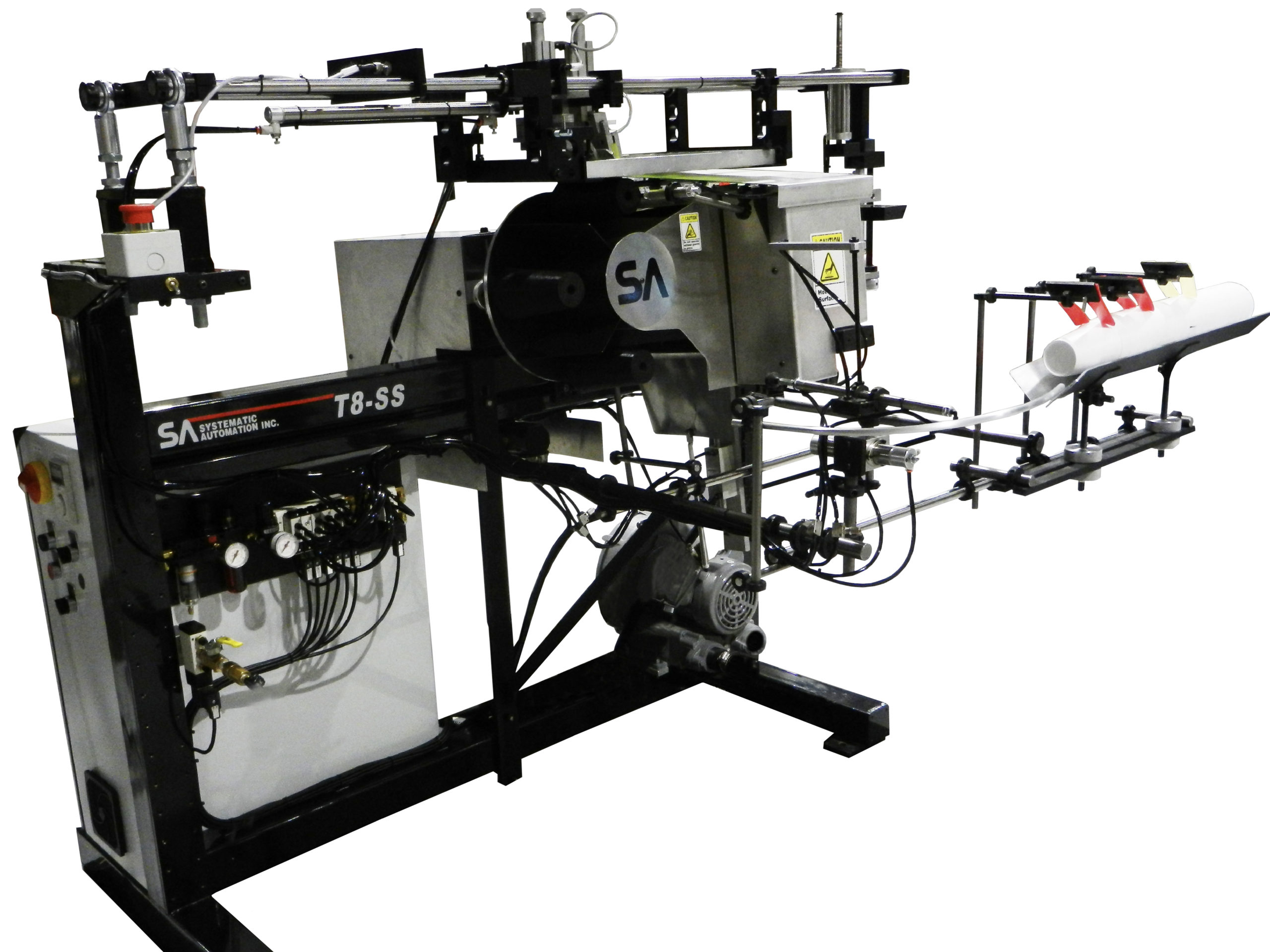 In the past, automation was reserved for large companies printing on a massive scale. As original designs become templates and parts availability expands, automation becomes more affordable for startups. For simplicity, we will define automation as a means for screen printing which does not require stopping hands on manual printing. Automation involves a machine that…
Read More