Single or Multi-Color Plastic Cup Printing Machine
Recommended Printers For Your Cups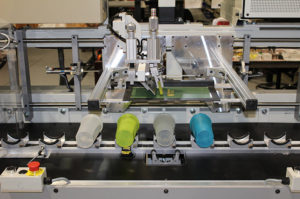 Printing on plastic or soft sided cups requires a plastic cup printing machine that will not damage sensitive drinkware. Finding the right screen printing machine with this type of special tooling that will allow you to print in either single or multiple colors is important to print quality, plastic drinkware items. Whether you are printing on small foam cups or large plastic cylindrical items, one screen printing machine manufacturer offers the right printing solution to meet your needs with high quality and optimum efficiency.
Plastic Cup Printing Machine – Widest Selection in Industry
Systematic Automation is a world leading manufacturer of high quality screen printing machines, vacuum tables, pre-treatment and post-treatment equipment. No other screen printing machine manufacturer offers these turnkey printing solutions with the exceptional customer service provided by Systematic Automation. Our full product line of screen printers includes nearly two dozen various models with three select printers ideal for printing on plastic cups.
The Model F1-DC Clamshell Cup Screen Printer
The Model F1-DC clamshell screen printer is known as one of the most versatile printers ever made. The DC model is dedicated to cylindrical printing while the Model F1 prints on flat or cylindrical items. Enjoy quick changeovers between different items within 30 seconds and produce up to 3,600 products per hour depending on the item. This versatile screen printer provides quick changeover with easy operation and high speed with precision accuracy for quality screen printing.
Model T8-SS Turret Motion Cup Screen Printer
The Model T8-SS is a fully automatic screen printing machine with special tooling to print on a wide variety of cylindrical products. Easily print on Styrofoam cups without causing any damage to sensitive, soft sided foam cup material. Special tooling provides quick changeover in under one minute. Cups are neatly stacked after printing, ready for packaging.
This automatic turret motion printer boasts patented technology which provides continual production for high volume requirements. Easily support three continual shifts with consistent precision and accuracy. Multi-color printing is available as well as soft sided product inflation prior to printing.
The T8-SS comes with standard eight stations with robotic loaders and the option to add additional stations as needed. Produce up to 2,000 products per hour or more depending on the product and the number of stations. High-tech features enhance this automated screen printer such as touchscreen controls and high quality bearings which are rated for more than 300 million cycles.
Model Super ROI Automatic Inline Screen Printer
The Model Super ROI automatic screen printing machine provides precision screen printing in 1 to 6 colors with Allen Bradly servo technology. This in-line, automatic screen printer delivers quick return on investment (ROI), paying for itself over and over again with faithful production year after year. Products are transported in a linear motion with minimal lifting required during printing to achieve maximum efficiency and productivity.
Pre-treatment and Post-treatment Options
Pre-treatment options are available with a flame treating machine, the Model FL, which prepares nonporous surfaces such as plastic and glass for easier adhesion of inks. Flame treating machines alter the molecular structure of the product without causing any visual or structural changes. Systematic Automation offers several options to incorporate flame pretreating on various models of our screen printing machines suitable for pre-treating plastic cups.
Post-treatment options including UV curing to instantly seal in vibrant inks with long-lasting durability. The Model UVSP provides powerful UV radiation to quickly cure and seal inks which significantly improves quality, cycle time, productivity and profitability. Instantly drying inks prevents variations due to evaporation, providing a more consistent operation for high quality and high efficiency.
Systematic Automation leads the industry with more than 35 years of experience in providing precision, automated printing solutions. We provide custom designed solutions to maximize efficiency while maintaining tight quality controls. We provide more than a high quality screen printing machine, we deliver comprehensive screen printing solutions.
Systematic Automation designs, engineers and manufactures screen printing machines, vacuum table systems, flame treatment systems and UV curing equipment. We provide ongoing exceptional customer service to ensure your total success and satisfaction. Contact us to learn more about our automation solutions with high performance plastic cup printing machines.