Screen Printing on Can coolers
Can coolers are more than just a classic promo item. Beloved by Americans since the 80s, they have a long lifespan, and bring back memories of good times. Not to mention, they work! Coolers do their job, and they do it well - they keep your drink cold and your hands warm. Disposable Styrofoam cups of yesteryear are old news, and these more eco-friendly, reusable, and fun traditions are the new trend.
Providing a better grip, comfortable hands, extra insulation from external temperatures, and slowing heat transfer from your hands to the beverage are all great benefits of the koozie. However, the cooler's biggest job is to stop water droplets from forming on the container in high humidity. Each drop that forms transfers heat into the can or bottle. This process is known as latent heat (or condensational warming).
Can coolers are great marketing tools, and the market keeps growing as the craft beer market introduces different sizes and types of containers. Business owners can take advantage of giveaways for tap takeovers or product launches to reinforce their brands and products. Each of our can cooler screen printing machines is custom built in the USA and backed by our highly experienced technicians ready to help you with installation, service, or troubleshooting.
Why Upgrade Your Screen Printing Machine For Your Koozies?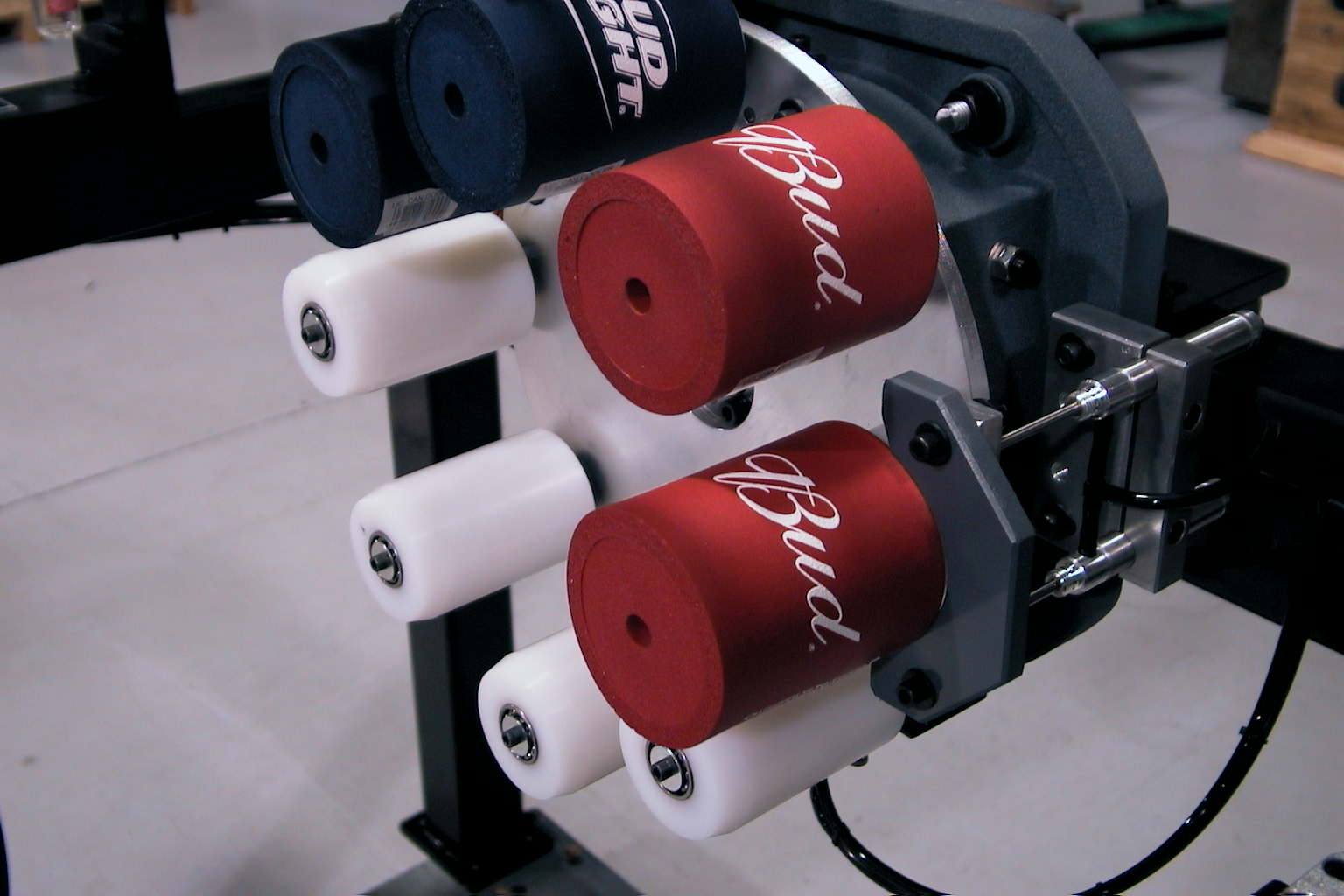 Systematic Automation offers can cooler screen printing machines for new printing businesses to established shops looking to upgrade their machines. We offer an array of custom screen-printing machines built right here in the USA.
The Can Cooler Printer includes an eight-station rotary indexer for high-speed printing of collapsible coolers. The operator loads the koozie onto the machine mandrel at the 9 o'clock position on the machine dial. The cooler is printed at the 12 o'clock position and unloaded at the 3 o'clock position. Cooler can be printed on both sides in a single operation, which will cut the print time in half.
Systematic Automation offers a servo-driven unloader for collapsible coolers, which removes them from the Can Cooler Printer and then brings them through a super-efficient and compact electric dryer. The dryer has been designed specifically for coolers, making it the most energy-efficient dryer available. Your energy savings will be significant.
CAN COOLER PRINTING HAS NEVER BEEN SO SIMPLE
Precision machine tool quality and durability.
Operator friendly controls.
Turn-key production.
Smooth, quiet operation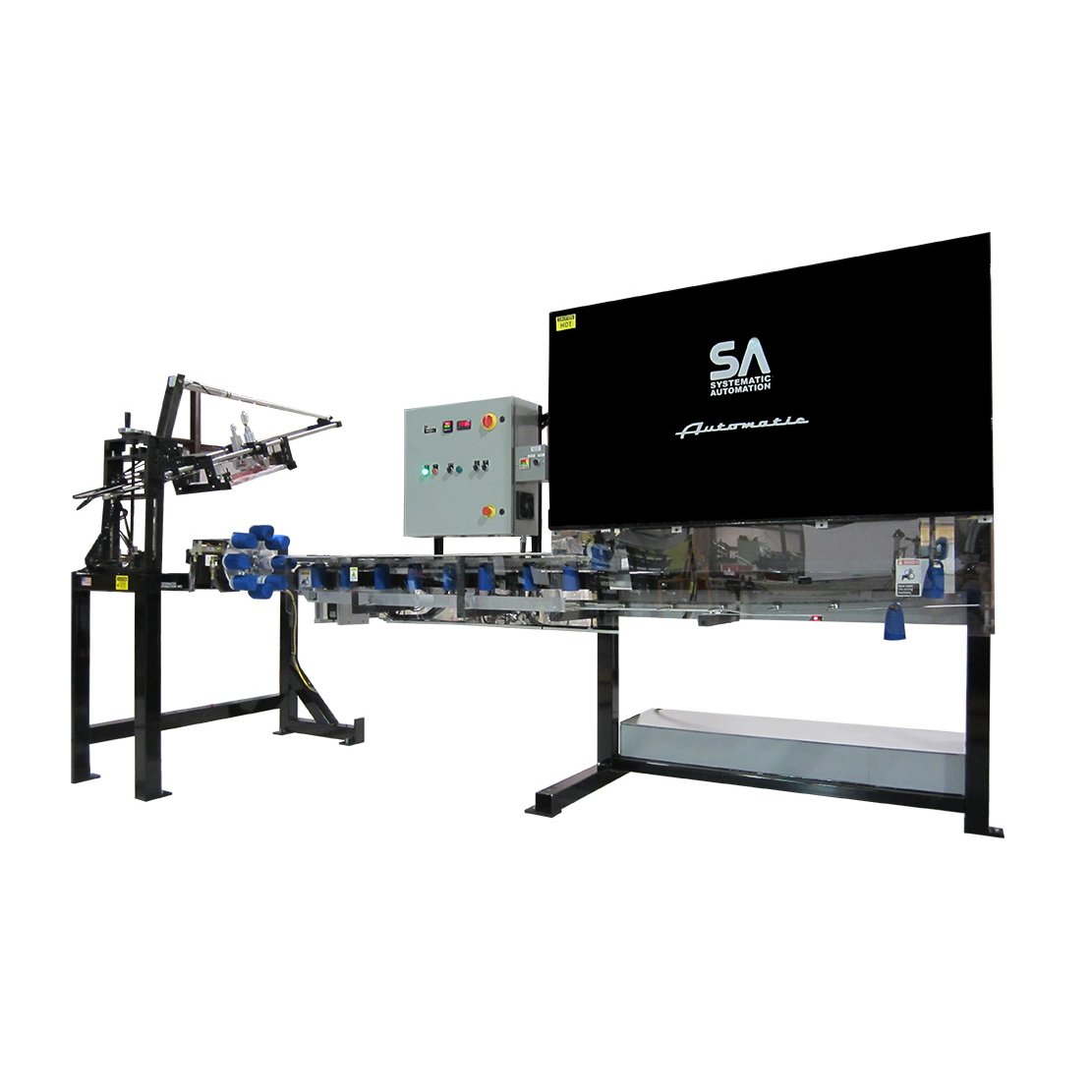 Screen Printing Machines for Can Coolers
Can Cooler Screen Printing Machine

Can Cooler Screen Printing Machine

Turret Motion Printers For Cylindrical Products

Precision machine tool quality and durability.
Operator friendly controls.
8 station indexer.
Auto-take off into dryer.

Learn More
Make the Right Choice for Your Screen Printing Business
Systematic Automation is your choice for professional custom screen-printing machines made here in the U.S.A. We offer an array of custom screen-printing machine models to handle all your printing needs. We also offer UV curing machines, vacuum tables, and heat treatment machines to ensure your printing shop can fill every order. We have experienced technicians that offer support to help set up your machine and any technical questions you have once you start printing. Call or contact us today to speak with one of our expert technicians and choose the right machines for your business.
Some of Our Satisfied Customers