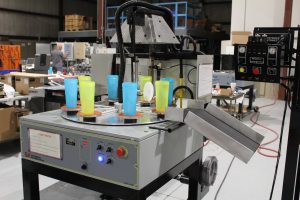 Flame treating plastic aids several industrial processes and is used to enhance the surface of several plastic products for better adhesion.  Plastics are chemically inert Polyolefin materials, and Industrial polyolefins are polymers such as thermoplastic resins and elastomers.  These include polymers such as polyethylene, polypropylene, polymethylpentene, polybutene, elastomers, and polyethylene rubbers.  
These various polymers are generally unreceptive to bonding with adhesives such as coatings, inks, and varnishes as they have characteristics of a non-stick, non-adhesive surface.   Polyethylene and polypropylene are two polymers that are most resistant to bonding with other substances due to a nonporous exterior with low surface energy, thus low surface tensions.  
Flame treating plastics is important because these polymers are used in a huge percentage of products used in manufacturing and industrial processes around the globe, to produce items used by consumers every day.  Manufacturing processes benefitting from flame treating plastic products include plastics producers whether they be extrusion, injection molding or plastic film manufacturers, automotive, medical, textile, glass, packaging and many other industrial processes that improve product quality with flame treatment.  
Flame Treatment Superior Method to Improve Adhesion to Plastics
Some manufacturers choose to apply a primer to the surface of their plastic product for improved bonding ability, which could pose contamination risks or harmful chemical exposure to employees.  Using chemical treatment methods requires purchasing and storing hazardous chemicals and maintaining Material Safety Data Sheets on all products.  Chemical treatment can also result in an inconsistent process due to drying and evaporation on the surface.  
In addition to flame treating plastics, some processes use a corona or plasma pretreatment machine. Corona pretreatment machines are typically used to increase surface energy of foils and films which improve adhesion with a high frequency discharge.  Plasma treaters increase adhesion of plastic surfaces by removing inorganic and organic contaminants on the surface.  This is effective on certain metals, glass, elastomers and polymers.  
Flame treatment machines are effective in pretreating plastics to improve their bonding ability, surface tension and wettability to improve adhesion during several processes including:
Laminating

Painting

Coating applications

Printing processes

Bonding
A precisely positioned flame with carefully controlled temperatures is used to quickly treat the plastic product causing the necessary chemical reaction without melting the plastic.  In many cases, flame treating machines can be used instead of the corona treater or plasma treater, and for less money when you contact the surface treater experts at Systematic Automation.    
The effects of any pretreatment process causing a molecular polymer reaction that allows adhesion is most effective immediately following the treatment, and will gradually decline.  Flame treatment machines are therefore often the first step of an inline procedure, with products moving directly into printing, painting and coating processes.  
Systematic Automation are Flame Treatment Experts
Systematic Automation are the flame treatment experts, with patented technology incorporated into our flame treatment systems.  We have developed the Model FL flame treatment machine with 360° all over total cure area, perfect for flame treating plastic mugs, growlers, glassware and even odd-shaped three-dimensional products.  Our rotating vacuum platens provide universal hold down force while precisely exposing your product to just the right amount of flame to produce the polymer reaction necessary for further processing.  
The Model FL Flame Treatment Machine is compact and versatile for pretreating various cylindrical products in assorted sizes.  This pretreatment machine is easy to operate with a simple overload clutch, Geneva indexer which provides smooth acceleration and deceleration, with a 100-volt variable speed motor.  
Pretreatment machines from Systematic Automation are made with quality components, with all assembly and testing performed in the United States.  Our machines are made for long lasting performance, providing high quality products for many years with low maintenance requirements.   
Systematic Automation is an experienced manufacturer of state-of-the-art screen printing machines, UV curing machines, flame treatment systems and vacuum tables which are used in a multitude of commercial and industrial processes worldwide.  We have over thirty years of experience in designing, engineering, manufacturing and installing our superior pretreatment and screen printing machines with thousands of successful installations around the globe.  
Systematic Automation provides continual support with exceptional customer service for all automated equipment purchases, with all machines tested rigorously for optimum performance prior to shipping.  We have dozens of models of screen printing machines and vacuum tables in virtually any size required, manufactured for absolute flatness boasting +/-.001" per linear foot.   
We have skilled design engineers on staff to custom design an automated solution just for you, incorporating flame treatment, screen printing and vacuum tables to provide comprehensive automated solutions.  Our experienced staff has in-depth knowledge of the proper method for flame treating plastic products, with vast knowledge to develop a custom solution for your specific process.  Our patented automated machines are proven to provide higher quality products with faster turn-around to support higher profitability in high-volume production processes.  
Systematic Automation is a leader among pretreatment machine manufacturers, providing patented technology for maximum effectiveness.  We offer custom design and engineering services incorporating screen printing, vacuum table systems, UV curing and flame treatment machines.  Contact us today to speak with a knowledgeable engineer for a FREE consultation on proven flame treatment solutions.