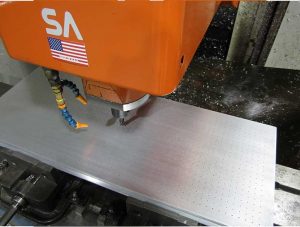 There are many benefits of custom vacuum tables for CNC machines, and utilizing a custom designed vacuum table specific to your process can be most advantageous.  Vacuum tables are used with CNC machines to provide superior hold down force with precision accuracy during many industrial applications.  Vacuum tables hold down substrates such as paper products during screen printing applications, fabrics such as canvas during sail making processes, and plexiglass, steel and PVC during various CNC plotting and cutting procedures.
Vacuum tables aid many industrial processes providing increased profitability and quick return on investment.  Some recognized benefits of vacuum tables for CNC machines include:
Consistency – Consistency is key to producing quality parts, or maintaining a quality process.  CNC machines are programmed for consistent processes, combining with vacuum force assures quality products during continuous CNC applications.
Accuracy – Accuracy is achieved when using vacuum tables for CNC machines, meeting tight tolerance specifications with computer programmed precision.  Vacuum tables ensure meeting strict customer specifications and maintaining part integrity.
Faster Cycle Times – Cycle times can be improved with superior vacuum hold down force, ensuring consistent and accurate CNC processes even with high speed precision.
Improved Customer Satisfaction – providing a high-quality product on time is key to customer satisfaction.  Vacuum tables combined with CNC machines enhance customer satisfaction, leading to increased sales, customer retention, and growth potential.
Improved Profitability – Improving internal processes with speed and accuracy lead to cost saving efficiencies realized in the bottom line.   Increased profits are achieved with improving efficiencies and enhancing customer expectations.
If you are considering employing a vacuum table for CNC machines, you should explore the additional benefits realized with custom vacuum tables designed for your specific process.
Custom Designed Vacuum Tables for CNC Machines
When you are ready to incorporate a vacuum table in your CNC machining process, or replace an existing vacuum table system, it would be worth your while to talk to the vacuum table experts at Systematic Automation.   Having a technical expert review your process and supply the right table for your process is critical to achieving the results you are looking for.
Get the best value for your vacuum table purchase with a custom designed vacuum system optimized for your process.   Speaking with knowledgeable vacuum technicians for a custom consultation can provide you with the following additional benefits:
You won't spend more than you have to!  With a custom consultation, we can design your process with the right table to provide the proper amount of vacuum force without paying for more than what you need.
Your vacuum system will be optimized for your process.  Custom designed vacuum systems provide many valuable benefits as you know that you will be using the optimum amount of vacuum force designed specifically for successful operations.  With custom designed size, placement, and vacuum pump specifications, your vacuum system will deliver the right amount of force at the right time for smooth operations.
You can have confidence that your vacuum system will work as specified.   When your vacuum table is custom designed to your process by Systematic Automation, you can have confidence that your vacuum system will perform as specified.
Contact Systematic Automation for a custom consultation on your process requiring vacuum tables for CNC machines to employ the optimum vacuum solution for your process.  With a custom designed vacuum table, you know that you will get exactly what you need for maximum effectiveness.  Our engineering staff assists you in developing your table to provide maximum benefits in your custom design.
Superior Features with Custom Designed Vacuum Tables
Systematic Automation has been manufacturing superior vacuum tables for more than thirty years, boasting exceptional flatness of +/- .001" per linear foot.  Consistent flatness is required to provide consistent and accurate results.  No size is too large or small for our superior vacuum chuck solutions.  We have vacuum tables available in any size from 5″ x 6″ to 72″ x 144″ with custom sizes available upon request.
We offer a selection of vacuum pumps for the perfect solution to your customized vacuum table system.  Our Diaphragm pump provides maximum holding power with an air tight seal between the vacuum table and the substrate.  The Rotary Vane vacuum pump provides significant vacuum holding power while allowing minimal leakage, which is useful in particular applications.
State-of-the-Art Features in Vacuum Tables for CNC Machines
Systematic Automation offers several engineering options for customizing your vacuum table solution for maximum performance, providing a quick return on your investment.   Customized features that may be incorporated into our vacuum tables include:
Customized Hole patterns that are designed specific to your process.
Control additional zones by activating or deactivating vacuum force.
Automatic pin registration automatically registers your products with pins that are actuated pneumatically with a push button or a foot pedal.   Quick and reliable set up is achieved with customized pin registration.
Anodizing your table surface will provided added insulation and resistance to corrosion.
Formica table surfaces are available to prevent scratches and alleviate conductivity issues.
Sliding vacuum tables are an option with swiveling casters on up to two Axis of travel, providing versatility in many CNC operations.
When you need vacuum tables for CNC Machines, be sure to explore your options with customized vacuum table solutions.  Don't pay more than you have to, and get exactly what you need by contacting the vacuum experts at Systematic Automation.
Systematic Automation is a recognized leader in the industry of vacuum tables, screen printing and flame treatment machines as well as UV curing systems.  Contact us today to speak with a skilled engineer for proven solutions with vacuum tables for CNC machines.